If you own a cat but are on a tight budget, you've probably considered feeding your pal a cheap formula like Friskies or 9Lives. Perhaps, you are attracted by their flashy branding and wonder if they are any good. In this post, you will find a comprehensive review of both cat food brands. If you'd rather get the "yes" or "no" version, here is our answer: no, Friskies and 9 Lives Cat Food are not diets that you should feed to your cat.
Bottom Line Up Front: If you are looking for a more budget-friendly option, go for Merrick, like their Purrfect Bistro Grain-Free Real Chicken Recipe formula.
If We Had To Choose
Friskies
Guaranteed Analysis
Friskies' six lines of kibble come at an avg. of 30% proteins, 11% fats, and 12% moisture; leaving 39% for carbs. Adjusted on a dry matter basis (DMB)* this comes at 38% proteins, 14% fat, and 49% carbs. This leaves Friskies' guaranteed analysis ratio far from the optimal 50:40:10 (proteins:fats: carbs) that cats would choose in the wild. Pet food spiked with carbs will satiate your cat quickly, but the sensation will disappear as soon, causing your pal to eat more and gain unhealthy weight.
The six kibble formulas come at an average of 3555 kcal/kg (35 oz). From our post on how to choose the right cat food, we know that a healthy 10 lbs cat needs about 250-300 kcal/day. So, when adjusted for optimal calorie intake, a daily serving of Friskies kibble is 2.7 oz (275 kcal). A cat on this diet would get 0.8 oz of proteins, 0.3 oz of fats, and 1 oz of carbs from one daily serving. This is a significant carb load and not enough proteins. However, increasing the portion size to meet the protein need will also increase the calorie and carb intake, leaving you with an overweight cat.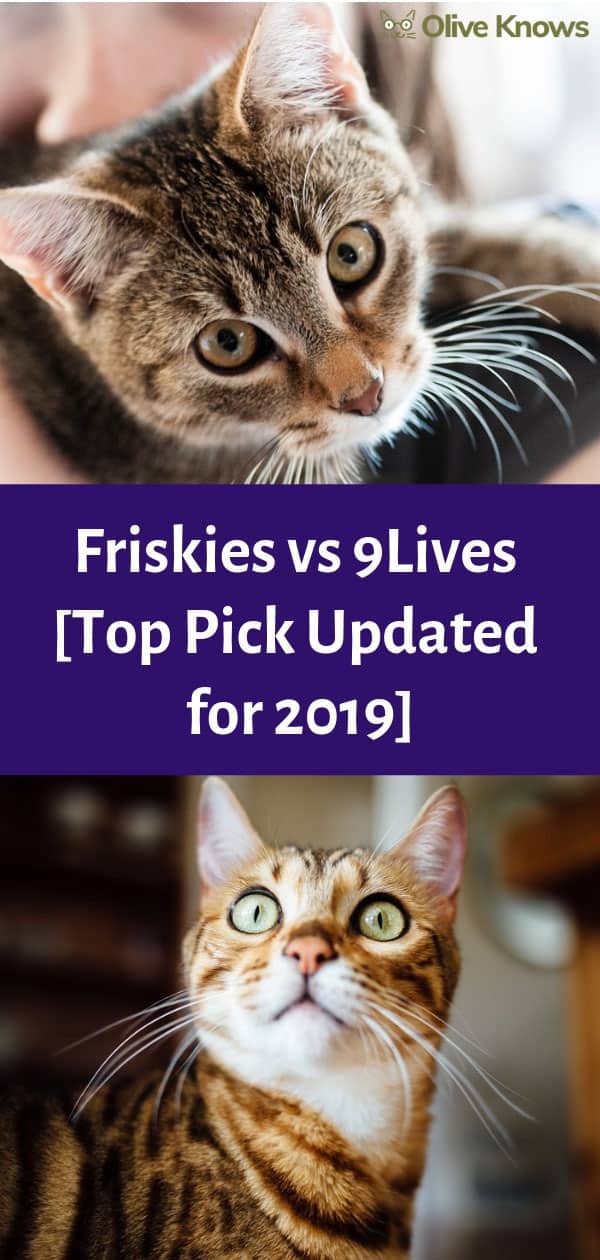 How about the wet food formulas? The average protein ratio comes at 10%, animal fat content is about 3%, moisture comes at 80%, which leaves around 4% for carbs. Adjusted on a DMB, this converts to 59% proteins, 17% fats, and 26% carbs. The wet options come at an average of 990 kcal/kg. This equals to a daily serving size of 1 3/4 cans of cat food (around 10 oz) to get 275 calories. They come from 1 oz of proteins, 0.3 oz of fats, and 0.4 oz of carbs. We are pretty close to a natural diet, yet we advise against feeding Friskies canned cat food to your cat. You'll find why in a little bit.
*Traditional formulas for converting to DMB only exclude moisture. However, manufactured cat food contains ash which is a leftover from the cooking process. Because we'd like to compare the pet food in this post to the preferred cat macro ratio of 50:40:10, when converting to DMB, we will also adjust for ash content. If the manufacturer has not indicated it, we'll assume the industry average of 8% for dry cat food and 2.5% for wet cat foods.
Of course, you can't get a formula that mimics 1:1 the 50:40:10 ratio unless you manage to extract from food pure protein, pure animal fat, and pure carbs. Even in the wild, cats ingest a variation of this ratio. Yet, when judging the quality of food, this ideal ratio gives you an idea of how close the given formula resembles a natural diet.
Ingredients
What about Friskies' ingredient list?
To put it mildly – it sucks. Open a bag of corn starch, mix in some chicken broth, and you've pretty much made a Friskies formula. Friskies pet food company dry cat food formulas begin with corn, continue with corn gluten meal, and list meat by-products and poultry by-product meal in the third position. There's no whole meat in these formulas, and the added colors do not help Friskies' case.
Things get worse with the wet formulas. They do list some meat far down the list, but they also contain corn starch, soy flour, and wheat gluten. These are all grain-sourced fillers that are non-essential to your cat and are hard on his digestion. However, what really puts us off are the added colors, artificial flavors, and guar gum. These animal ingredients do not have a place in any healthy food – neither for felines nor humans.
Overall Impression
So, what is our overall impression of Friskies?
It's not something you want to give your cat. Provided, the company did a thorough job with branding. The flashy website looks like a game, and the pretty, colorful packaging grab attention in shop aisles. When you read the formula names such as "Seafood Sensations," "Surfin' n Turfin' Favorites," and "Prime Filets," nobody will blame you for thinking, "Oh my, so fancy." Then comes the glance over the ingredient list, accompanied by "oh my, no way."
Corn seems to have a prominent place in Friskies' formulas, and corn is far from a healthy and balanced nutrition diet for felines. They are obligate carnivores, which means that they need complete meat to thrive and survive. In other words, if a stray cat wanders at a city fair, she'll choose the BBQ stand over corn on the knob.
See how Friskies compares to Meow Mix in our full comparison.
Friskies Products
Made from meat by-products, this traditional pate comes in individual meal-sized cans. It's enriched with taurine and vitamins, and minerals and contains rice.
Purina Friskies Pate Wet Cat Food Variety Pack | Chewy
This variety pack features a tasty assortment of pates that are packed with everything your cat needs to stay looking and feeling his best, like protein, antioxidants and healthy omegas. Plus, the formula is enhanced with vitamins, minerals and essential taurine for nose-to-tail well-being in every bite. 
Check Price
Buy at Amazon.com
We earn a commission if you click this link and make a purchase at no additional cost to you.
If your cat likes a wider variety of flavors, then Friskies might be the brand for them. Alongside fish and meat, their kibble comes in cheese and garden greens flavors. This is primarily made for indoor cats, but it doesn't really matter with this ingredient list.
Purina Friskies Indoor Dry Cat Food, Indoor Delights | Chewy
Formulated with protein for healthy muscles plus essential vitamins and minerals, it supports overall well-being for kitties that love the great indoors. Feed it every day to provide your pal as a 100% complete diet, with antioxidants for a healthy immune system and essential fatty acids for a lustrous skin and coat.
Check Price
Buy at Amazon.com
We earn a commission if you click this link and make a purchase at no additional cost to you.
Suppose you want to earn your cat's love and leave her purrfectly satisfied with the delightful flavors of turkey and giblets that have a smooth and pleasing texture. In that case, this high protein is your best choice for your furry friend.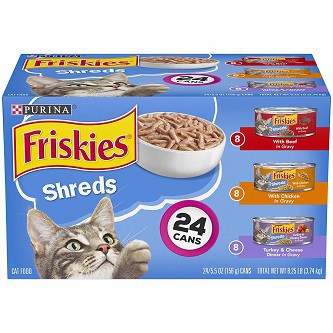 Great nutrition wet food for your kittens. Tiny bits made with real chicken, turkey, and cheese! – cooked in savory gravy, make this one delicious meal.
Purina Friskies Gravy Wet Cat Food Variety Pack | Chewy
Each of the three mouthwatering recipes in this wet cat food collection features real beef or poultry, along with a savory, thick gravy that piles on extra yum in every bite. The thinly shredded pieces deliver a tender, nibble-worthy texture your cat can't say no to.
Check Price
Buy at Amazon.com
We earn a commission if you click this link and make a purchase at no additional cost to you.
9Lives
Guaranteed Analysis
9Lives' five dry food formulas come at an average of 31% protein, 9% fat, and 12% moisture.; this leaves 40% to carbs. This converts to 39% animal protein, 11% fat, and 50% carbs on a DMB. 9Lives' macro ratio, too, is far from the ideal 50:40:10. This cheap cat food line relies on shoving carbs down cats' throats to make them feel satiated.
Regarding calorie intake, the five formulas come at an average of 3400 kcal/kg, thus packing fewer calories than Friskies. To get 275 kcal, you'd need 2.8 oz of 9Lives kibble. Using the guaranteed analysis, this comes at 0.9 oz of proteins, 0.3 oz of fats, and 1 oz of carbs. Quite a lot of carbs for such a little creature as a cat, especially a domesticated one with limited daily activity.
Maybe the wet formulas will provide more natural flavor nutrition for your cat? They come in three lines – Hearty Cuts, Meaty Pate, and Tender Morsels. The first two come at an average of 9% proteins, 4% fats, and 80% moisture, leaving 3.5% to carbs. Converting them to DMB yields 51% proteins, 24% fats, and 21% carbs. At an average of 950 kcal/kg, you'd need about a 1 3/4 cans of food (10 oz) for a healthy 10 lbs cat. This would serve 0.9 oz proteins, 0.4 oz fats, and 0.4 oz of carbs. Pretty adequate, but the caveat is in the ingredient list. More on that, in the next section.
The Tender Morsels line is much better than the rest. It comes at an average of 10% proteins (some formulas go as high as 16%) and 2.5 % fats, leaving 4.5% to carbs. On a DMB, this comes at 59% proteins, 15% fats, and 26% carbs. The average energy density is 811 kcal/kg. So, two 5.5 oz cans of Tender Morsels will give your cat 254 kcal per day, which does meet the needs of a relatively inactive 10 lbs cat. However, it might not be adequate for a feline that tends to move a lot throughout the day.
How about macros? Two cans will provide 1.1 oz of proteins, 0.3 oz of fats, and 0.5 oz of carbs. It turns out that the 9Lives Tender Morsels line is adequate for healthy cats. Yet, we advise against feeding it to your cat because of some ingredients issues that we'll discuss below.
Ingredients
Regarding ingredients, 9Lives' five kibble formulas are identical. Corn, wheat flour, soy, unidentified meat, and animal digest seem to be the common primary ingredients in 9Lives' dry diets. There are some meat and fish meals but no mention of whole meat. If you want a healthy and happy cat, these formulas don't cut it.
Here, the wet foods do get an edge over the dry stuff. The 9Lives canned food does contain some meat in it, though meat-by-products still come at the top of the list, preceded in most cases by water. Another concern for us is the presence of colors, guar gum, brewers rice (a non-essential filler), and starch. These are all unnecessary ingredients for your cat and can cause an upset stomach and worse conditions in the long run.
The Tender Morsels line, though adequate in terms of nutritiousness, also contains concerning ingredients. Though some formulas do list tuna as the first ingredient, they also contain soy, starch, flour, colors, and artificial flavors.
Overall Impressions
Overall, 9Lives pet food brand is not something that we'd feed to our cats, and we advise cat lovers like yourself to stay away from these formulas. The dry foods are especially concerning, and even the more higher-end Tender Morsels wet line didn't live up to our standards despite our initial excitement due to the guaranteed analysis.
9Lives does come in pretty packaging, so it is likely to fool pet owners who don't know how to choose the right cat food and would instead go for a cute bag. The substance inside, however, is not something that will make for a happy nor healthy pet.
Now, let's put Friskies and 9Lives up against each other brands.
9Lives Products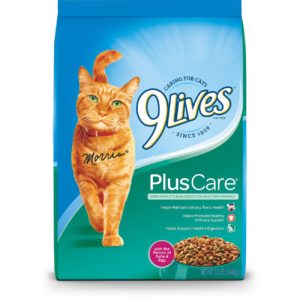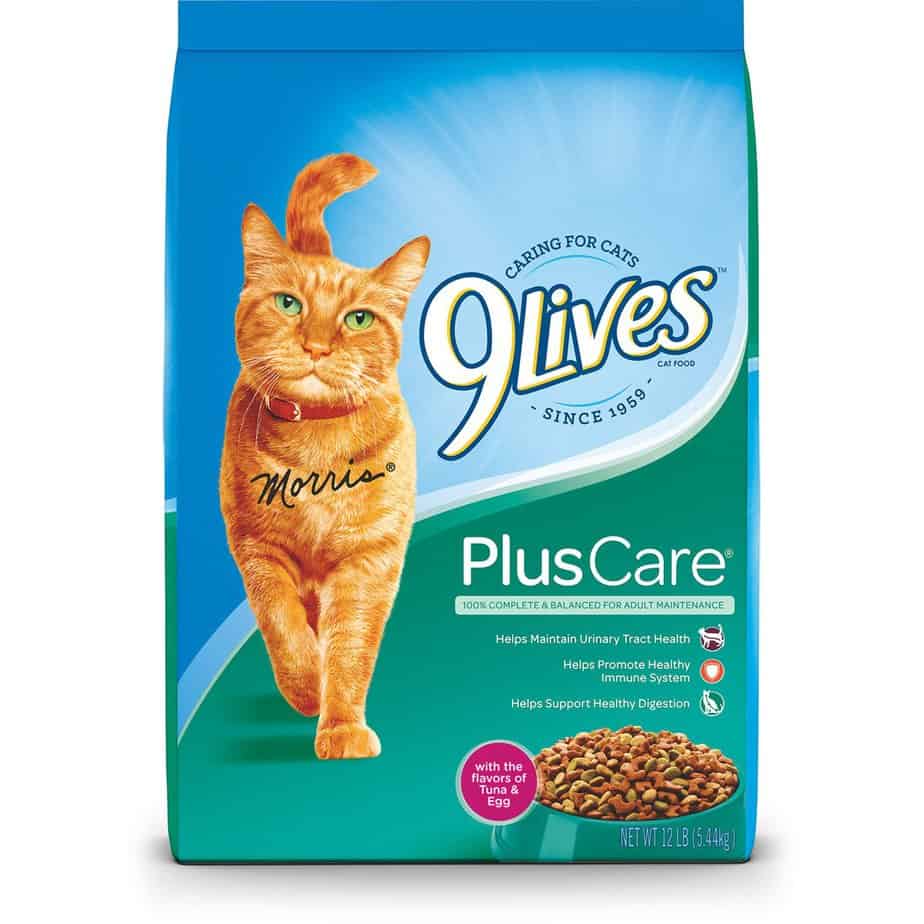 This 12 Lb Bag of Dry Cat food contains 100% complete and balanced nutrition that helps maintain the urinary tract health by reducing urinary ph. In addition, It contains vitamins minerals which help promote a healthier immune system in your feline friend. (Serving size should be adjusted on your cat's age and activity level.)
9 Lives Plus Care Dry Cat Food | Chewy
9Lives Plus Care contains Vitamin E, selenium, and dietary fiber to help support digestive-system and immune-system health. And by reducing urinary pH, it helps maintain urinary tract health as well.
Check Price
Buy at Amazon.com
We earn a commission if you click this link and make a purchase at no additional cost to you.
Delicious cat chow that, as the name states, offers daily essential nutrients for your cat. It contains omega 3 essential amino acids and high-quality protein content supporting muscle growth and maintaining a healthy heart and vision. 
9Lives 20 Lb Daily Essentials Dry Cat Food | Chewy
Formulated to supply complete and balanced nutrition for all life stages, 9 Lives Daily Essentials combines omega 3 fatty acids for healthy skin and coat, high-quality protein for strong muscle growth, and taurine to help maintain heart and vision health.
Check Price
Buy at Amazon.com
We earn a commission if you click this link and make a purchase at no additional cost to you.
9 Lives vs Friskies
Guaranteed Analysis
To make it easier to compare the guaranteed analysis of all formulas, we've created a spreadsheet that will give the complete picture.
*A note on the difference between on "per fed basis" vs. "DMB."
Dry matter only refers to a formula's macro ratio without the added water and leftover ash. Suppose you'd like to calculate macro intake regarding weight. In that case, you need to use the percentages provided by the manufacturer since your cat will get the food with the moisture and ash included.
We have only used DMB to make it easy to compare dry foods and wet foods. Without accounting for water, comparing cat food labels would be like the proverbial apples and oranges.
For example: say you need to compare Formula A, which only contains 1 oz of protein and 1 oz of water (50% protein content), and Formula B, which only contains 1 oz of protein and 2 of water (33% protein content). It seems as Formula B has less protein because it contains more water. In reality, both formulas contain the same amount of protein on DMB.
Ingredients
Regarding ingredients, there is no need for comparison. Both brands count mostly on the same low-quality ones – corn, wheat, and soy fillers, meat meal, artificial colors and flavors, and by-products. Except for some fish in some of the wet formulas, there is no whole meat. As we've discussed many times over, cats need whole, complete meat to survive. They cannot thrive nor live on plant-based diets, and while they might ingest some carbs in the wild through their prey's digest, these amounts are negligible.
FAQ
Where are Friskies and 9Lives manufactured?
Chewy states that Purina manufactures its animal food, including Friskies cat food in America, but it also sources some proteins and other ingredients from overseas.
I couldn't find an official source on 9Lives cat food, but some sources say their dry food is manufactured in the US while their canned cat food is manufactured in the US and overseas.
What company owns Friskies and 9Lives?
Purina owns Friskies, and 9Lives is owned by Smuckers.
Should I feed wet or dry food?
Ideally, you would feed both wet canned food and dry food to your cat. Cat's get most of their hydration from their food, so they need wet food in their diet to keep them healthy. Dry food offers dental benefits for cats and should be fed as well. 
Overall Impression: 9Lives or Friskies?
Friskies and 9Lives do not surprise with either ingredients or guaranteed analysis. Manufacturers need to cut many many corners to achieve such low prices. Unfortunately, the low price comes at a high cost – an unhealthy cat whose menu consists of unnatural cat foods, non-nutritious for felines.
Both brands seem to be very focused on branding to make their products more appealing. This is especially the case with Friskies, whose package and website designs are quite entertaining. Yet, animations of a bright blue sea and Ferris wheel don't improve the quality of the formulas. Why would a cat get on a Ferris wheel anyway? To reiterate, if a cat ends up at an amusement park, he'll go straight for the meat, not for the corn, and certainly not for the attractions.
We understand that many owners are budget-conscious, and cat foods might not be high on the priority list when it comes to money. Yet, getting a pet means getting not only cuddly times but also a basket full of responsibilities. If you are about to get a cat, consider whether your budget allows you to buy decent food. If you already own a cat (or any pet), but are not well financially, opt for brands that are easy on the pocket, yet provide nutritious and healthy formulas like Merrick.
If We Had To Choose
Further Reads