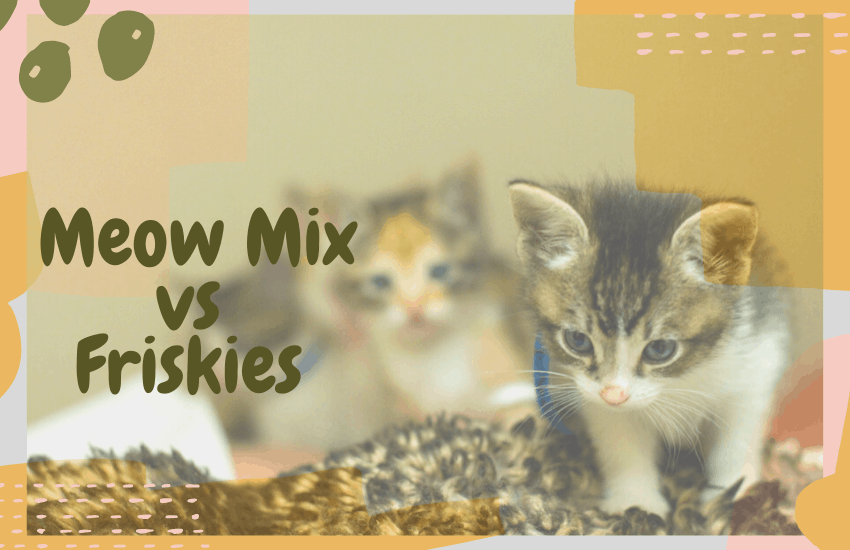 Meow Mix and Purina Friskies range are two of the most widely available brands of cat food. They both offer a range that includes wet cat food, dry food, and treats. So, are they pretty much the same thing, or are there differences you should know about?
We've spared you the research by looking into both brands and giving you the inside information you need to choose the best choice for you and your pet. We've directly compared some of their products and made our suggestions on whether you should choose them or something else.
Wet Food
If you want to choose the most complete food for your cats, then wet cat foods is the way to go. Because it's made up of up to 75% water, it helps keep your pet hydrated whilst also giving a high percentage of protein and the taurine that cats need to stay healthy. Both Meow Mix and Friskies offer wet food options in different varieties. So that we're comparing like with like, we've researched their most similar product, Patè.
Both ranges offer a 'classic patè' option in a range of flavors. On the surface, there doesn't seem much to choose between the two; they have similar flavors and are roughly the same price. If you look at the ingredients, though, the difference emerges.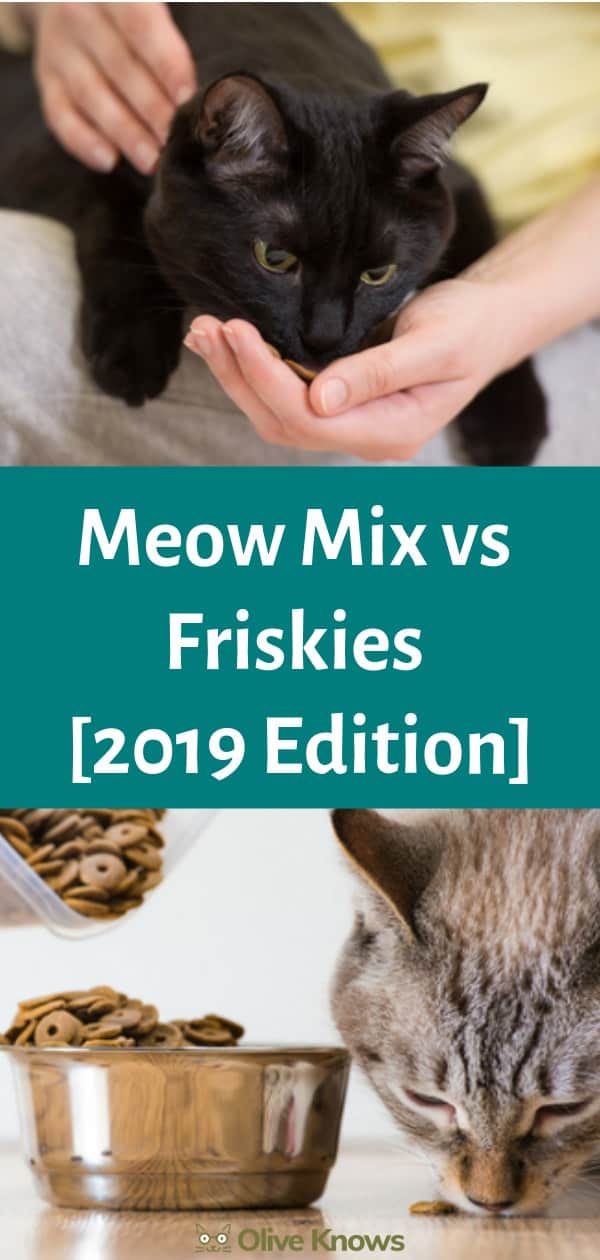 While they are both fortified with taurine and other vitamins and minerals, the first ingredient in Friskies pate is 'meat by-products which are the clean, non-rendered but non-meat parts of an animal, such as the organs, intestines, animal fat, blood, and bone. While that may sound unappetizing, it actually gives a better range of nutrients to your pet than just meat. However, it is a cheaper and lower-quality product. The first ingredients in Meow Mix Cat Food are broth and meat, so slightly higher quality, but besides that, there isn't much difference.
If you can spend a little more on your patè, then we would recommend you choose an alternative to these two: I and Love and You All-Natural Canned Cat Food. It's made with all-natural ingredients– no grains or fillers. It contains a mix of meat and organs but no by-products or meat meal. The important difference here is that meat is the first ingredient, so it makes up most of the pet food – not broth or water.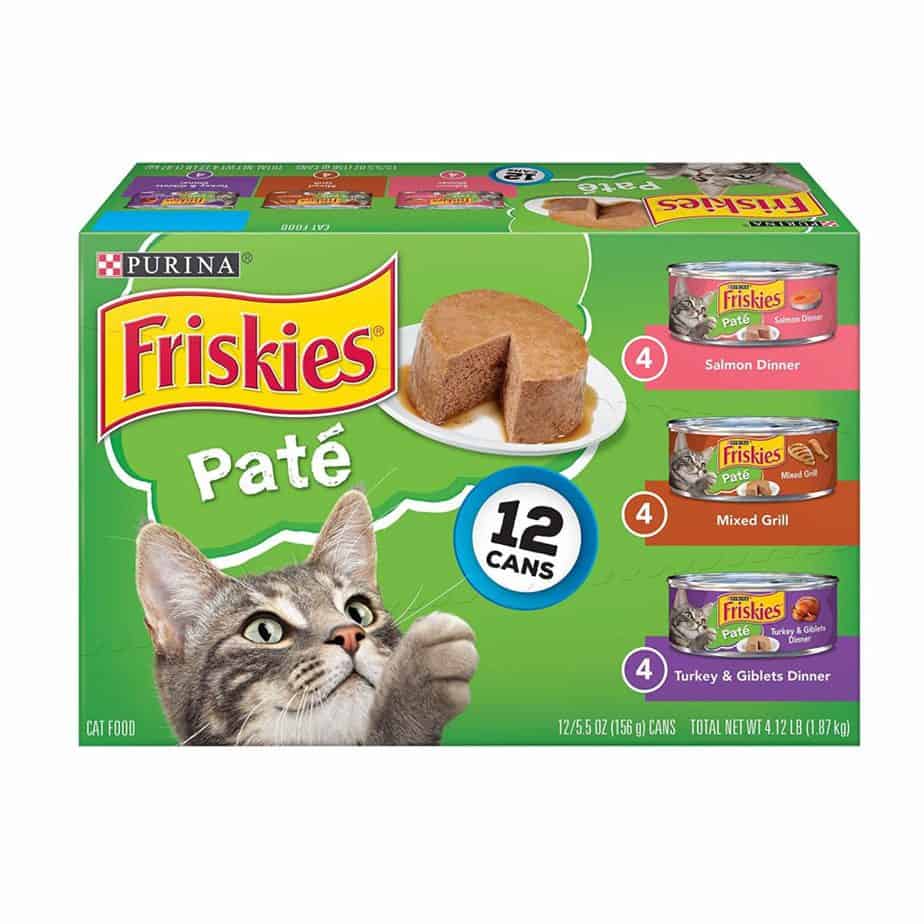 Made from meat by-products, this traditional pate comes in individual meal-sized cans. It's enriched with taurine and vitamins, and minerals and contains rice.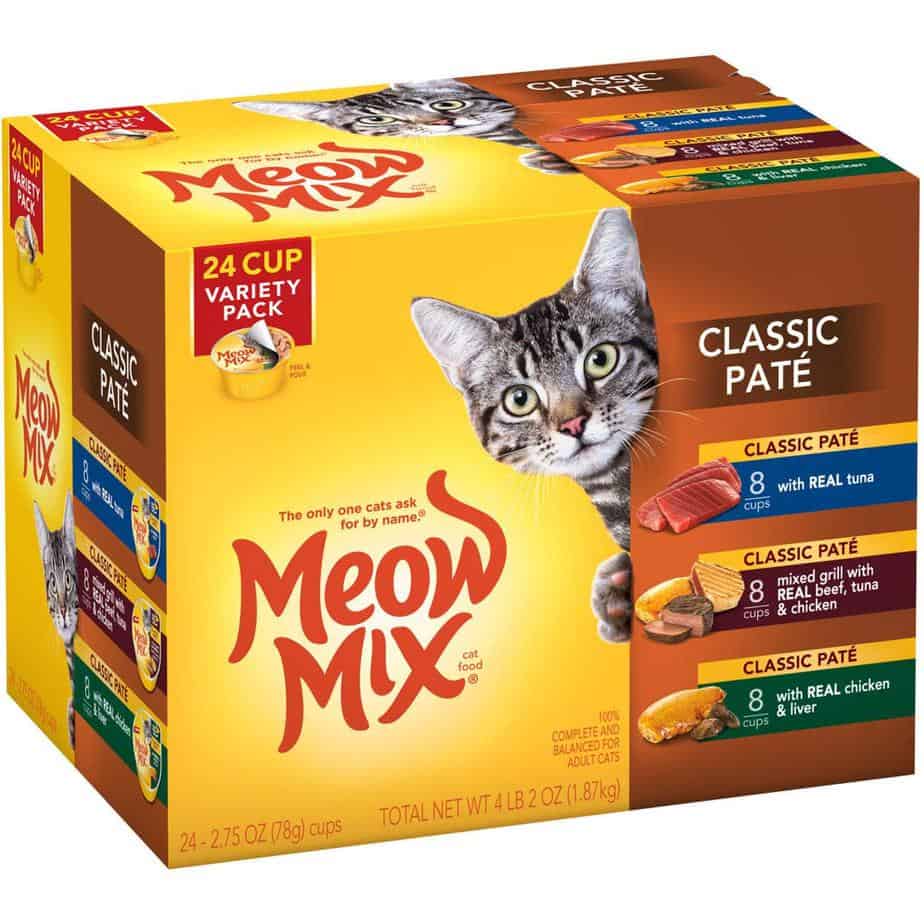 This one is made from meat and broth, so this is the best choice of the two if you prefer that option.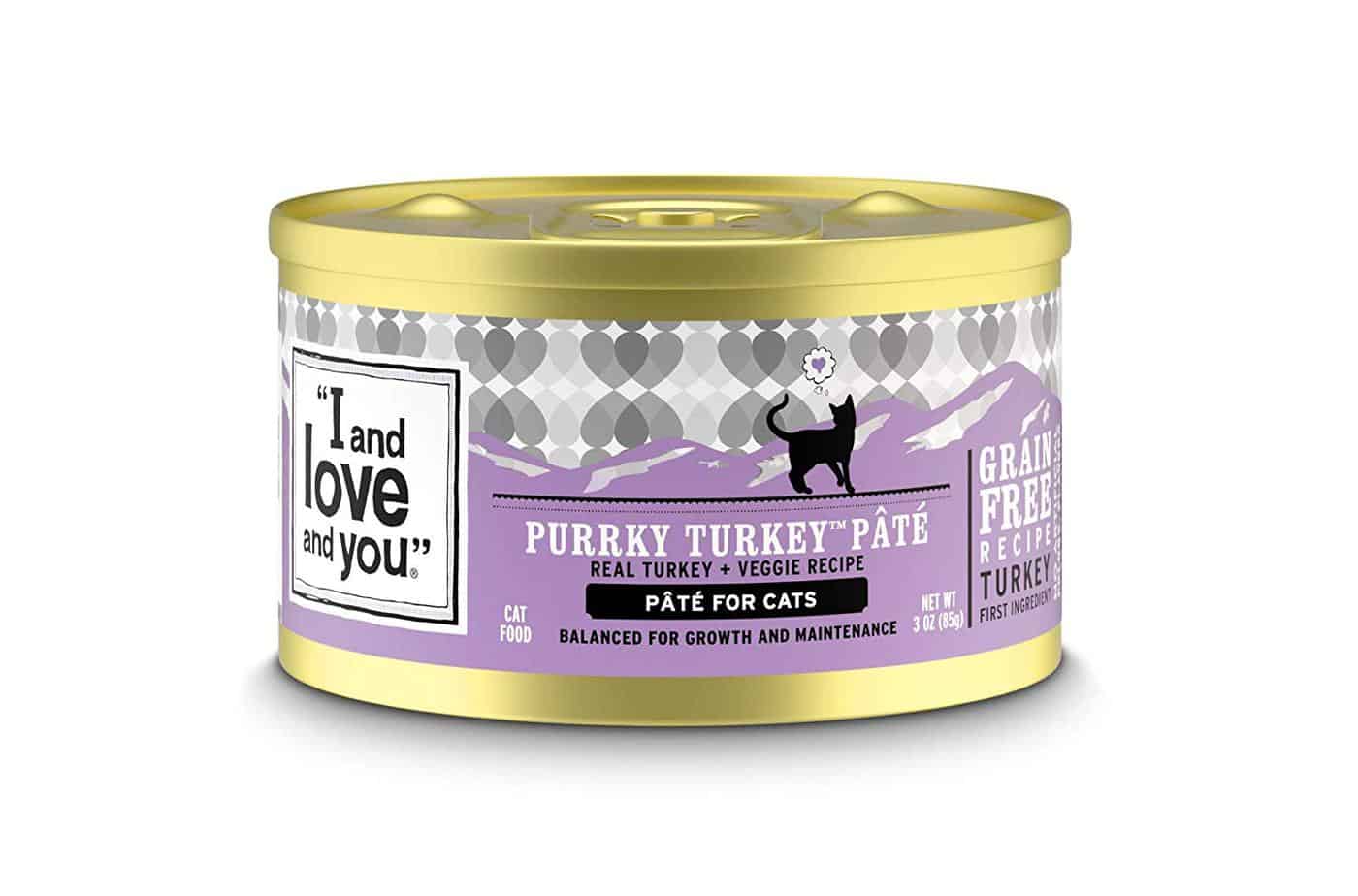 This canned pet food is protein-rich and made of real meat, poultry, and fish as a first ingredient. The I and Love and You does not contain water at all, which makes it a rich pate formula your cat would love to feast. This food is rich in Omega 3 and Omega 6 and is an allergy-safe product.
Dry Food
Both cat food brands offer a selection of different recipes for dry cat food, with the main difference between them being flavors or the way they add interest to the product. For example, Friskies cat food has Gravy Swirlers. The gravy has been baked into the biscuit, and Meow Mix offers Tender Centers, dry food with a softer texture inside. To give a fair comparison, we've picked the one product they both have in common; dry food targeted at indoor cats.
Dry cat food is made by mixing up a binder with meat and fish meal and extruding it into biscuit shapes. Both cat food companies have chosen to use corn as their first ingredient and corn gluten meal as the second. The remainder of the ingredients are similar, with a variety of fish and meat meals and added vitamins and minerals. There's really not much difference between these two brands when it comes to this biscuit recipe.
For an alternative to these dry foods, we would recommend a higher quality food such as Blue Wilderness Grain Free— you can read our full review of this product here. We like it because it's the first ingredient is chicken. Alongside the vitamins and minerals, it also includes pre and probiotics to help your cat's digestion.
This indoor ocean fish meal mix is made mostly from corn mixed with meat and fish. It's designed to help indoor cats maintain a healthy weight if they're not getting as much exercise as their outdoor friends.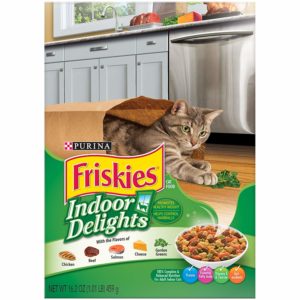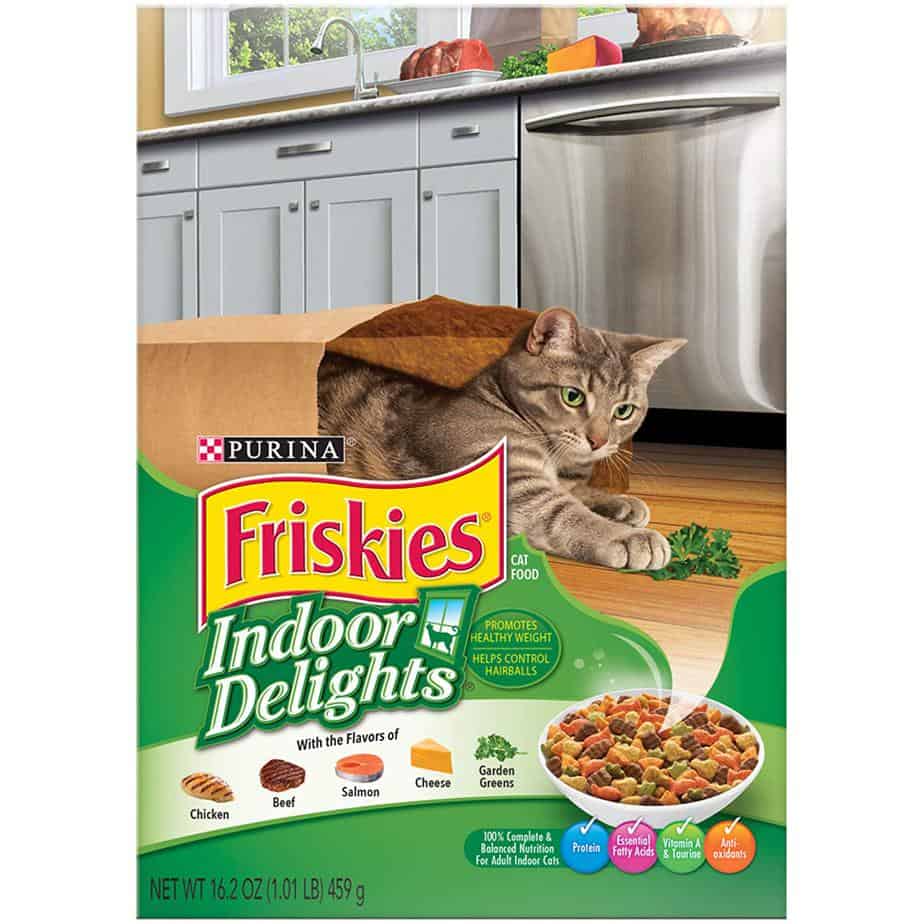 If your cat likes a wider variety of flavors, then Friskies might be the brand for them. Alongside fish and meat, their kibble comes in cheese and garden greens flavors.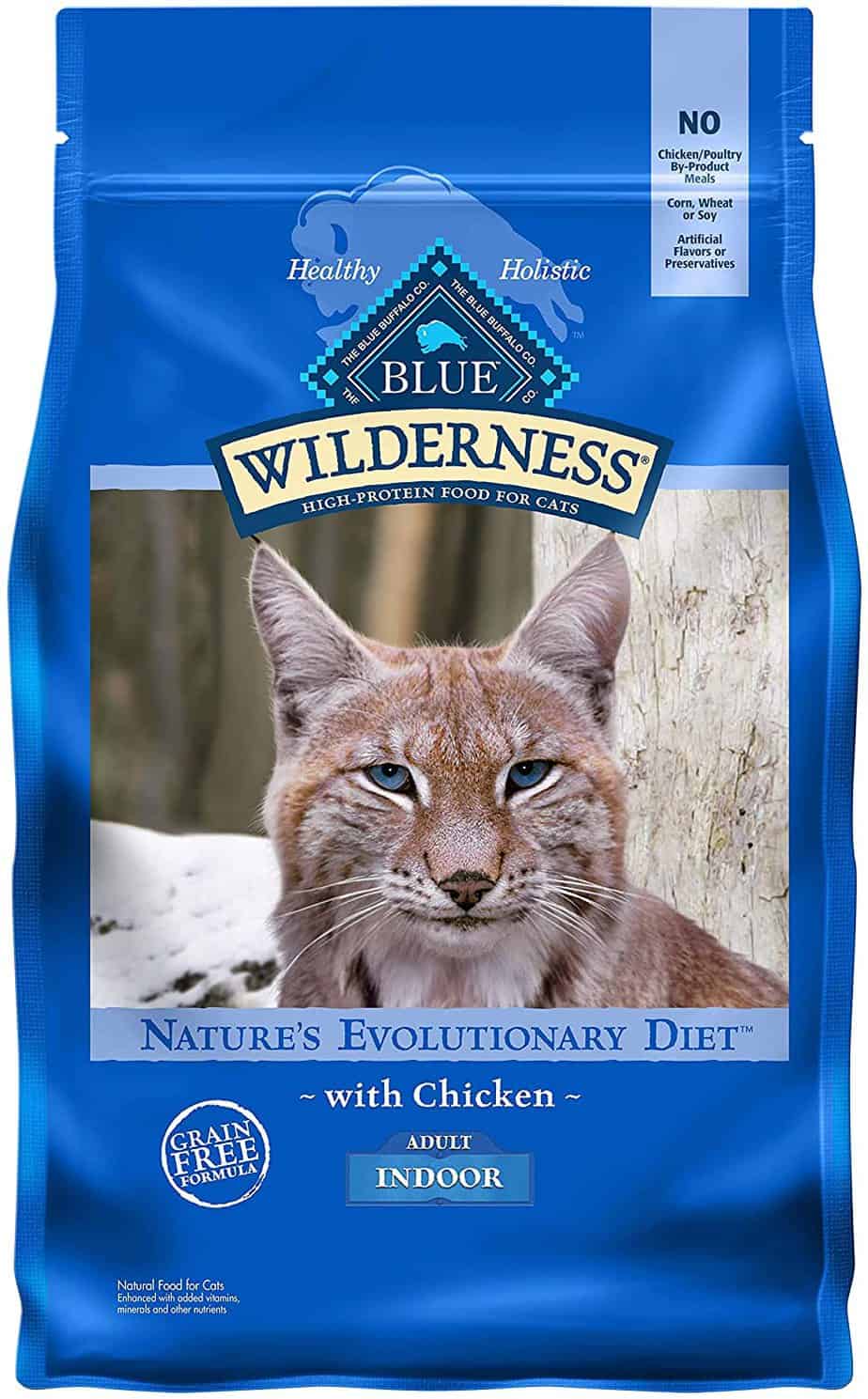 With no artificial flavors or ingredients, and no fish or meat meal, this is a quality dry cat food that includes sweet potatoes for a carbohydrate hit without adding wheat, corn, or other grains.
Treats
Giving your cat treats can be a great way to bond with them. Although they should be getting all the nutrition they need from their pet food, treats can make games more engaging and help you enjoy some quality time together. There are also functional treats, the kind that helps with hairball control or teeth brushing.
Their treat ranges are one area where Meow Mix and Friskies take a different approach. Meow Mix offers Irresistible in soft and crunchy, Brushing Bites for dental cat's health, and Ocean Explosion that helps control tartar with a fish flavor. Friskies have just one type of treat: Party Mix. It comes in four different varieties, but the only difference between them is the flavor.
So that we can compare the products side by side, we've looked in-depth at Irresistibles Crunchy and Party Mix Crunch. If you review the ingredients of both, the list for Meow Mix is much shorter. Its primary ingredient is a chicken meal, and this is mixed with corn flour, vitamins, and minerals to create the treat. Friskies contain a lot more chemical-sounding words, although most of them are vitamins and minerals – and taurine comes much higher up the list for these than for Meow Mix.
Based on that analysis, we'd be inclined to favor the Meow Mix treats. There are fewer ingredients to cause a problem for your pet's stomach and a high portion of things that taste good. If you really want to give your cat a treat that does them some good food, it's worth looking at a pure protein, freeze-dried treat such as Vital Essential Freeze-Dried Minnows (which came out top in our recent cat treat review).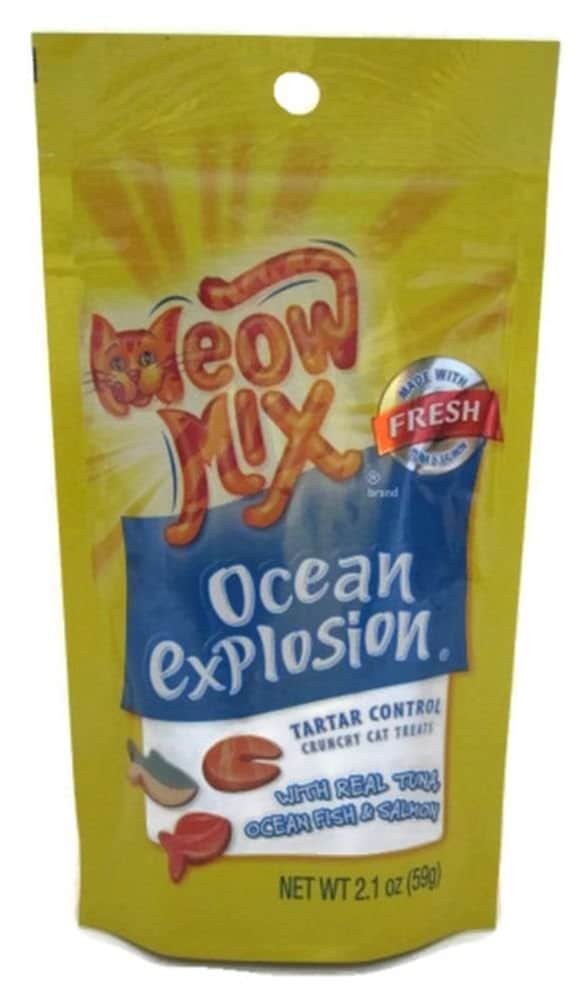 Made with tuna and salmon, these treats have a crunch that cleans the teeth while your cat is munching.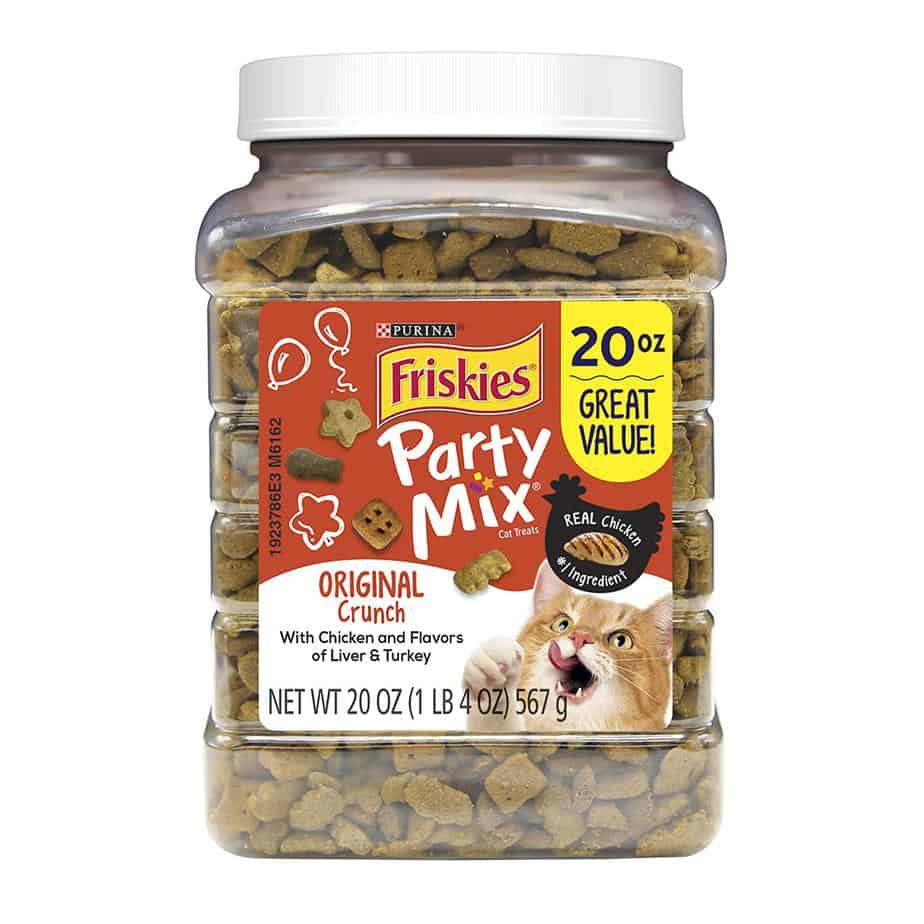 You can buy these treats in a generously sized jar that reseals to keep them fresh for your pet whenever you need them.
Other Concerns
Purina is owned by Nestlé, a company that has attracted some negative attention worldwide for its aggressive marketing of breastmilk substitutes in countries with unsafe water. As a result, some people choose to boycott Nestle products altogether.
There are also concerns about the quality of nutrition of Purina products following a 2016 product recall. Only certain products were affected, but they were found to have levels of Thiamine that were too low. Concerns about the quality of the product and stories of pets that have died as a result have become common online. While we can't prove or disprove these, we present you with the information so you can begin your own research.
Although Meow Mix was owned by Purina at one time, it is now owned by the J M Smucker company. As the label proudly states, Meow Mix is made in the USA in a factory in Decatur, Alabama. The brand became something of a cultural icon when the Meow Mix Song was used in adverts in the 1980s. It remains an ear-worm even today.
There is currently a move away from 'junk food' when it comes to cat diets. Both of these brands are often mentioned in lists of the 'worst cat foods' to feed your cat. Whilst we wouldn't go that far, there are certainly better quality food options out there for you to treat your fur baby.
FAQ
What about Purina Cat Chow or Fancy Feast?
Both Purina Cat Chow and Fancy Feast fall into the same category as Meow Mix and Friskies. I wouldn't recommend either of them and instead focus on a higher quality protein-rich food like Blue Buffalo.
Has Meow Mix or Friskies had a recall?
Meow Mix recently discovered two lots of their Meow Mix Original Choice Dry Cat Food due to Salmonella contamination.
Friskies has not had an official recall.
Where is Friskies and Meow Mix manufactured?
According to Chewy Purina, primarily sources and manufactures its ingredients and products in the USA but some synthetic vitamins and less common proteins are sourced overseas.
Meow Mix is manufactured in Decatur, Alabama, and Thailand, according to the Daily Cat.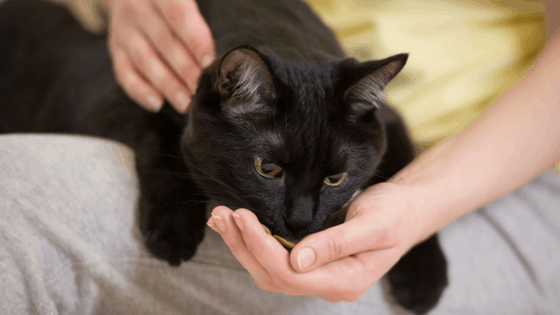 Read More:
Meow Mix vs Friskies
There really isn't much to choose between these two brands. Their recipes are pretty similar, as are their ranges and their prices. They're both freely available in stores as well as from smaller pet suppliers. If we have to pick one, we will go with Meow Mix simply because their ingredients tend to be a little better than the Purina.
In all honesty, though, both suffer from being mass-manufactured by big business. They don't have the same care and attention put into them as many smaller brands do. That's why we would choose the alternatives, every time.