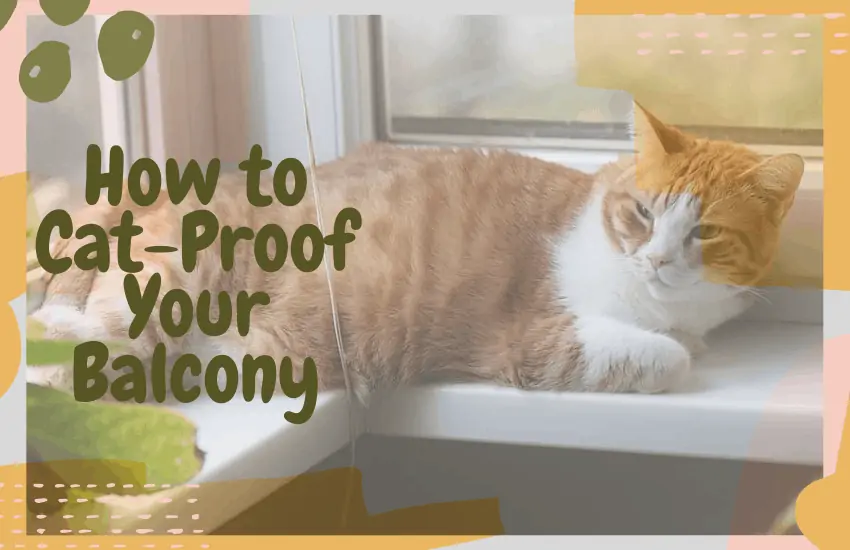 You might think that your cat is safe on your balcony. After all, cats always land on their feet and they have nine lives! Unfortunately, neither of these things are entirely true. In fact, cats can be injured or even killed by falling from great heights.
This is known as high rise syndrome and can have serious consequences for your pet. If you and your cat live in a property that is higher than two stories, then you need to think about cat-proofing your balcony.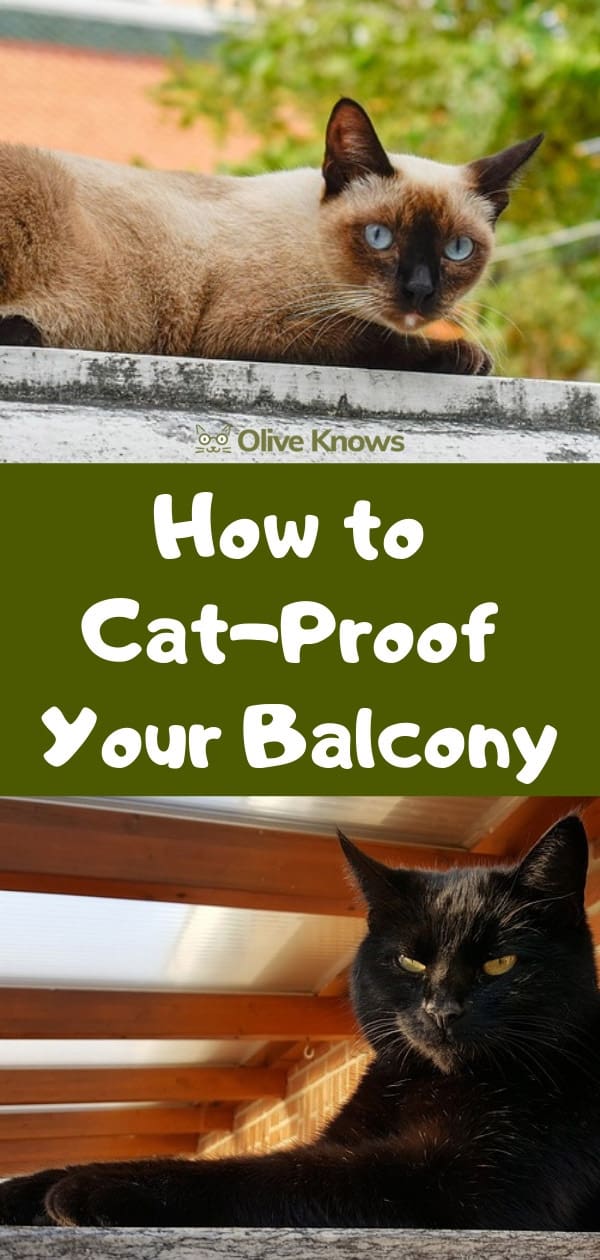 Unfortunately, falls aren't the only problem. If you will be leaving your cat on your balcony, then you will need to give them a safe environment (beyond just a railing). That includes somewhere to shelter from the weather and also ensuring all plants nearby are safe. There are a few options available, including buying a pre-made cat cage like the Prevue Premium Cat Home or building your own 'Catio'.
Cat High Rise Syndrome
Cats have great survival instincts. They won't deliberately jump from a height that would cause them injury – that's why you sometimes find them getting stuck in trees.
However they are also incredibly focused on their prey, and even the most graceful feline can sometimes be clumsy. It's possible that a cat could be so focused on a bird or insect, that it would leap from a balcony. Or it might jump to the top of the railing, only to fall during a particularly intense grooming session.
Sometimes, even trained indoor cats can find that open window and put themselves at undo risk.
Once cats have reached 6-7 weeks old, they've perfected the 'cat righting instinct' which means they usually fall on their feet. They can do this because of their unusually flexible spines, however, it doesn't mean that they can fall from any height and remain uninjured. In fact, pets with injuries to their legs, pelvises, jaws, and lungs are common at the vet. They can also die on impact.
If your cat does fall, even from a short height, and you have any concerns it is worth taking them to a vet. Prompt medical attention will give your cat the best chance of survival.
Catios: The Ultimate Cat Enclosure Solution for Apartment Dwellers
When it comes to providing a safe balcony space for your pet, you have two options.
You can either buy a pre-made cat cage / cat patio or 'catio', or you can build your own. While the former is the most expensive option, you do have the security of knowing it has been built by professionals. If you choose to make your own, not only can you save money, but you can also design your catio to suit your needs.
If you rent, then you will need to ensure that your landlord is happy with you making modifications to the property. If you own your property, then it's worth checking any resident's association rules to avoid causing a problem.
Buying a Catio Enclosure
If you wanted a bespoke catio made for you, then you could make contact with a local cat owners club to see if any local workmen have experience in making them. You could also buy a pre-made unit and install it on your patio. Also called cat cages, or pet runs, these have variable amounts of security so may not be suitable for leaving your cat unattended.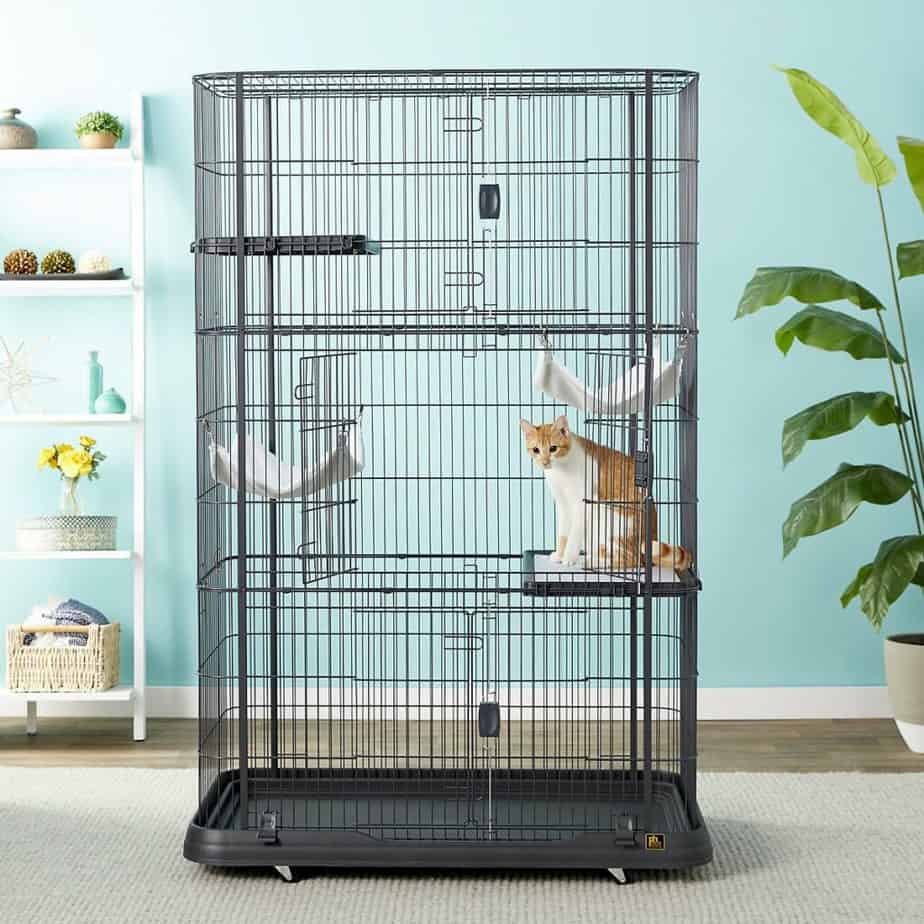 Built from heavy-duty, rust-resistant aluminum, this cat home enclosure has no gaps or pinch-points that could cause a problem for your pet. With four levels to explore, you can add enough toys to keep your cat entertained in the outdoors.
With a hideaway retreat on the upper story, this wooden cat run is made from non-toxic fir. With space for multiple cats, this offers plenty of room for your cat(s) to explore the outdoors safely.
Build A Catio Yourself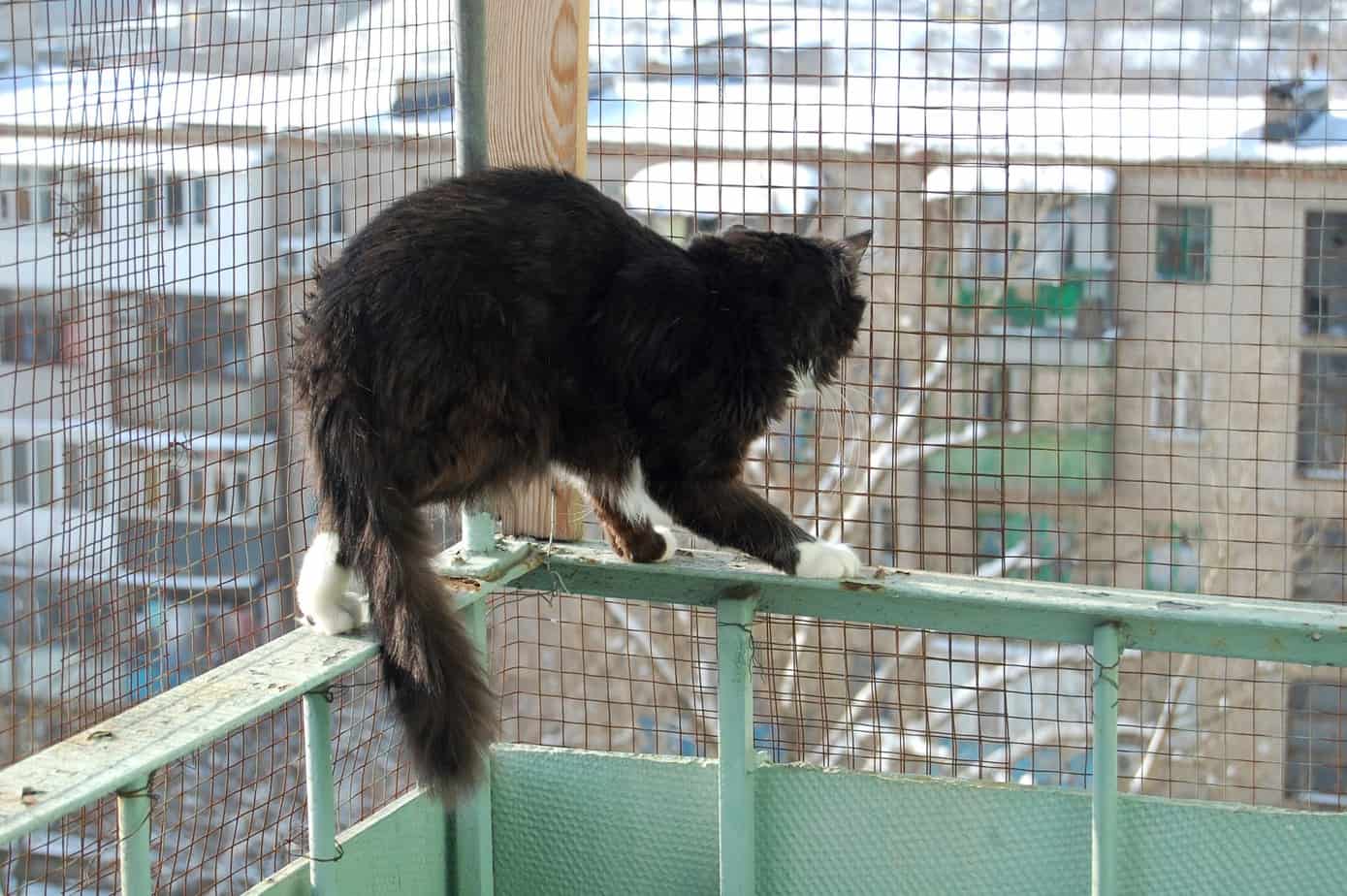 To give you an idea of how you could build your own Catio, watch this video from Addicted to Happy on YouTube where they cat-proofed their balcony for under $30.

As you will see, there are two areas of concern. The first is the space between the railings if your balcony has them. You need to make sure that your cat can't squeeze between them, either by blocking them with solid board or adding mesh or wire. You will also need to think about how to prevent a fall from the balcony railings. Netting or wire are good options here as they won't obstruct your view but they will keep your pets from falling. For more information, have a look at this article from Wikihow.
Catio Supplies
This heavy-duty plastic mesh is clear and will attach to railings with cable ties or similar so can be easily removed if necessary.
If you're looking for a more permanent solution then this galvanized mesh won't rust and will last a long time.
Just the thing to install your mesh without having to make permanent changes to your balcony. Perfect for rentals or where you'd prefer not to drill holes.
Designed to stop birds from getting to soft fruit, this netting will also stop avian visitors to your balcony. If secured to the mesh below, it will stop your pet from falling if they lose their balance.
Alternatives to a Catio
If you'd still like your cat to get some fresh air, but you don't want to give over the balcony to them full-time then there are still some ways to safely do this. Rather than having a large construction, you could choose a smaller pen such as a dog cage (just don't mention the 'D' word to your fur baby) or a fold-away cat pen option which you could remove when your pet isn't out with you.
You can also train your cat to use a harness. While cat's don't take naturally to the leash, with a little patience and some training, they will be comfortable to explore while you keep holding to ensure they can't have an accident.
Please note: With either of these options you would need to stay with your pet on the balcony at all times.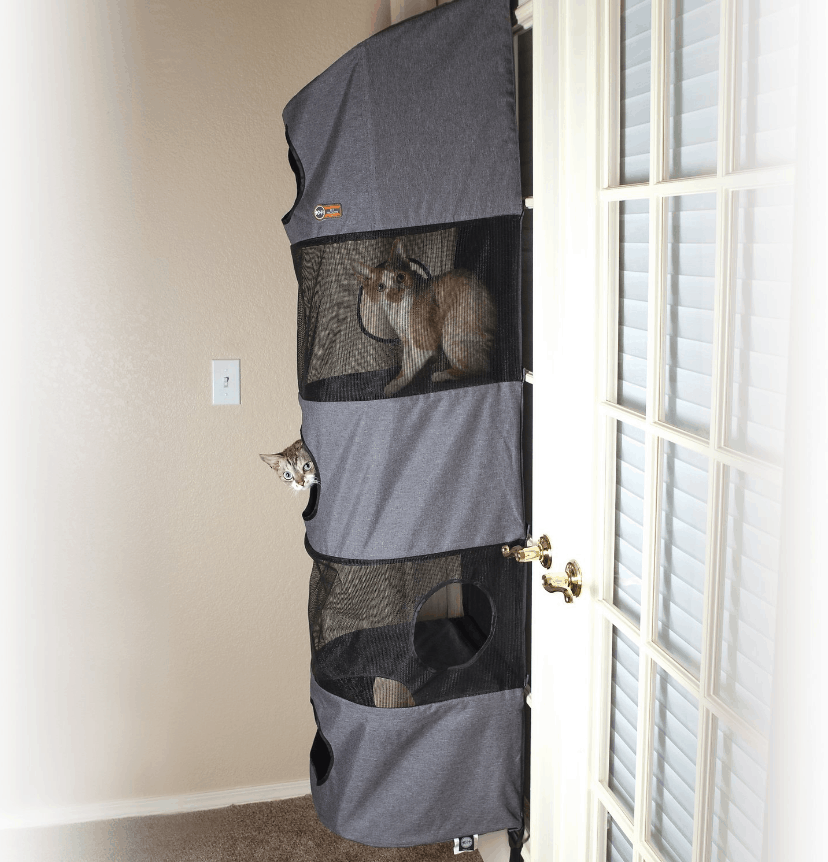 Cats love to climb. They also love relaxing in nooks and crannies. This clever cat condo satisfies both desires without taking up much space. Ideal for small rooms and apartments, the multi-story cat condo attaches to any door with secure top and button straps. Mesh windows allow your cat to look out– and you to keep an eye on your cat. The soft, waterproof fabric is easy to care for and also ideal for napping. Available in 3 and 5 story designs and priced from $69.45 to $90.92; Buy Here.
Folding down into a cylinder that can be easily stored or transported, this pop-up compound offers over 30 square feet of space for your cat to explore. Secured with zippers at each end, there's also a tunnel for play.
There's plenty of secure running around space in this combination of teepee, tunnel, and hexagon. It was designed for camping holidays but works just as well for a temporary cat shelter.
This teepee offers level after level of fun for your cat including a comfy space to snooze. It has weatherproof mesh and a solid steel construction so you could leave it up if you wanted to.
Other Things to Consider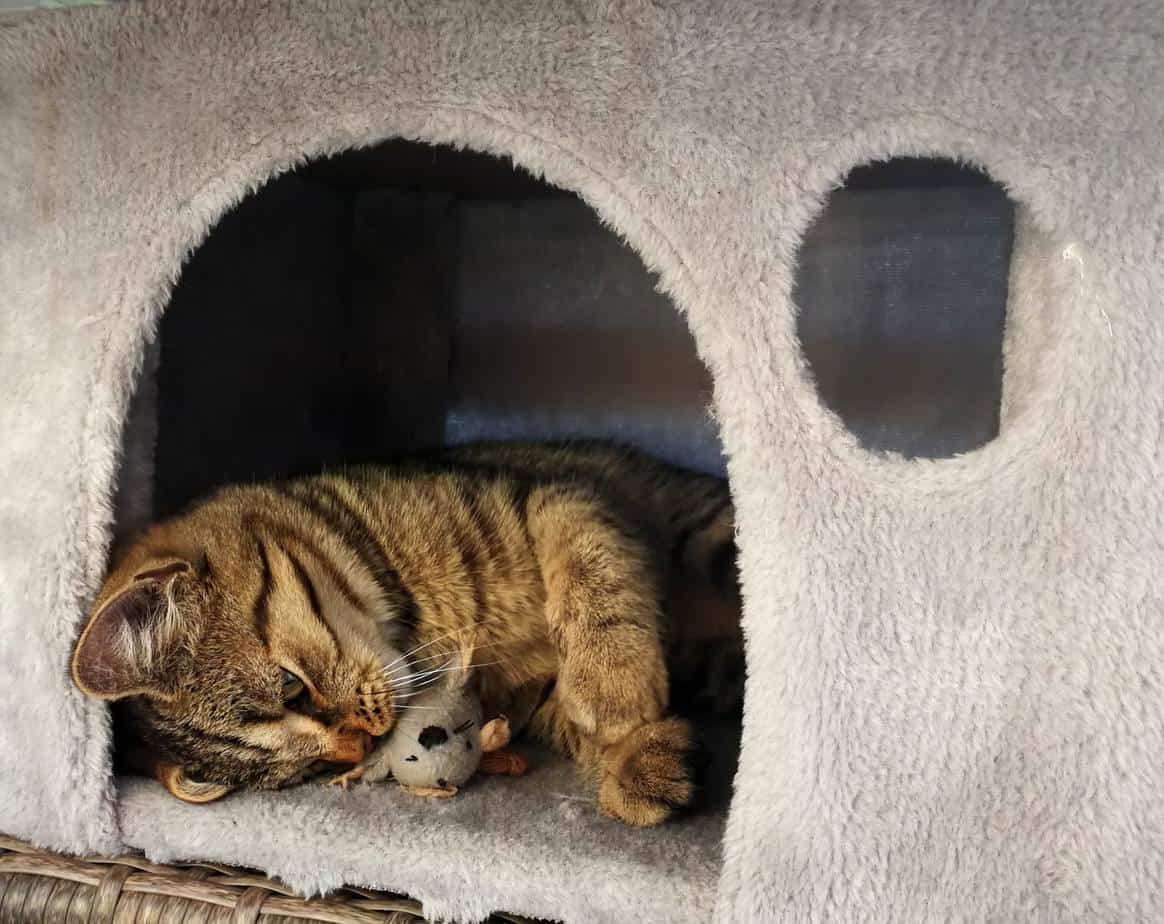 Unfortunately, falling isn't the only problem that your pet might encounter when on your balcony. Here are a few more concerns that you should think about before you leave your pet out for any length of time.
Weather Conditions
You will need to make sure that your pet has somewhere to go, no matter what the weather. Balconies are often sun traps, so ensure that there is a shady spot to prevent your cat getting too hot. You'll also want to ensure that your fur baby always has access to fresh water in case he or she gets thirsty. Somewhere to cuddle up if it gets chilly is also a good idea, and making sure that your cat can retreat to somewhere dry in the event of rain.
Boredom
Even if they do have the outdoor world to look out on, cats can still get bored. A scratching post is often popular, and regular changes of toys should keep your cat amused, even if you have to leave them for a couple of hours. Look for toys that combine treats to help them hone their hunting instincts and keep them happy on two fronts.
Frisco 33.5-in Sisal Cat Scratching Post
Affordable, with an average of 4.5 of 5 stars based on over 2,000 customer reviews, the scratching post is ideal for kittens to senior cats. The vertical scratching post and tower are constructed with durable woven covers meant to withstand cat claws. The tower is designed for cats to stretch to their heart's content and appease their need to climb. With a double-layer baseboard, you won't have to worry about this tipping over like some cheap towers. Your purchase comes with easy assembly instructions. Priced at $33.99; Buy Here.
With different size tubes filled with kibble or treats, the Digger encourages your pet to hone their natural pawing action. Part of a whole range of cat feeders and toys, the Digger is easy to clean and stimulates all your cat's senses!
You can test your cat in five different ways with this activity center. Pawing, hunting, licking and hide and seek are all available to you and your pet.
Cat Friendly Plants for Balcony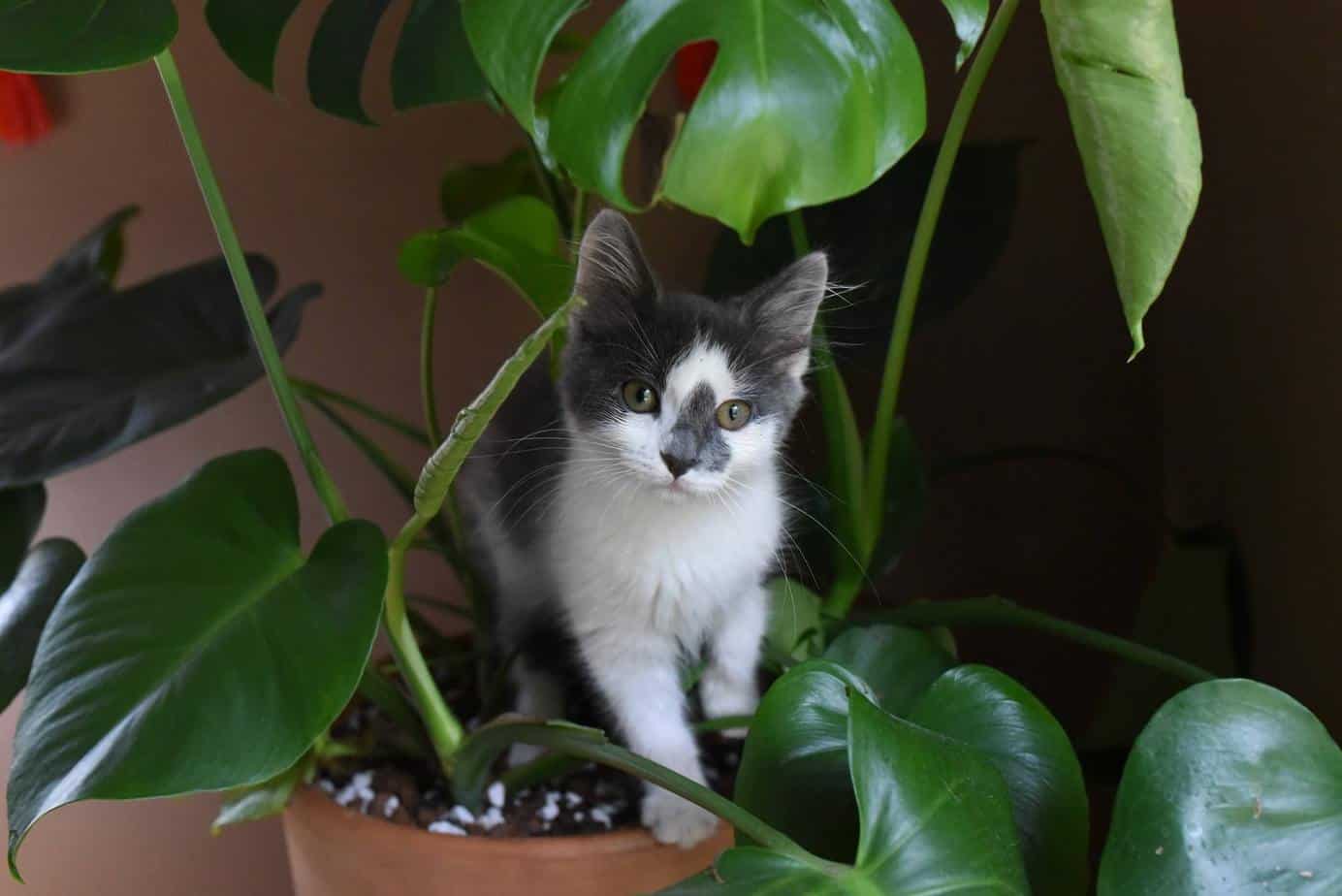 Unfortunately, some of the plants that we most commonly use to decorate our outdoor spaces are also toxic to cats. The last thing you want is for your pet to accidentally poison itself by nibbling on your floral displays. Chrysanthemums, Cyclamen, English Ivy, Daffodils and Tulips and more can all cause a problem. A complete list can be found here.
Symptoms of poisoning in cats include breathlessness, vomiting, diarrhea, and drooling or excessive swallowing. If in any doubt, consult your vet.
You could also think about planting a balcony garden for your cat's entertainment. Plant a pot up with cat grass, catmint and catnip to please your pet. Add butterfly attracting plants like lavender and Thyme and not only will your balcony smell great, but it will have an extra source of entertainment for your kitty.
We all know how much cat's love a sniff of catnip. Well, how about growing your own? Imagine the blissful expression on your cat's face as they nibble through the fresh stuff.
FAQ: Frequently Asked Questions About Cats and Balcony's
Is it safe to let my cat on the balcony?
A cat is never completely safe on an un-enclosed balcony. While your cat may go years without any issues, all it takes is one clumsy moment, particularly if you are above the second story.
Do cats know not to jump off of balconies?
Yes, cats have a natural aversion to jumping from heights which they cannot accurately judge or which might injure them. This doesn't mean that accidents don't happen. Even though most cats can "land on their feet", the laws of gravity are still in effect. A fall from a any height can still injure or kill a cat.
How high can cats fall?
It's possible that a cat can fall multiple stories and still survive (albeit with injuries). According to this study in the Journal of American Veterinary Medical Association, 90% of cats survived falling 5.5 stories at a terminal volocity of 60 MPH (132 accident report cases). This does NOT mean that cats are safe by default. Key variables include the time to manuver (ironically, longer falls give cats more time to spread and anticipate), cross winds, landing area, etc…
High Living, not High Rise
Although balconies can be a problem for cats, there's no reason why even high-rise dwellers can't let their cats enjoy the great outdoors. Whether you want to go the whole hog and cat-proof the entire balcony or just make sure your kitty is safe when you chill out with a glass of wine in the evening, we hope that this article shows that there are options for everyone!
Further Reads