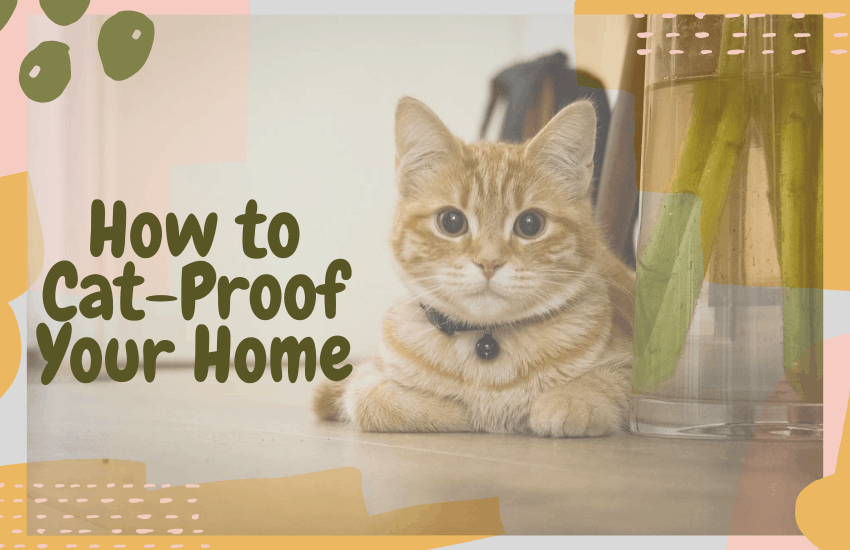 Owning a cat can be a wonderful experience; cats provide companionship yet are relatively easy to look after and make excellent pets to have around the house. They are great with children and can be kept inside if required.
Despite what some people (non-cat owners, mostly) might think, they are not a 'set and forget' kind of pet. They still need to be cared for. And your home? It needs to be cat-proofed to make it a safe place for your pet. Here are some ways to do it.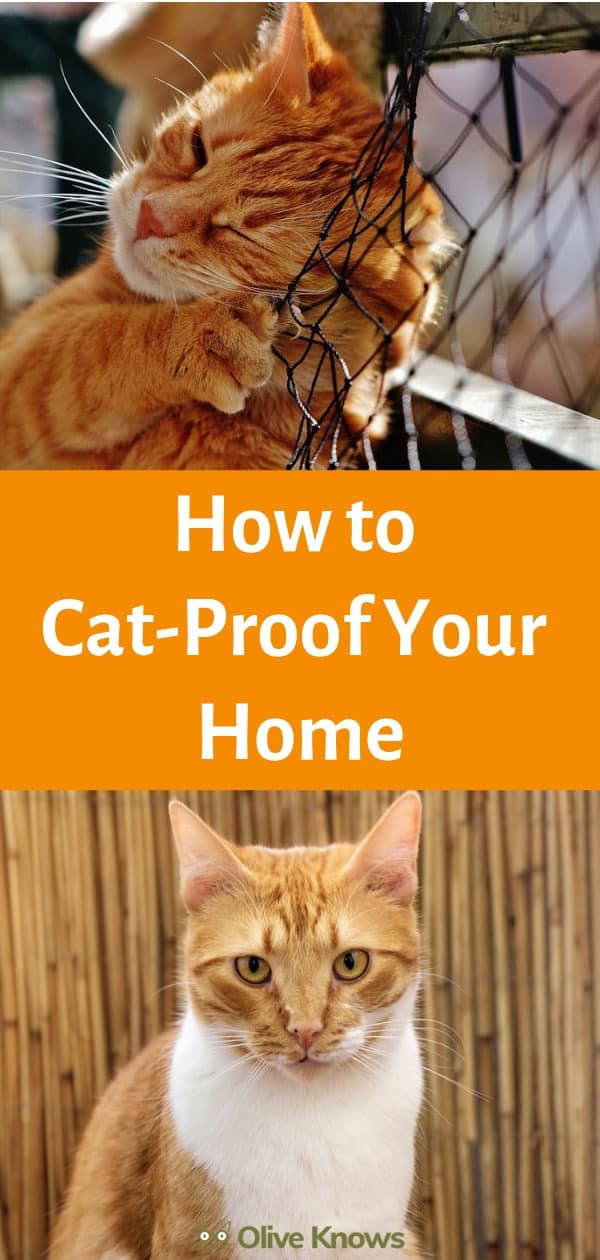 Stay Away From Poisonous Plants
Cats love to chew things – they especially love grass and plants. The problem is, some of those grasses and plants can be poisonous, even deadly to our beloved feline pets. Even those plants that aren't poisonous can irritate the cat's stomach or throat, causing diarrhea or vomiting.
If the plants are inside the home it's easy to get them out of your cat's way – just remove them altogether. If they are outside, then you have some options. Firstly, you can keep your cat indoors, make them an indoor pet, and ensure that they don't get to eat anything nasty. That can be problematic if your cat has, until now, been an outdoor cat.
Alternatively, you can remove the poisonous plants from the garden yourself (or hire someone to do it for you). This can be expensive and time-consuming, but if it is going to make your cat happy and keep them safe, then it is certainly something to consider.
The plants that you should look out for include amaryllis, crocus, rhododendrons, azaleas, chrysanthemum, English ivy, lilies, yew, oleander, sago palm, tulips and more.
Get Locks
Cats can learn to open cupboards very easily – especially if they are determined to get inside. As we all know, a cat's curiosity can get the better of them sometimes, and that can lead to trouble. So even if you think that your cleaning supplies and chemicals are kept away behind a closed door, your cat may still be able to get to them.
Locking those cupboards up can be an excellent way to keep curious cats away from dangerous chemicals that you might want to use to clean up around the house. You don't have to get a padlock or anything unsightly though, so don't worry – a childproof latch will work perfectly well, and they are easy to buy and easy to install.
Watch Out For Medicines
Medicines should also be kept locked up, whether they are for people or animals. Animals can overdose as easily as a person can, so put all medicines – both over the counter and prescription – into a locked cabinet. Watch out for medicines that you accidentally drop as well because cats are quick and if they think you've dropped food they'll be on it in an instant.
Look After Your Fragile Items
Take a look around your home, and you'll find that you own plenty of breakable objects from ornaments to picture frames to cups and glasses. Cats love to look around them and explore; they will jump into surfaces and knock things to the floor either accidentally or because they were playing. If you don't want your precious items to get broken, keep them somewhere that your cat can't reach.
My Overall Pick
Mosher Training Mat | Amazon
There are plenty of ways to prevent cats from jumping on your bed, but the Mosher mat is the easiest to implement and most consistent solution. The subtle static when kitty walks on it is enough to keep her off and works better than sprays.
Buy at Amazon.com
We earn a commission if you click this link and make a purchase at no additional cost to you.
PetSafe SSSCAT Spray Pet Deterrent | Chewy
This unique spray uses motion-activated infrared to monitor movement up to 3 feet away. When the SSSCAT detects your pet entering an off-limit area, it emits a harmless, odorless and stainless spray to deter your pet from continuing.
Check Price
Buy at Amazon.com
We earn a commission if you click this link and make a purchase at no additional cost to you.
Unplug The Cords
Electrical cords can be extremely tempting for a cat. They love to chew them, attracted, perhaps, by the subtle vibrations that they make. If your cat gives the cord a chew when it's plugged in, however, they could get a nasty shock which can be fatal, especially if they are elderly or very young, or if they have a pre-existing heart condition. If possible, make sure that you unplug everything when you're not using it and put the cords somewhere out of harm's way (this is good for general safety measure in your home too).
If you can't unplug them, try coating them with a foul-tasting substance such as hot sauce – your cat will soon learn to stay away.
Electrical cords aren't the only cords in your home – the cords that hang from blinds can be dangerous too. If your cat were to be playing with them, they could easily get themselves caught up and become strangled. Or they could choke on the plastic ends if they manage to pull these cords apart. Tie these cords up as high as possible so that they are still usable, but safe.
Check Before You Use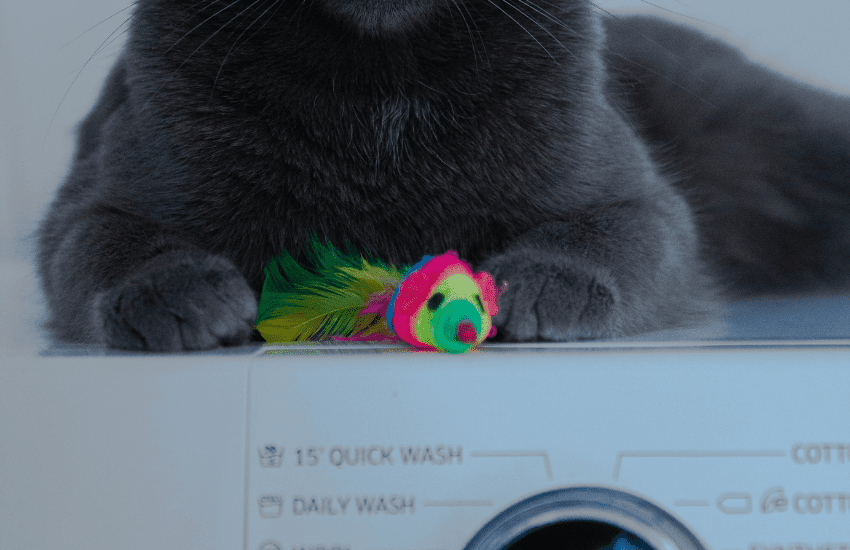 If you have a tumble drier in your home, make sure you check it before throwing your damp clothes in to be dried – your cat may have decided that it was the perfect place to have a nap.
The same goes for your washing machine, the fridge if you've left the door open for a little bit, a chest freezer, closets, drawers or anywhere else that a cat might climb into and then fall asleep. If you have a bonfire planned to check the woodpile too.
Keep doors closed when possible to stop your cat from getting into trouble, and keep your toilet seat down too, just in case.
Don't Keep Your Table Set
A set table is a recipe for disaster when a cat is around, especially if there is a tablecloth. They can pull on that cloth, and everything can come tumbling down – that's a lot of broken china and crystal and a potential trip to the veterinarian.
Clip Claws
Claws can easily overgrow, especially if your cat is an indoor one. Untrimmed claws can cause problems when they grow into the cat's paw pads, and that can lead to pain and infection as well as difficulties walking. Check your cat's claws every other week or so to keep them under control.
Catit Senses 2.0 Digger Interactive Cat Toy | Amazon
The cat food bowl features multiple tubes that stimulate natural pawing behavior in a fun manner. Easy to disassemble and clean; simply remove the rounded green tubes from the food bowl and hand wash.
Buy at Amazon.com
We earn a commission if you click this link and make a purchase at no additional cost to you.
12/05/2023 02:17 pm GMT
PetSafe SlimCat Meal-Dispensing Cat Toy | Chewy
Convenient adjustable openings work for many kibble sizes and allow you to control how quickly your cat gets her food. Great for eager eaters; SlimCat distributes meals into several smaller portions so dinner is easier on your cat's stomach.
Check Price
Buy at Amazon.com
We earn a commission if you click this link and make a purchase at no additional cost to you.
Trixie Activity Fun Board | Amazon
Exciting board game with 5 different game modules. For cats from the age of 3 months up.
Buy at Amazon.com
We earn a commission if you click this link and make a purchase at no additional cost to you.
12/05/2023 03:58 pm GMT
Further Reads