Curiosity is ingrained in all creatures but especially in cats. These felines investigate anything that they can get their eyes (and paws) on. At home, cats love exploring space so much that they will have no problem jumping over counters – something that poses a safety and sanitary problem for cat owners.
The good news is that there are several ways to discourage cats from doing this. For instance, there is a remote correction, motion detectors, alternative distractions, and making the counters less enticing for your cat.
Safety and Sanitary Reasons Why Cats Should Not Jump On Kitchen Counters
As much as cat owners want their feline buddies to enjoy their playtime, the counter is not a safe place to explore. Cats may unknowingly come in contact with a hot stove top or a pot of boiling water once they jump on the counter. They may also come across dangerous chemicals such as bleach. Food is also sometimes left on the counter and these could potentially harm the cat. Remember that most human foods are not safe for cats, these could either have too much sodium or may have little bones that can cause choking or block their intestines.
Another reason is for sanitary and hygienic purposes. Cats may knock down or topple over everything on the counter – which will eventually cause a mess that needs to be cleaned. Not only this takes time for the pet owner, but it is also unfortunate to have wasted pizza, broken mugs, or shattered condiments lying on the floor.
Also, since cats use their paws in their litter box, there could be tiny particles of urine and feces left behind. Although these are probably not very harmful to humans, contamination of the food is still something that should be avoided.
How to Keep Cats Off Counters: Using Remote Correction to get Cats Off Counters
One of the best ways to alter the behavior of a creature is to change their environment. With cats, remote correction is a popular way to make the counter off limits. What do you need? Below are some tips and tricks for you to try: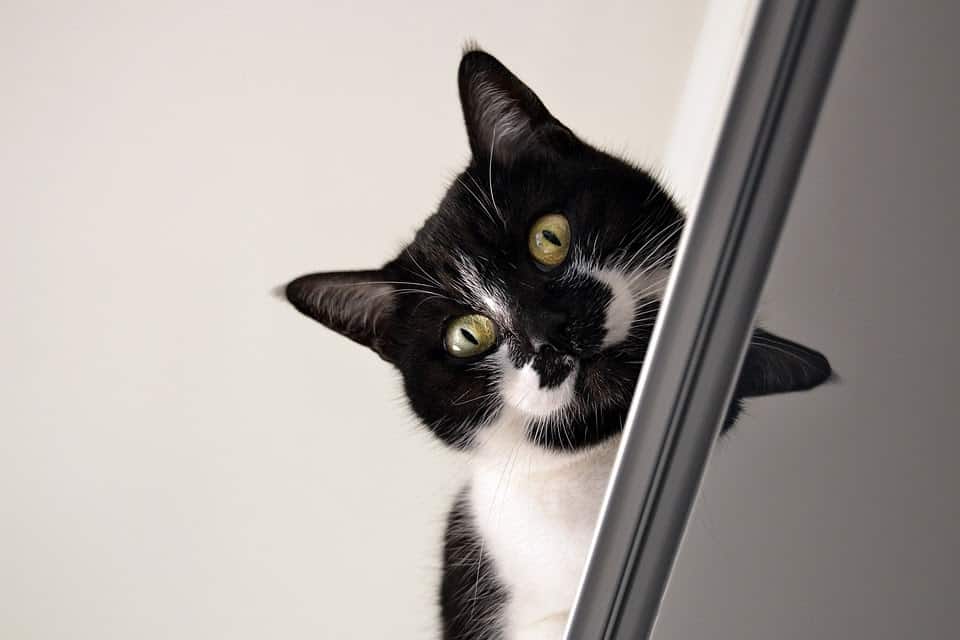 #1 Baking Sheets
Tape the edge of the counter with a baking sheet. Once they jump, the cats will land on the sheet and this will create an unexpected feeling and noise that will discourage them. Eventually, this experience will be associated with jumping on counters.
#2 Aluminum Foil Pans with Water
Cats jumping on a pan of water? Unless it's a water-loving feline, this is a pretty good way to let your cat know that they should not be on counters. Some people might use plastic or metal pans. However, these may hurt the cat if the pan falls over. If the cat is old or not very quick to move, this is also not recommended as they may hurt themselves.
#3 Empty Cans with Coins
Aside from water, a surprising sound might also deter a cat from jumping on the counter. Position an empty soda can on the side of the counter where the cat often jumps and if the cat hits it, the unexpected sound of the can with coins inside it will startle the cat.
#4 Double-Sided Tapes
Cats don't like it when something sticks to them, this is why a double-sided tape is an effective deterrent. Simply put one or two layers on the edge of the counter and see the reaction of the cat as he jumps on it. This will annoy them and they will prefer not to venture into the counters anymore. This works best for granite or marble countertops, as paint or stickers might come off along with the tape.
#5 Textured Mats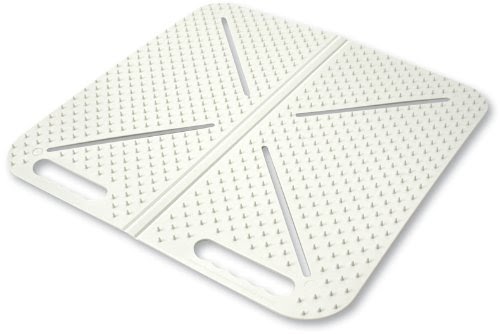 X-Mat Original Pet Training Mat, Firm, 18-Inch at Amazon
There are textured mats that are not harmful to the cats, but uncomfortable enough that they wouldn't want to step on it. These are safe mats that can be used easily and doesn't require a battery. The mats come with pointy little nubs that make sure the cat keeps away from the counters.
Electronic and Manual Alarms to Startle Cats
For cat owners who want to maximize technology, there are several motion detector alarms available to keep cats away from places they are not allowed to be in. As mentioned above, cats are not fond of unexpected sounds or sudden movements. Below are some items that cat owners may find helpful:
#1 Motion Activated Air Blasters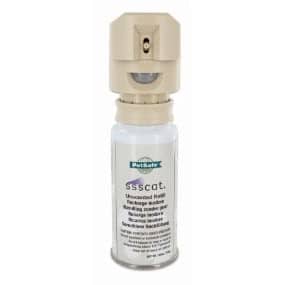 An item that will definitely put off cats, this motion-activated air blaster is equipped with a motion sensor that immediately blasts air to the cat once detected. The air blast is strong enough that the cat will feel it, but it remains safe enough and it doesn't hurt the cat. As mentioned above, this might not be ideal for homes with cats that are old or are not very agile.
#2 Motion Activated Alarm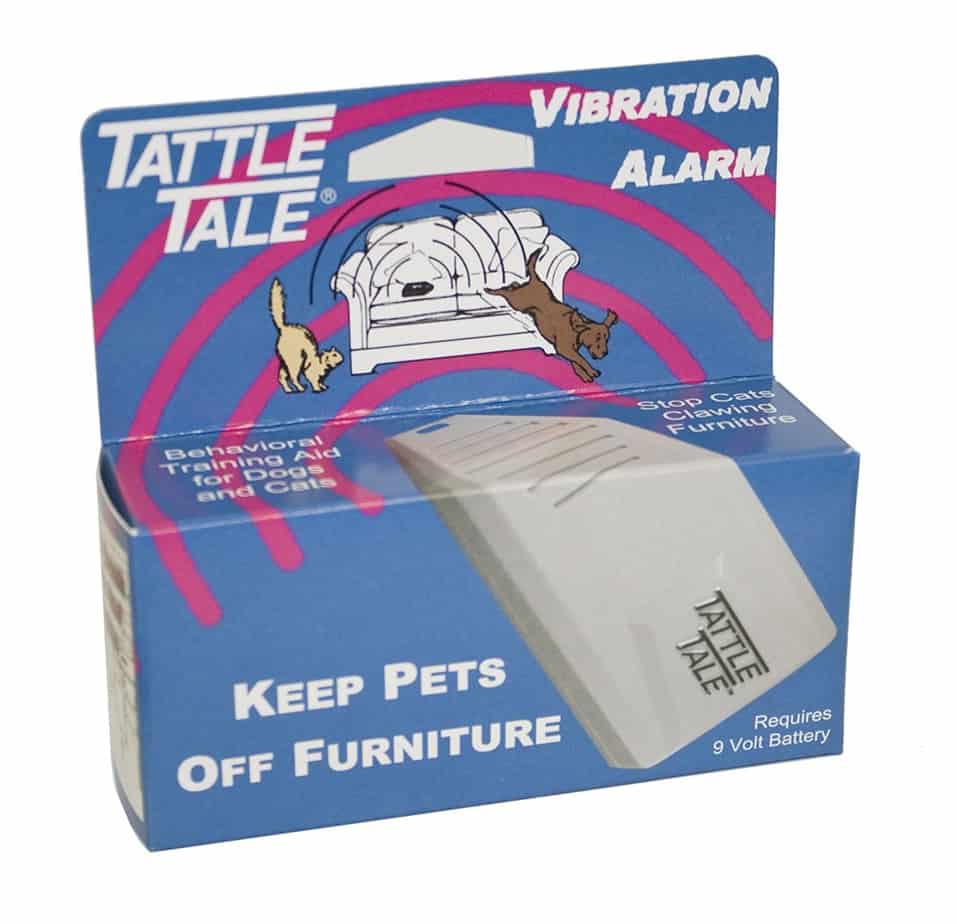 Vibration Pet Trainer/Alarm by Tattle Tale
For an alarm that lets an owner know if the cat is on the counter once again, there is the motion-activated alarm. Put it on top of the counter and once it detects the cat via its movements, this will play a loud sound that is sure to startle not just the cat but the whole house.
#3 Touch Activated Alarm
As suggested by its name, this alarm makes a loud sound when something touches it. Cats are known to explore anything with their little paws, making this alarm very effective. They might even push it off the counter or lay down on it – before it makes a sound that startles the cat off the counter.
#4 Silent Motion Activated Alarm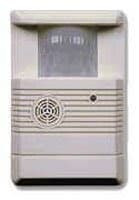 Catscram Electronic Cat Repellent
For an interesting deterrent, there is a silent motion-activated alarm that sets off a high pitched sound only audible for the cats. The sound, however, is not audible to humans and or even dogs.
#5 Noisemakers
Got some leftover noisemakers from last the New Year's party? Get them out and use these to surprise cats whenever they jump on the counter. Owners can hide from the view of the cat and once the cat sets foot on the counter, use the noisemaker as loud as possible. This sudden noise will surprise the cat and associate this unpleasant surprise to jumping on counters.
#6 Air Horns with Pheromone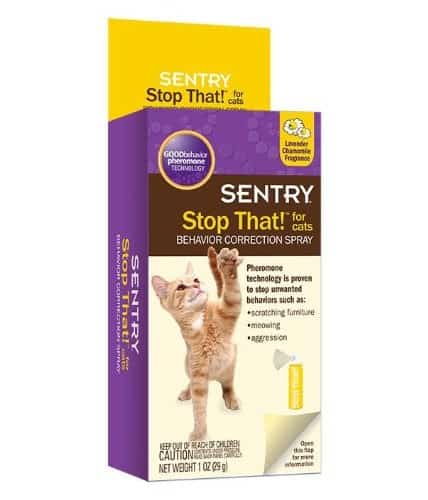 SENTRY Stop That! For Cats, 1 oz
A natural chemical that cats loathe, pheromones are commonly used in pet training and behavior correction training. Above is an air horn that makes a loud noise when used, but also sprays pheromone into the air to keep the cat away from the counter.
Providing Cats with The Vertical Space That They Need
Cats are natural climbers and jumpers, it is in their genes. Whether it's a couch, a table, a counter, or even a cabinet, cats have probably explored these already. Cats like elevation and the higher it is, the better. One might have seen a cat looking out into his "kingdom" from a high place – this also makes the cat feel safe and allows him to survey his surroundings. Countertops are one of these elevated places, hence the desire to be on it. To give your cat an alternative, consider some these options
#1 Cat condo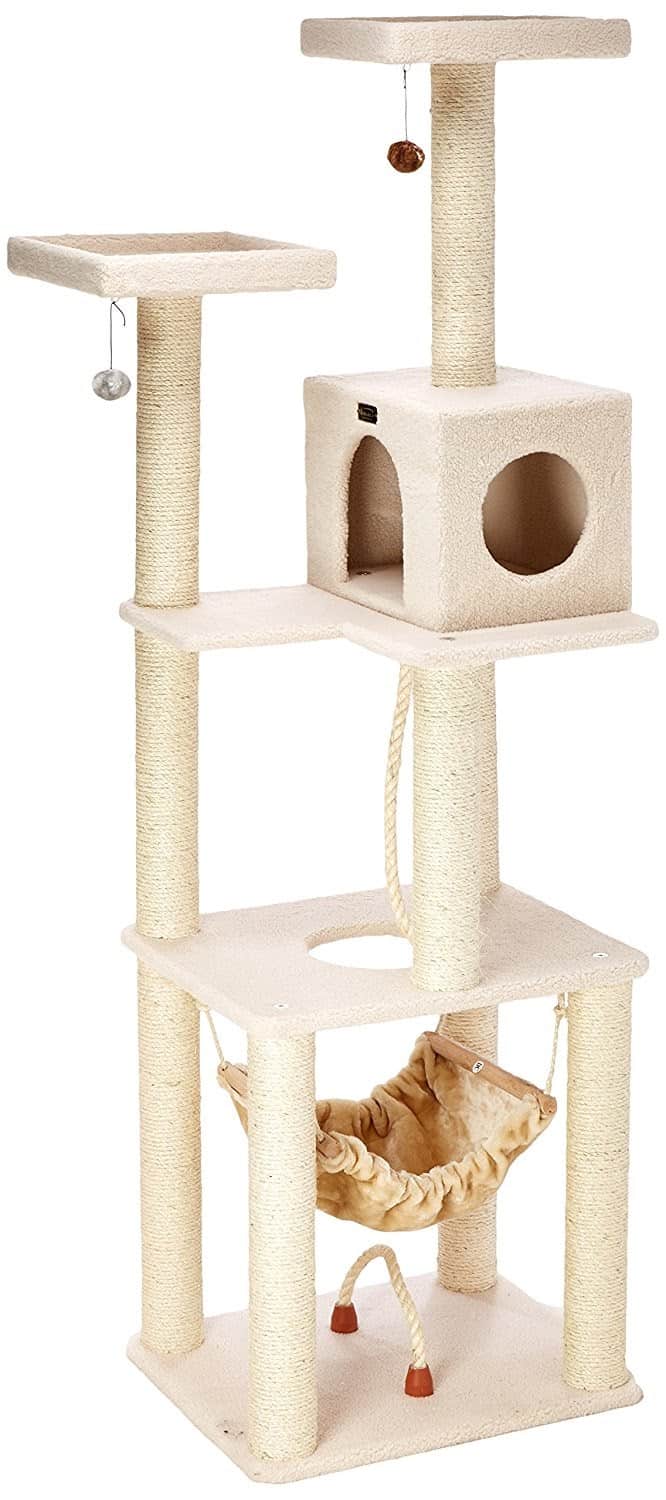 Armarkat Cat tree Furniture Condo
A popular "cat furniture," these cat condos also known as cat trees come in all shapes, sizes, and features. There are simple ones that simply provide the much needed and essential vertical space for the cats and there are also fancy cat condos that come with a sleeping area, an assortment of toys, and also a hammock. There are several available online and for cat parents who are into DIYs, there are also several tutorials online.
#2 Cat shelf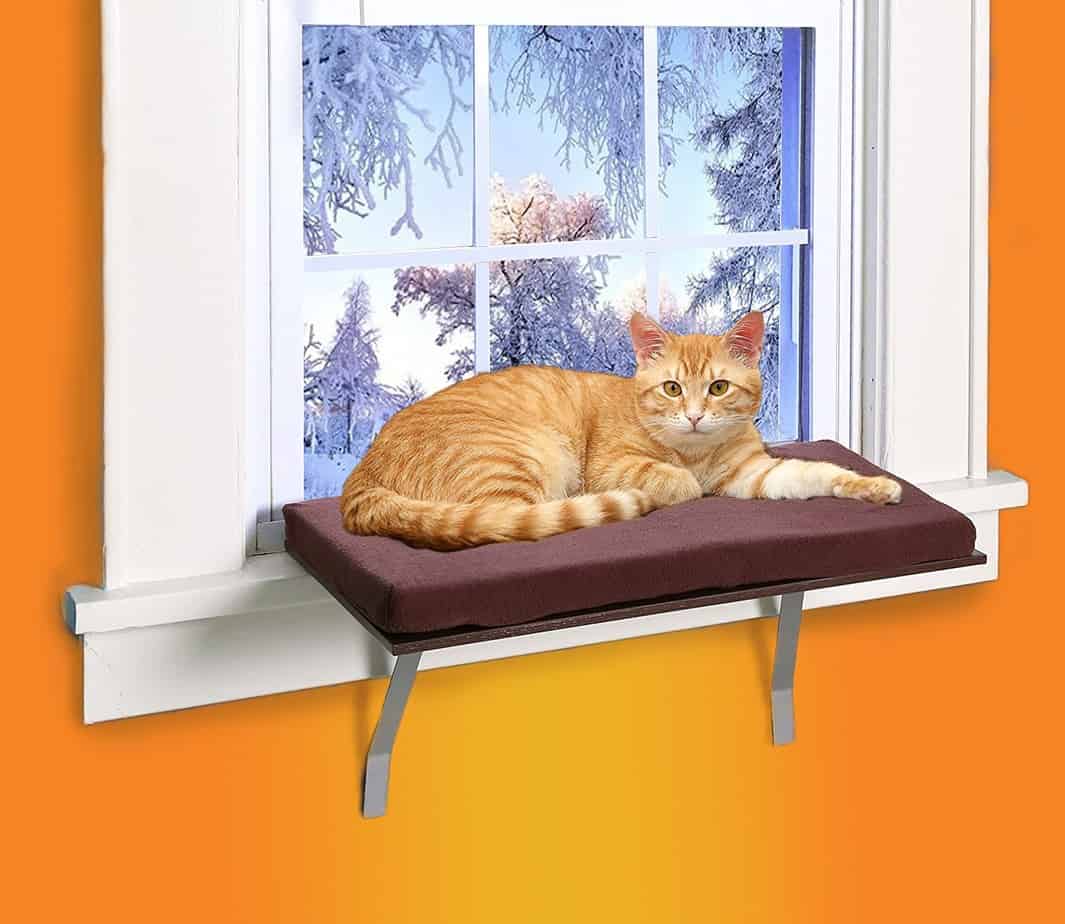 Kleeger Cat Window Perch seat: Sunny Kitty Window Sill Shelf
Another "cat furniture" that is much loved by cats and their owners are the cat shelves. These are padded shelves installed by the windows, to allow cats to either do their regular sunbathing or simply take a peek of the outdoors. These will surely keep the cats distracted away from the countertops, as surely, the squirrels playing by the nearby tree will keep them entertained all day long.
#3 Cat Bridges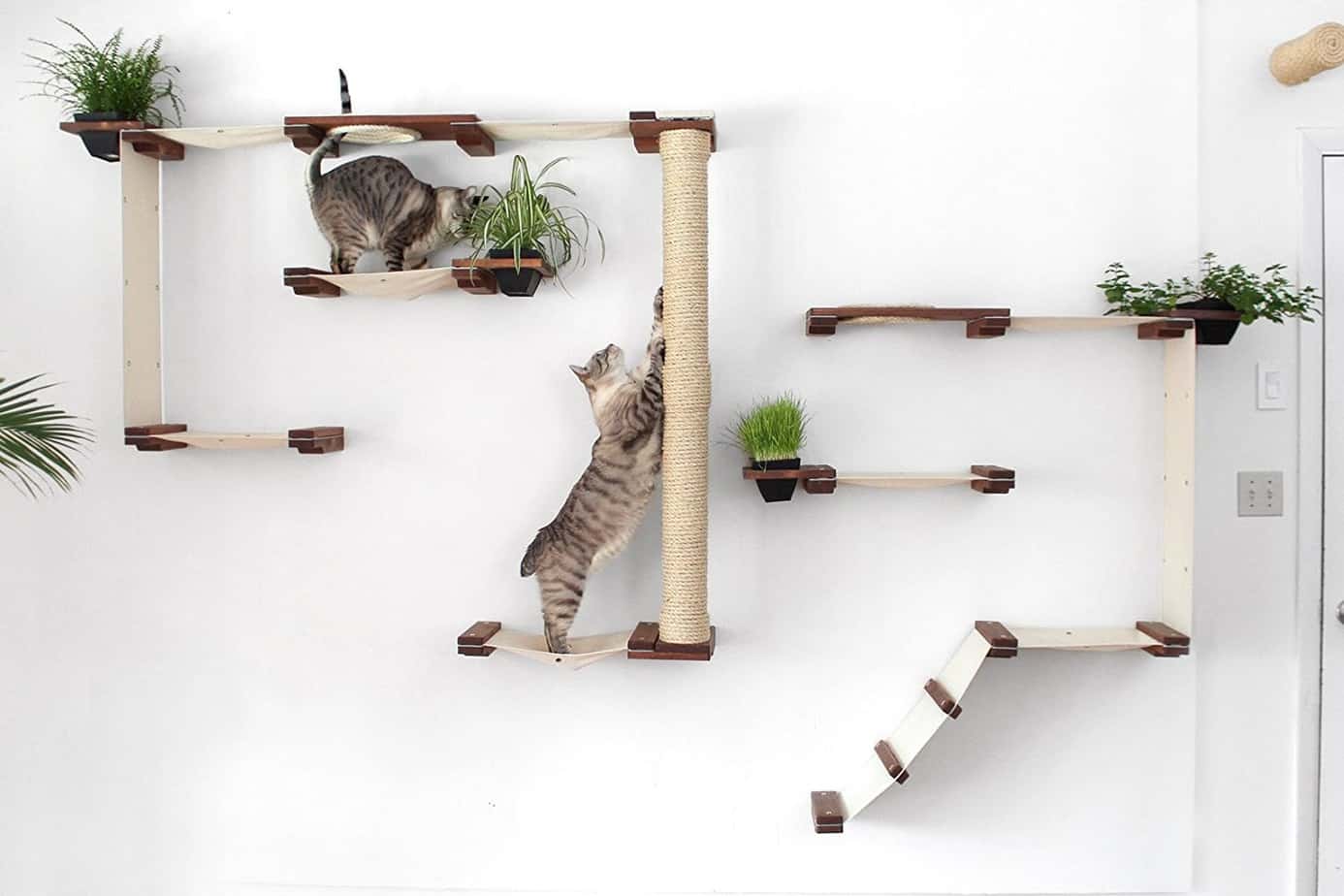 CatastrophiCreations Cat Mod Garden Complex
A wonderful addition to the cat shelves, these cat bridges provide additional areas to explore for the cats. The cat bridges also allow cats to have a fun experience threading through it. Most cats also often lounge by these bridges, as it serves as a perfect hammock as well. Bonus point – they look great in any house!
Make the Kitchen Counter a "Boring" Place for the Cat, Make it Less Enticing
The curiosity of a cat is often compared to that of a child. If an adult is doing something, they would want to be there too. They might even offer to help or take part in what you are doing. This could also be one of the reasons why your cat is always on the counter whenever you're in the kitchen. To avoid this, make the counter a less enticing place with the steps below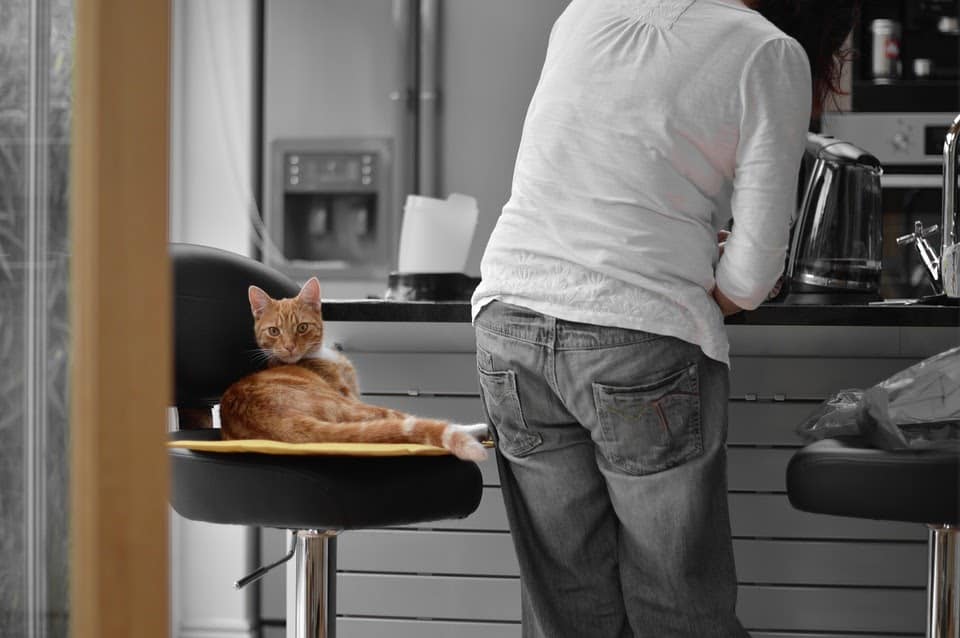 #1 Do not leave food on kitchen counters
The scent of food is a very powerful trigger, not just for cats but even for humans. Human food, cooked or raw, left on the countertop might attract the attention of the cat. Worse, they might consume it and this could be harmful to them.
#2 Always clean the counter
Even if there is no food present on the counter, there might be some scent or scraps left. Make it a habit to clean the counter and make sure that odor is eliminated. Disinfecting wipes and cleaners that have citrus and minty scents are more effective in discouraging cats.
#3 Never leave cat toys on the counter
If there is a cat toy on the counter, a cat might be getting the message that this place is part of his play area. After all, his human doesn't seem to mind. This is sending mixed signals to the cat. To discourage cats from playing on the counter, do not put or leave their toys here. If toys are placed here, they might even take it as a challenge – making the counter a very exciting place for the cat. Instead of deterring the cat, this might even encourage him.
The Final Paw
Aside from toys, cats might also consider other regular household items as toys. Cat owners know how cats will just randomly play with a pen, with keys, or even with paper, and just simply swat it off the table. These little items left on the counters have the same effect such as toys.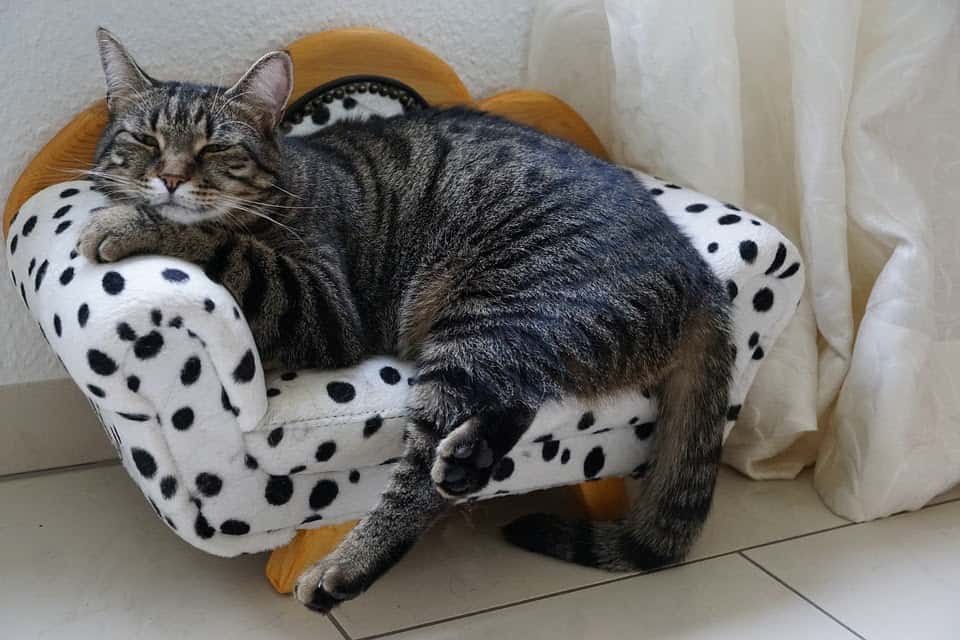 As a responsible pet owner, it is important to ensure that one's home is a safe place for everyone, including the cat. Counters are a popular place for cats to explore and play on, but this should not be encouraged as this is not a safe place for cats. The good news is that there are numerous ways to keep cats off the counters such as motion activated alarms, providing more alternatives for a bored kitty, and sometimes even simply doing some minor changes in the environment. The more a cat owner understands the behavior of their cats, the better they can provide a safe and comfortable place for them.
Try out some of these tricks and let us know which one works best on your feline buddies.
Further Reading on Cat Training