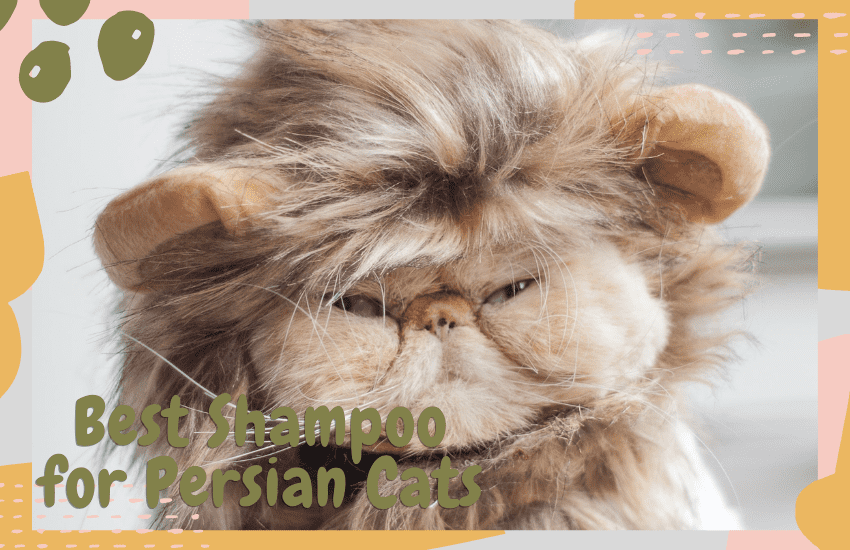 Persian cats are known for their beautiful, luxurious fur–something that makes them a natural pick as show cats. At the East of Eden Allbreed and Household Pet Cat Show late February this year, in Monterey California, it was a Persian kitten that proved a top contender. While the kitten ended up placing a respectable seventh place, she was appreciated for her healthy coat and striking pattern.
But keeping a cat's coat looking beautiful and healthy, especially with Persian cats, takes a little work. Even if you're not showing a cat, keeping a cat's coat clean is best managed by knowing the best shampoo to purchase.
And it's not as simple as you might think: while there are many shampoos out on the market considered excellent for cats in general, there are actually formulas made with Persian cats in mind in particular.
We'll go over why you need to have shampoo for your cat in the first, how to select and provide a short list of some of the best shampoos for Persian cats. Whether it's for a cat that's been with you for a while or a new cat you're introducing to your house, we have you covered.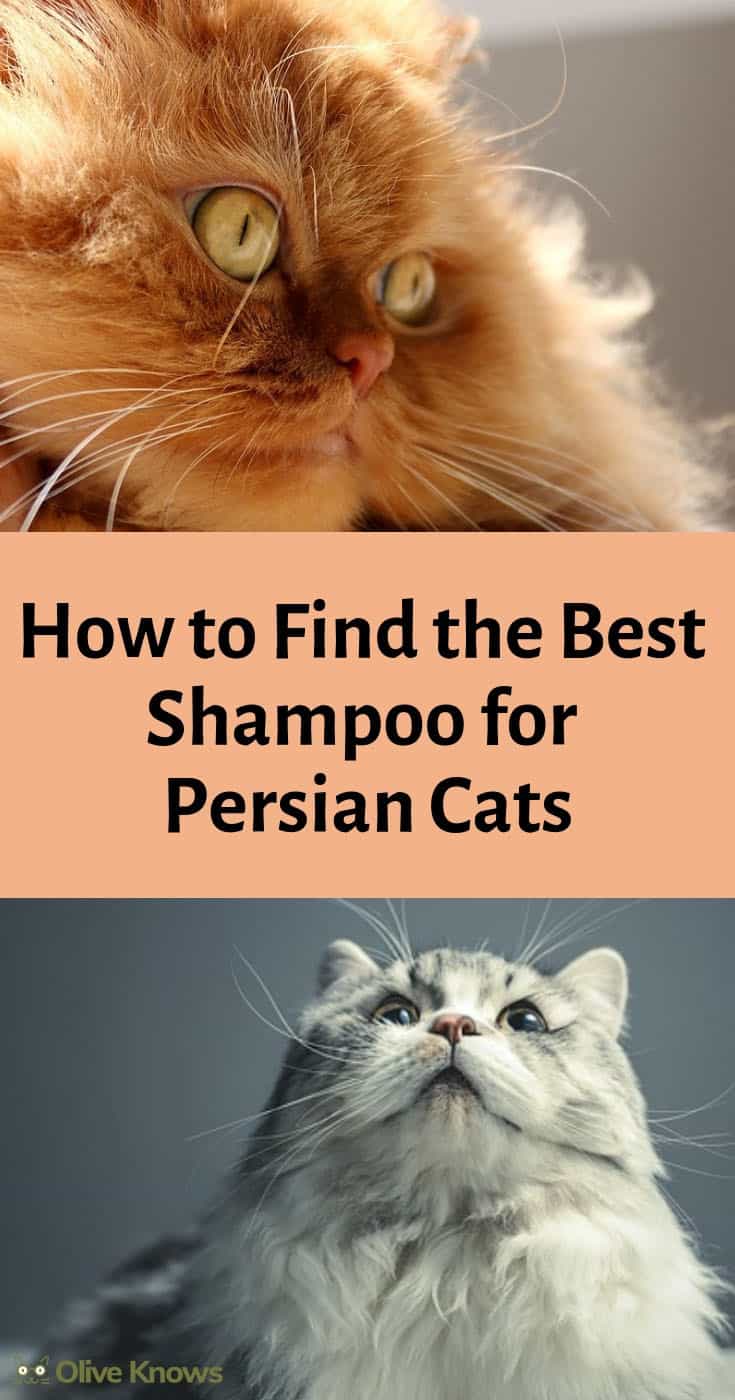 Why Do You Even Need Shampoo? Don't Cats Clean Themselves?
Cats do in fact clean themselves, at least in theory. Unlike their canine counterparts, most cats are fastidious when it comes to making sure their coat is clean. Cats spend time grooming themselves. Their tongue, which has the texture of sandpaper, contains tiny hooks called papillae, which acts as a comb.
For acts, grooming helps detangle and helps them feel more at ease. Natural oils in their glands also help them stay warmer in the winter and cooler during the summer months. In this way, it appears, cats are amazing self-sufficient. There's even a social component to grooming.
There is a catch, however.
While self-cleaning helps cats to stay tangle free, unlike dogs, it is not all-encompassing. While a cat can manage its coat in general, there are many reasons why adding shampoo and some bathing to your pet care regime is a good idea.
What are the Benefits of Using Shampoo for Your Cat?
While not an absolute necessity, using shampoo for your cat does provide a number of benefits. For one, it's great for outdoor cats, who might get into more messes. While cats do maintain themselves, for the most part, they may not be able to rid themselves of bad odors. But the benefits go beyond that. Even if you have an indoor cat that doesn't get into much in the way of messes, there are other reasons you should consider adding shampoo to your pet care routine, including:
Shampoo helps keep a coat shiny. Bathing a cat can help rid the skin of natural dandruff, which leaves hair dull and lifeless and can even be uncomfortable.
Shampoo and bathing can help with flee management and prevention. While shampoo alone will not rid your pet of fleas, keeping your cat's hair healthy can protect against certain parasites, and there are even shampoos specially formulated for fleas. Plus, by bathing your cat, you're more likely to notice if he or she is suffering from a skin ailment or other abnormality.
Shampooing can reduce shedding. Nearly all cats shed, but regular bathing can reduce just how much hair your cat will leave behind on your favorite sofa. That's because bathing removes dead hair that would otherwise be disposed of during the shedding process.
Don't Cats Hate Baths? And What can I do to Make the Shampoo and Bathing Process Easier?
In truth, most cats don't love baths, though the same argument could be made against bathing dogs. Still, bathing with shampoo periodically can help your cat stay both healthier and cleaner, so it's worth it in the long term. There are some steps you can take to make the process simpler for you and your cat. Purina, a leading producer of cat food, recommends taking the following steps:
Bathe your cat in either a large plastic bucket or a lined bathtub. You'll want the water to be just warm enough. To make sure you don't scald or freeze your cat, test the water yourself. It should be lukewarm, not hot, to the touch.
Treats and reassuring words are good ways to help relax your cat. Using calming techniques can make for a better experience.
Do not attempt to bathe more than one cat at a time
Proceed with caution. Some cats are more amenable than others. Always be gentle and patient.
In addition, there's a certain process to make your shampoo and bathing session the most efficient as possible. After testing the water, begin by applying a modest amount of shampoo and lather down from the neck to the shoulder blades, working your way down to the tail. Make sure you get harder spots, like the underside. Rinse the shampoo off with cool water, making sure to completely rinse the shampoo away. Use a towel to gently dry your cat from head to toe. You cat may want to shake off excess water as well.
Why Can't I Use Human Shampoo?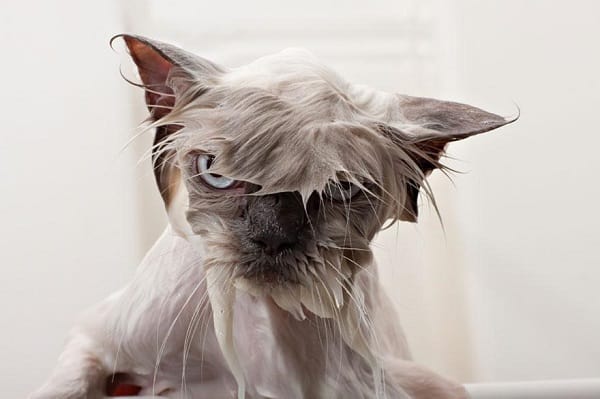 It's important that you use cat shampoo and never use human shampoo, even when you're in a pinch. The reason is that a cat's skin is different than a person's. In general, human skin is more acidic than a cat's, and humans also have sweat glands that cats do not.
There is some disagreement, in all honesty: while some declare you can never use human shampoo on cats, others insist they have used it on their pets with no negative effect.
Although the difference in PH level on human versus pet skin is rather minute, there are other risks as well. Irritation and skin drying is more likely to occur with human shampoo used on cats that formulated cat shampoo.
And while it is possible you may never see any adverse effects, it's a gamble. Sometimes you will only see adverse effects after several uses, and whether or not the cat reacts depends partially on his or her own PH skin levels, which is something you cannot easily know.
In short, the best policy is to stick with cat shampoo.
Is There Something Different About Persian Cats? Why are These Shampoos Formulated for Persian Cats?
Persian cats, as we've mentioned, as especially prized for their beautiful hair. Unlike other cat breeds, however, a Persian cat requires daily care. The nature of their hair is especially susceptible to knotting and other problems. Unlike some cats, Persian cats cannot aptly rid themselves of messes, because their hair is so apt to tangle.
Their beautiful long hair is also more prone to fleas and parasites, and it does take more work to maintain. It is recommended that you brush a Persian cat's hair daily.
Not brushing daily can have consequences beyond a less than a show-worthy coat, however. Failure to brush your cat can result in your cat swallowing large amounts of hair during their own grooming. While nearly all cats and susceptible to hairballs, these hairballs can be especially problematic. Large hairballs can get caught in the digestive tract and even result in an intestinal blockage.
Intestinal blockages can evolve into medical emergencies in rare cases. While this risk is normally fairly low, regularly caring for your cat's coat is a way of helping your cat stay healthy and safe. And for cats with very long and full hair like a Persian cat, it's especially important.
But beyond maintaining the hair with a brush, shampoo is another important factor.
Persian cats also have a rather unique coat: the overcoat is long and full, with the undercoat is much shorter. Though full, the hair is considered rather fine.
As we mentioned, cat shampoo can keep the cat overall healthier. But with Persian cats, shampoo is specifically available to match their unique PH level. This can help their skin stay healthy and reduces the risks of adverse effects from shampoos meant for cats with different PH levels skin.
Read Here:
How Often Should I Bathe my Persian Cat?
While it's true that regular bathing and grooming can improve your cat's health, more is not always better. Daily and even weekly bathing can do more harm than good and cause skin irritation and other problems. Instead, bathe your cat once every one to three months. How often you bathe your cat will depend on a number of factors, including whether they're an outdoor or indoor cat; how messy they get; and health conditions. When in doubt, ask your vet for recommendations.
How do I Find the Best Cat Shampoo?
Finding cat shampoo, in general, is easy, but finding the best shampoo is not. Cat shampoo is sold both online and in pet stores and is readily available in a variety of sizes and price points. Persian cats especially need gentle shampoo, due to their different skin PH levels and their lush but fine over an undercoat. A focus on natural ingredients, detangling formulas, and overall gentle formulas can go a long way in maintaining both the skin and coat of your Persian cat.
Instead of falling for marketing ploys, look for these factors in shampoo for your cat:
Natural ingredients, free of sulfates. Sulfates and other chemical agents can be harsh on not only human skin, but pet skin as well. The fewer chemicals you can't recognize, the better.
A focus on mild and nurturing ingredients. Oatmeal is a mild ingredient that helps moisture, not cause skin irritation. Other ingredients that should be on your radar include aloe vera, neem oil, and Vitamin E. All are considered both nurturing and gentle on your cat's skin.
Tearless or Not? This means that the shampoo does not cause irritation common in other shampoos should it come in contact with eyes. However, some of these are made with ingredients that may be considered carcinogens. Your best bet is to get shampoo and just be careful when shampooing around the eyes.
What about Waterless Shampoo? Waterless shampoo is an option if your cat absolutely cannot stand water. You'll have to see what works best for your cat.
Caters to Specific Needs: If your cat has specific skin allergies, hair loss, or is prone to infections, you may want to look for a shampoo that caters to specific needs. There are also special flea shampoos.
You can Trust the Company: You should be able to find something out about the company that makes the shampoo. Look at their website, their mission, and where they get their ingredients from, if at all possible. You should also consult customer reviews, and if you're especially worried, see if your vet would approve of the shampoo. If the shampoo is only sold through the company's site and you cannot find any external reviews or information, you're better off with another shampoo.
Be Wary of Clever Marketing: You should also be wary of clever marketing. While some claims may be true, don't take their word for it. Investigate the claims, and make sure there is evidence to support them. If a shampoo says vet approved, make sure there is a way to actually confirm that it is.
Scents and Dyes: Most cat shampoos have fairly tame smells, so consider what makes the most sense for your cat. Natural or neutral scents are the safest bet as far as avoiding irritation, though if your cat is especially prone to getting into smelly messes, you may want something stronger. Start with more natural or neutral scents and see how it goes. Also, steer clear of shampoos that rely on artificial dyes.
Shampoo Origin: Do you know where your cat's shampoo is made? While this more or less falls under the category of investigating the company, this deserves its own point of emphasis. Know too, where the ingredients come from. While something, for instance, may be made in the United States, ingredients could be derived from elsewhere.
When the Price Isn't Right: While you certainly don't need to spend a fortune on shampoo for your Persian cat, you do need to be wary of ultra-low prices. Comparison shopping can help you get an idea of what kind of price points to expect for a certain variety. Make sure you don't go way below that price point unless there's a sale; there is a possibility cheap or lower quality ingredients are being used.
It's Formulated for Your Persian Cat: Of course, as we mentioned, the best shampoo for your Persian cat is one that's been specifically formulated for the breed. While not every shampoo will be clearly labeled for Persian cats, it should be a shampoo that addresses the unique needs of both the long overcoat and shorter undercoat of a Persian cat, as well as issues pertaining to dander.
There are many options for cat shampoo, many of them wonderful for keeping your cat's hair shiny and neat. While there are fewer options created specifically with Persian cats in mind, there are still ample products to sort through. We've compiled a short list of shampoos that work best for Persian cats so you can get started discovering which one is best for you and your cat. Most are focused on natural shampoos specifically designed to clean both long overcoats and short undercoats, be gentle with PH levels of cats, and reduce dander.
Finding the best shampoo for your Persian cat means that your cat will have the most optimal care possible. While bathing cats can be a challenge, doing so with the best shampoo possible is one of the best ways to care for your Persian cat and make sure they have a healthy and full coat.
Further Reads