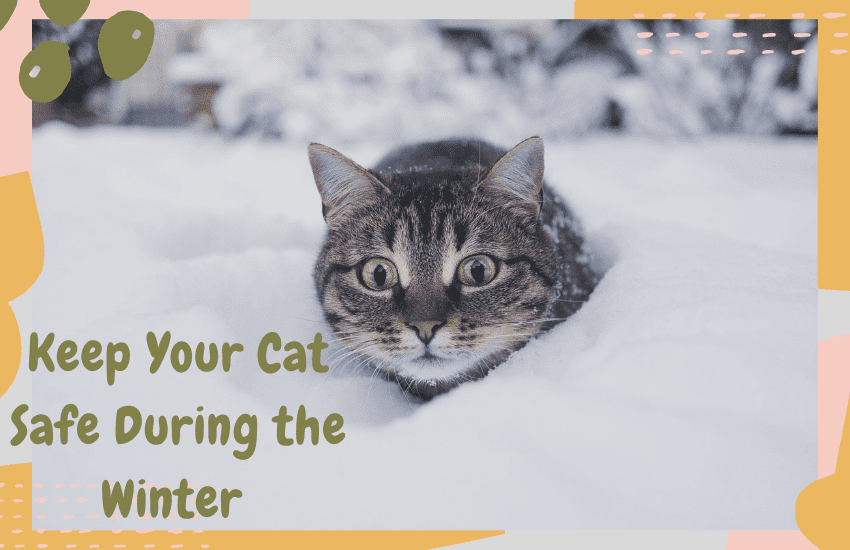 As the folks from Game of Thrones say, "Winter is coming." Depending on which state you live in, this might or might not worry you. If you are reading this post, chances are that you live in a place that receives its fair share of cold and snow. While you can always throw on an extra sweater to keep warm, how about your cat? To help you give her comfort, we've prepared a list of nine things that will help your cat go through winter like she's vacationing on a tropical island.
How to Keep a Cat Warm During Winter
Cats, just like any other mammal, are naturally equipped with thermoregulators. Cat coating is made up of four layers of fur and cats "fluff out" during cold seasons for some extra warmth. Thus, if your cat stays indoors, you don't need to go to extremes to keep her warm.
This is not to say that a cat can survive arctic temperatures. In fact, exposure to sub-freezing temperatures will result in hypothermia and eventually death. Thus, if you live in an area with cold winters, it's advisable to keep your cat inside.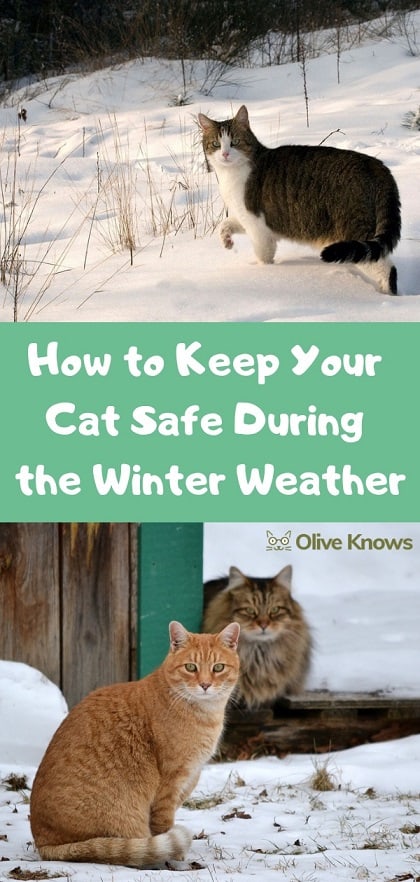 Providing Comfort During Winter
Outdoor Cats
Come winter, the most vulnerable cats are the ones that roam the outdoors. To make sure that your pet can find a safe shelter from snow and blizzards, ensure that she can always enter your home. If you are worried about other cats coming in, you can purchase a flap door that only opens when your cat, wearing a special RFID collar, approaches it.
Another thing to keep in mind if you insist on letting your cat go outside in the winter is that cats tend to hide under cars, over tires, and under car hoods. Always check your vehicle before taking off and ask your neighbors to do the same.
Indoor Cats
Indoor cats don't require much extra care during winter time. Nevertheless, there are things you can do to up your pal's comfort.
If you keep the thermostat low while not at home, consider buying a heated bed for your cat. On the other hand, if you maintain a pleasant temperature all the time a heated bed might be unnecessary. Yet, it's still a good idea to get a regular one in case your cat seeks some extra comfort. She will love you even more if you place her bed in the sunny area of your home.
Senior and Sick Cats
Senior and sick cats might require some special attention during the winter. Just like with humans, when cats get to senior age, the cold weather makes their joints stiff and painful. As a result, your senior cat might find trouble climbing in her toilet. Consider buying a low-entry one or placing a stable object that allows easier access to her current litter box.
Senior and sick cats might feel cold even if you maintain a comfortable temperature at your home. To avoid cranking up the heating provide your cat with a blanket to cuddle under; let her choose whether she wants more warmth or not.
A Special Note on Noise
Carrollers, jingles, guests, and especially New Year's fireworks can be traumatizing to your pet. Here are some things you could do to calm her down:
Cuddle her but only when she'd let you do so.
Play at a low volume some relaxing playlists for cats.
Feed her some treats and provide her with a favorite toy.
Escort her to a quiet place where she can hide when in distress.
If having guests over, move her litter box and feeding bowls in areas with little foot traffic.
What to Look for in Winter Gear for Your Cat
If you are going to equip your cat with some winter essentials, make sure they are made of high-quality non-allergenic materials. If you do buy clothes for your cat, opt for breathable materials such as cotton.
When buying a heated bed do so from authorized sellers – low-quality heated beds are potential fire hazards. Pay attention to any potential choking hazards. Manufacturers get creative with their goods especially around the holidays, so buy things that don't feature loose balls, bells, fur, etc.
With that being said, here is a list of winter essentials that we recommend: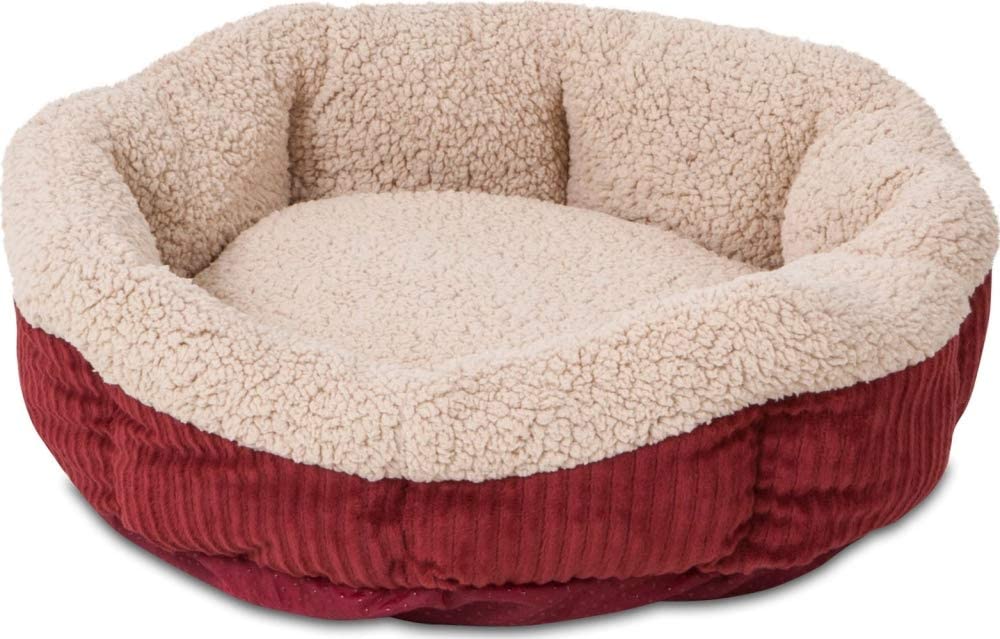 The lining this Aspen self-warming bed is made of heat reflecting material which makes use of your cat's radiated temperature to keep her warm. The plush bed is made of faux lambswool, while the bottom is made of a slip-resistant material. The advantage of this bed is that it will keep your cat warm, but not too warm, plus it doesn't need a power outlet to work. You can pick between several shapes, sizes, and colors.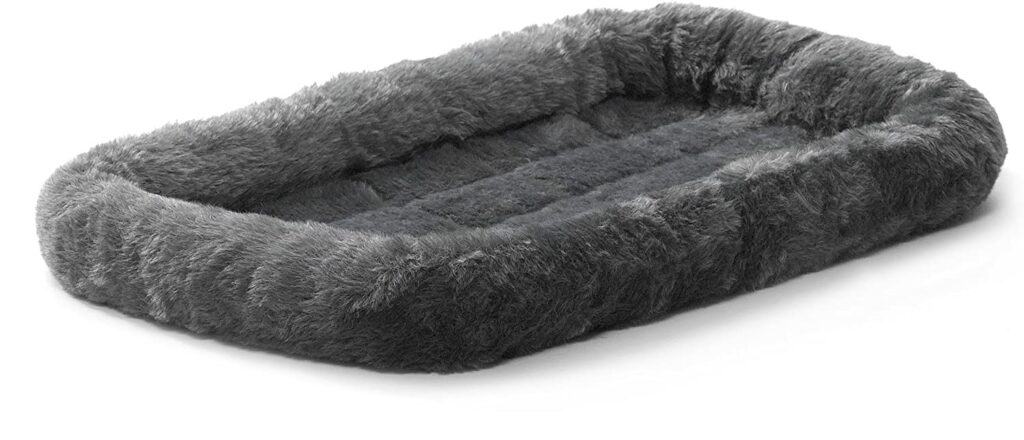 This QuietTime pet bed is made of machine-washable faux fur, so you don't need to worry about accumulated smells. The plush bed will provide warmth to your cat without overheating her whether at home or in her crate (up to 22''). The bed is foldable so you can easily take it with you if you travel with your cat.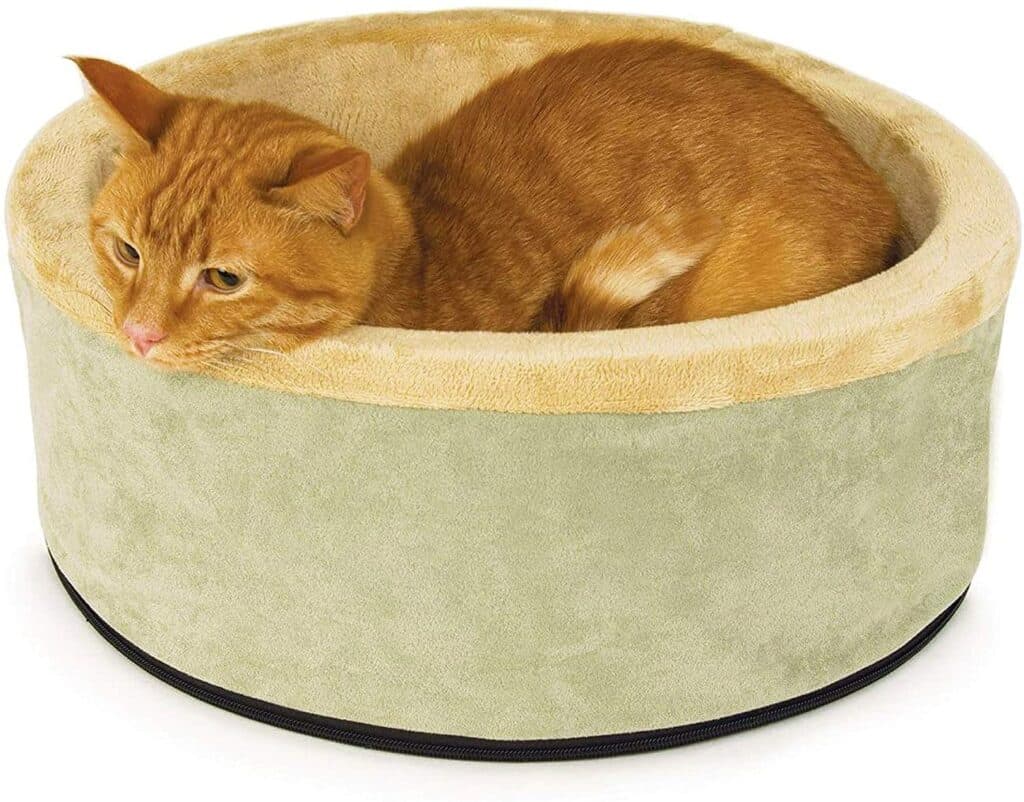 If you turn off the heating while not at home or prefer to keep your place cooler, your cat might need a heated bed.  This K&H thermal bed features a dual-thermostat 4W heater which "warms the surface to 10-15 degrees above ambient air temperature." The plush cover is machine washable. The bed comes in two sizes and with two color options.
If you are planning on traveling with your cat during the winter, you'll benefit from a sturdy and warm carrier like this one by DADYPET. The bag can be carried in multiple ways, features expandable sides, and comes with a removable and washable fleece mat. The carrier also features mesh windows on three sides so your pet will keep warm on the mesh and still get plenty of fresh air.
Mr. Peanut's low profile tote is another option with a removable fleece bed. The carrier has mesh windows on the top and on all sides, ensuring plenty of ventilation. Mr. Peanut's tote is airline friendly and easy to fold and store.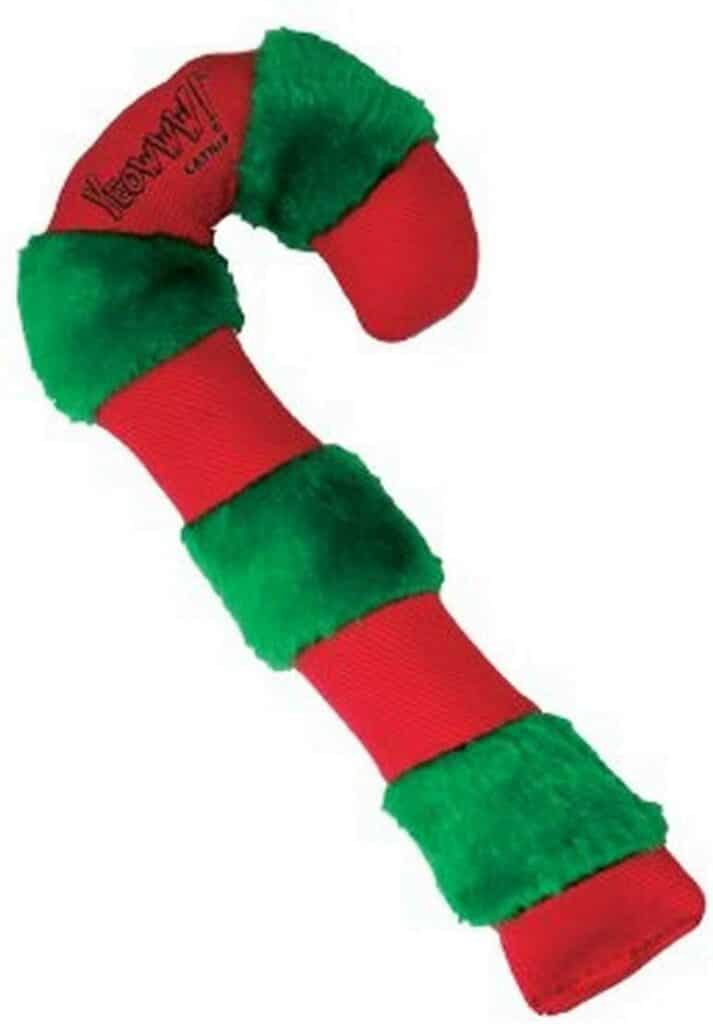 YEOWWW! is known for the fun toys it makes for cats and this one is no exception. The candy cane is colorful, soft, and stuffed with organic catnip. If you are looking for a comfort toy to give to your cat during noisy celebrations, you can't go wrong with this one. The toy is made of cotton which will absorb your cat's scent, providing her with reassurance during stressful times that she's in a familiar environment. Plus, it adds a touch of Christmas spirit to your decor.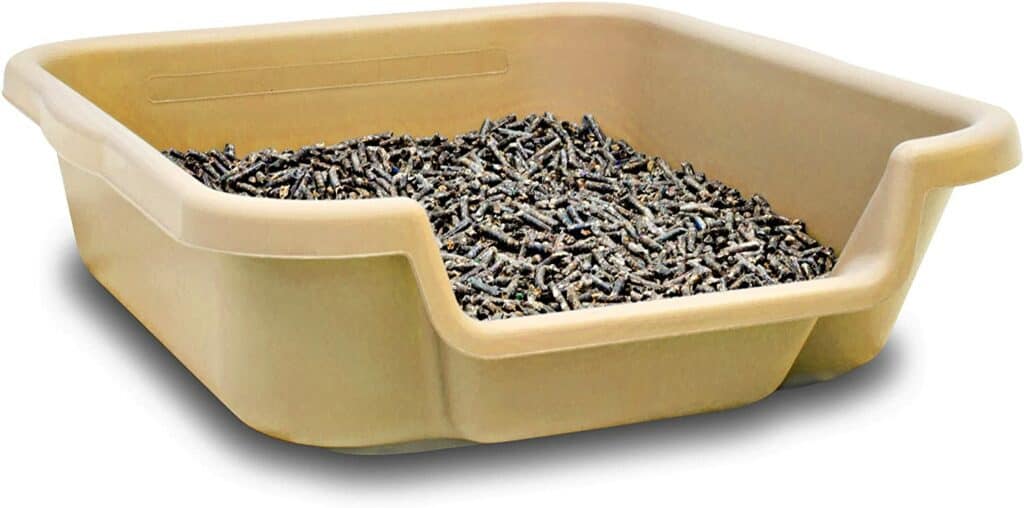 It doesn't need to be cold for your senior cat to have trouble getting into her litter box, but the winter season certainly "helps." The KittyGoHere cat toilet is designed with senior cats and kittens in mind and features a low entry point. The litterbox features an open-design and comes in two sizes and two color options.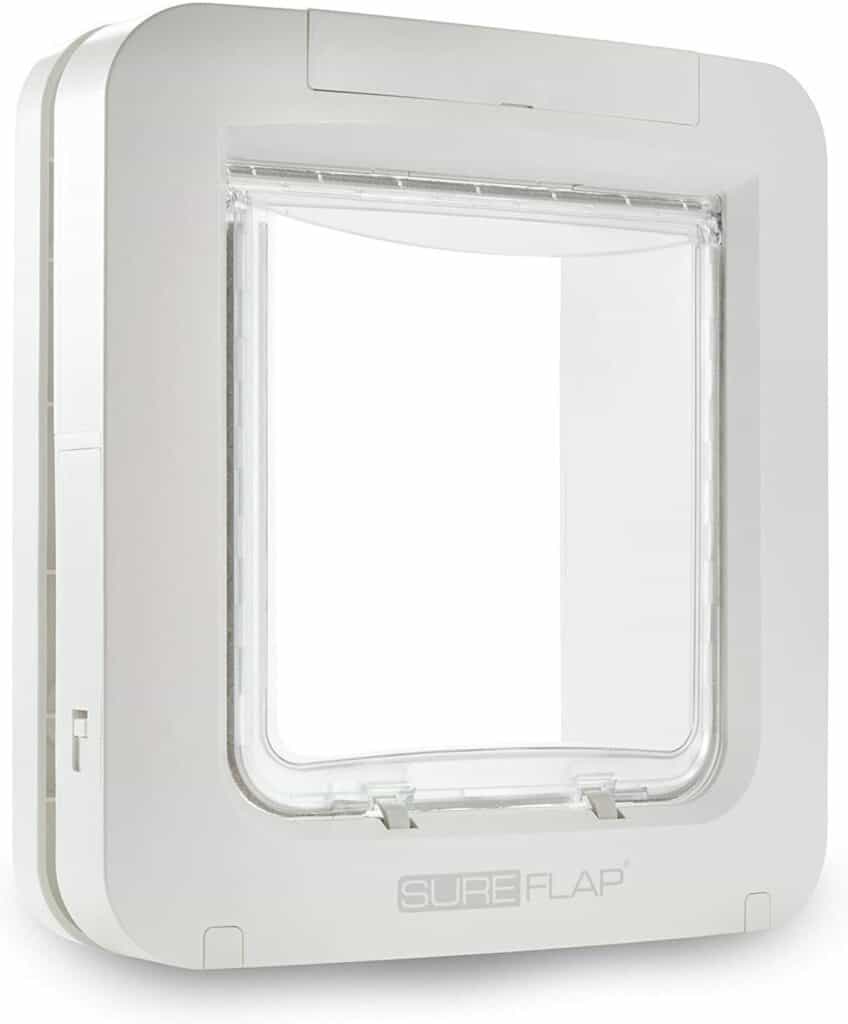 This flap is a great option for cat owners who let their cat go outside and want to give her freedom of movement without waking up to the sight of having all neighborhood cats lying on the sofa. This option is ideal for mild winters when you want your cat to be able to roam outside and get back when she gets too cold. The flap features a technology that can read RFID collars and your cat's implanted microchip. The flap can store data for up to 32 tags – a neat feature should you decide to take care of 32 small pets.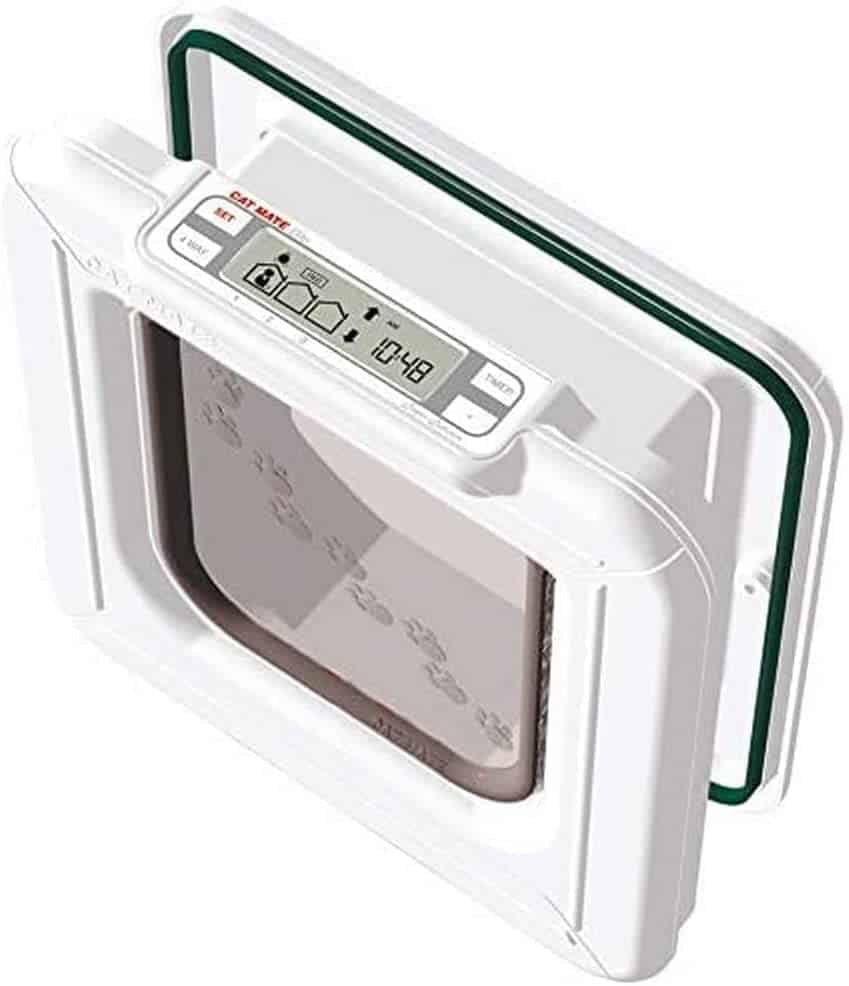 The Cat Mate Elite cat flap solves the problem of keeping tabs on your cat's curfew. This flap also reads RFID tags embedded in collar I.D. discs provided with the flap. The device can store data on eight pets, but the most useful feature of the product is its timer. You can set the flap to lock and unlock at certain times of the day and can check the lock status on the built-in display. What's more, the timer allows individual control settings, so if you have multiple cats, you can control when each one of them can go out or come in. You can use the timer feature to allow your cat outside during the day and keep her inside during the colder winter nights.
In this post, we covered the winter essentials that you might need for your cat. The holidays are coming, and each of the items featured here will make for a nice gift for your pal. But why wait? The winter chills have already arrived at some places!