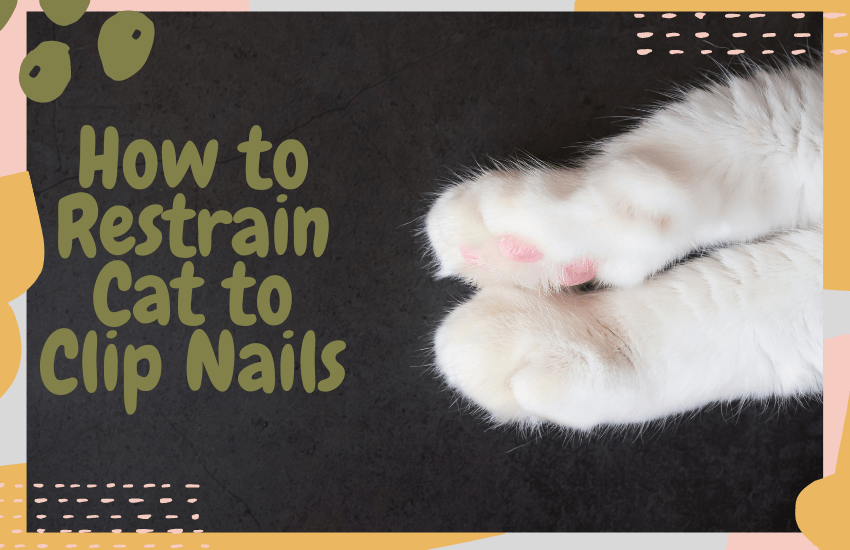 When I adopted my kitten, Asher, I knew already just how tricky it could be to restrain a cat for the ever so important task of clipping nails. At the same time, I also knew I wouldn't be doing the alternative: declawing.
One seen as a popular and widely accepted practice, declawing for cats is now seeing increasing resistance, in favor of clipping nails. For me, it meant signing an agreement that I wouldn't have my cat declawed– and now some places are contemplating implementing bans entirely.
The latest proposal comes from CA State Senator Henry Stern, who floated a bill banning cat declawing on March 12th of this year. The Malibu City Council had technically accepted a resolution to ban declawing back in 2009, but it's never truly been enforced.
While it's unclear exactly what will happen, ban or no ban, declawing is slowly being replaced by nail clipping– with pet owners also making decisions themselves.
The problem? It's one thing to buy the best cat food, or invest in some great cat gear, but clipping nails can be tricky. Not only do cats not like getting their nails trimmed, but if not held properly, you could risk hurting them.
Consider this your guide to learning how to restrain your cat to clip nails– in a safe and effective way that'll make you both as comfortable as possible. I'll first cover why you should clip nails vs declaw, as well as tell you why– and how often–it's necessary to trim a cat's claws.
Is it Really Cruel to Declaw a Cat?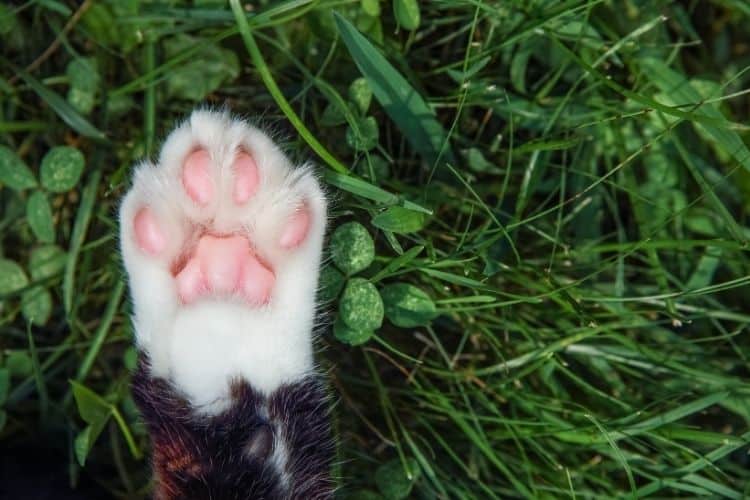 If you've ever tried to clip nails for a cat, you know how fidgety they can get, and how the process may just be uncomfortable for both of you. Add to that the fact cat claws can scratch furniture or even you, and it's possible that you've considered going the declaw route.
Most people have heard that it's cruel to declaw a cat, but many may doubt or question why– some see it as a simple trim that you won't have to worry about. But experts, including the Humane Society, point out this as shallow thinking.
What is Declawing?
Declawing requires surgery that involves more than claw removal. In fact, both a cat's claws and toe bones are removed during the process. Many compare this procedure to the equivalent of amputating human fingers up to the last knuckle.
Declawing surgeries take on a few forms. A typical procedure involves using either a scalpel or guillotine clipper and then using surgical glue, stitches, and bandages. Other options include using a laser to cut into tissue or severing the tendon connected to the claw ( a tendonectomy).
What are the Risks of Declawing a Cat?
If these descriptions aren't enough to steer you away from declawing and towards clipping nails, there are also potential long-term risks.
Even if you have an indoor cat where you feel they won't need their claws, and even if you overlook the details of the surgery itself, declawing your cat can decrease their quality of life.
Common long-term risks include: litter box use issues, due to chronic pain and a spike in biting to make up for the loss of their claws. Cats that are declawed using the tendonectomy may actually require declawing later in life as well.
Some of the most concerning risks including excess bleeding, limping or lameness, more frequent infections, bone spurs, and even nerve damage.
Is it Cruel to Cut a Cat's Nails?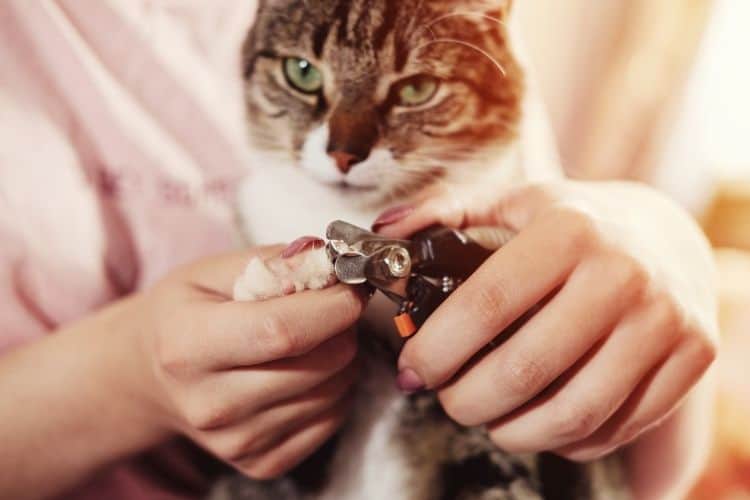 Of course, some argue or worry about the cruelty of clipping nails, too. Luckily, if done right, there is no evidence to suggest that trimming nails is harmful to cats. Trimming nails, when done properly, is painless.
Even though of course you'd be hard-pressed to find a cat who enjoys having their nails trimmed, it's a practical solution, combined with scratching posts, especially for indoor cats.
What Happens if you Don't Trim your Cat's Nails?
In fact, in many ways, it may be considered crueler to skip nail trimming, especially for indoor cats. When you don't trim your cat's nails, they can grow so much that they curl, which can lead to mobility issues– especially if they further grow to the footpad. In the case that nails grow into the footpad, walking can become painful.
Then there's the risk to your own home. Cats with untrimmed claws may have the best cat gear, but they're more likely to use your furniture and even other people to scratch. And even if you already have a cat who finds themselves scratching, there's of course the risk that when they do scratch, more damage will be inflicted.
In other words, if you own an indoor cat especially, trimming nails should be a routine part of your cat's care. While it may seem intimidating, it's one of those necessities that will help both of you lead a more comfortable life.
Why Does my cat Hate Getting his Nails Cut?
One reason why many cat owners may balk at trimming a cat's claws is that cats simply hate it. While cats vary how they will react, I have yet to see a cat enjoy getting their nails cut.
Even my kitten, Asher, who doesn't try to bite and who is generally compliant, gets a bit squirmy, especially when I'm trimming his back claws. Add to that, that one day I discovered he'd found and dismantled the nail trimmers while I was in the other room– let's just say that I got the message.
My personal anecdote aside, cats don't like being confined, and they don't like having their paws touched. You can equate it to dogs getting a haircut: they don't enjoy being washed, but, in the long run, it's important for their hygiene.
And like grooming a dog, clipping nails on a cat can be tricky, take patience, and, of course, does have the potential of being done improperly. The good news is that knowing how to restrain a cat to clip nails– and knowing how often to clip nails– can make the process more efficient, safer, and more enjoyable for both you and your cat.
Where Can I get my Cat's Nails Trimmed?
When it comes to trimming your cat's claws, you have two options: trim them yourself, or have it done professionally. If you don't feel comfortable trimming your cat's nails, you can get your cat's nail trimmed by a professional groomer. Your veterinarian likely will also offer nail trimming or even recommend someone.
Of course, you can't rely on your veterinarian to trim your cat's nails, unless you plan on quite frequent visits. Just make sure that wherever you take your cat to get their nails trimmed is a reputable place. You should also ensure that they don't use any harmful methods of restraint for what should be a short and simple visit.
How Much Does it Cost to get a Cat's Claws Trimmed?
Trimming a cat's claws is not costly, persay – though it can add up depending on how frequently it is done, and where you go. A ballpark estimate average cost is around ten to twenty dollars if you go to a professional grooming salon.
Should you opt to visit your veterinarian instead, that cost will increase: you'll likely be paying a fee of twenty dollars as a minimum.
Plus, you may incur other expenses while you're there. That isn't to say that using your veterinarian to trim a cat's claws is a terrible expense, by any means. If you're truly uncomfortable with trimming your cat's own nails, I'd rather see someone take their cat to a reputable veterinarian or groomer than do it themselves the wrong way.
That said, learning how to properly restrain a cat to clip nails can save you time and money and is not nearly as difficult as you might think.
Restraining your Cat – the Right Way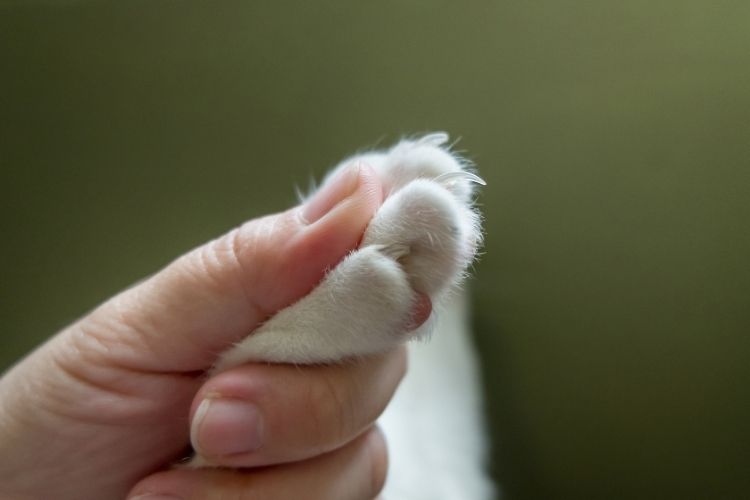 If you're interested in cutting your cat's nails at home, retaining them properly can save you a headache, mess, and more. In fact, restraining a cat safely and effectively is important for the following reasons:
More precise trimming
Lower risk of clipping beyond the nail
Greater control
Greater comfort for you and cat
Faster and more efficient clipping
How to Restrain your Cat
There are a few methods to restraining your cat, so try and see which one works best for you. All of these methods are relatively simple to follow and can make more effective and safer trimming.
Kitty Burrito Method
The term, 'Kitty Burrito Method,' is used by the Gahanna Animal Hospital, a full-service hospital located in Gahanna, Ohio. The Kitty Burrito Method, despite its name, can be used for a cat of any age. To follow this method:
Take a thick blanket or bath towel and spread it over a flat surface
Gentle position your cat on the blanket so that their claws are at the edge of the table
Tuck the blanket over the cat's front paws
Take one end of the blanket and wrap it snuggly around the cat
Take the other end and wrap it snuggly
Hold your cat and gently press on their paw
Carefully clip the nails
Trimming Nails with Two People
This simple method is a great idea for a cat-like mine who may not be as difficult but gets squirmy when his back nails are being trimmed. Of course, if you don't have someone to readily help you, it won't always be a practical method.
Place a cat on a flat table. One person should be the 'squisher'. The squisher should make a V with their thumb and forefinger behind the cat's elbow.
The squisher should then use their hand to gently extend the cat's leg
Trimmer should carefully trim the front claws
Repeat the process for the back claws
Making Your Cat Comfortable
Maybe you don't need a step-by-step method, but just want some tips on effective and safe trimming. One of the best ways is to start by making your cat more comfortable. I recommend tucking the clippers away so the cat cannot immediately see them.
Hold and gently pet your pet in the way they like. Consider a cat treat of their choice. I especially like something that they can chew on for a while. Cat dental sticks are a great idea– they'll preoccupy your cat, and are one of the best cat dental treats (but you still should know how to brush your cat's teeth).
Make sure your environment is as calm and comfortable as possible. Hold onto your cut firmly but in a way you might hug them. Gently press on their paw pad so the claws retract.
Buy Grooming Gear
Believe it or not, if none of the methods above work for you, there's another option besides seeking a professional: grooming gear specially made for restraining and/ or helping your clip nails. These products are rather unusual, but, for many cat owners, may just take the stress out of clipping a cat's nails.
Top Performance Grooming Bag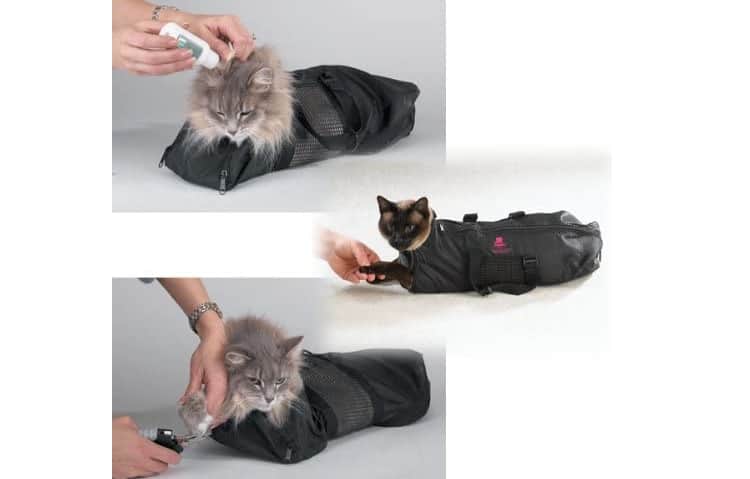 Grooming bags are a way to not only keep all of your cat gear together but to make the entire process of nail clipping easier. This wearable bag is made out of durable polyester and rubber and is easy to clean.
Front zippers allow you to easily access claws for fuss-free nail clipping, plus back zippers for the hind claws. It also includes a gentle collar, carrying handles, and even a hook for easy storage when not in use. Plus, I love the storage space for cat treatments they may need – making it a perfect option for travel.
Overall, this grooming bag makes restraining a cat for nail clipping a breeze. Buy Here.
PetFusion Multipurpose Five Finger Cat Grooming Gloves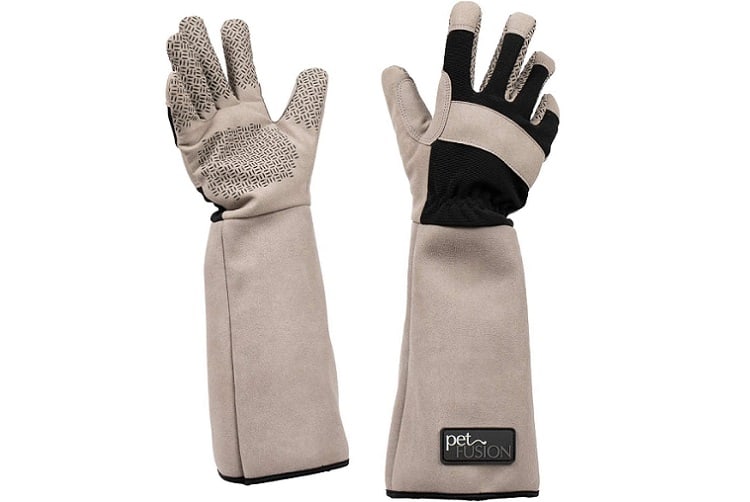 Ever wish you could protect yourself, too? This grooming glove helps you safely restrain your cat and makes the entire trimming process that much easier and safer. The scratch and water-resistant gloves are made from recyclable spandex, silicone and synthetic leather to provide a firm but gentle grip, while protecting your own skin.
Silicone knobs on the hands are meant to feel comforting to your cat, and there's plenty of flexibility for easy grooming and trimming. I also love that you can use these gloves for all grooming needs– even if you have a dog, too. You'll need to buy a size, of course, that suits you. Buy Here.
Sentry Calming Cat Spray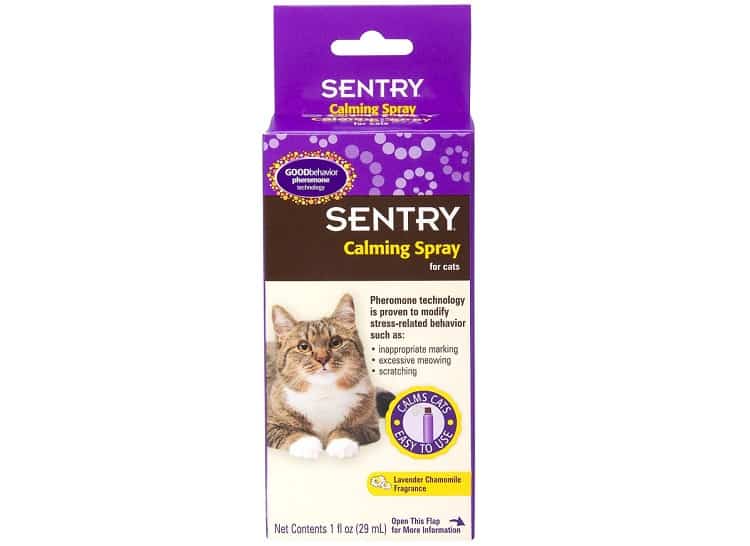 A calming spray may just make the stressful event of clipping nails that much easier for an anxious or stressed cat– and, of course, may be handy for other situations. This spray is a clinically proven pheromone that is shown to reduce anxiety for cats and features and lavender and chamomile scent.
Make sure not to spray directly on your cat, but in an area near them – follow directions and also narrow use for an activity like clipping nails or before a visit to your veterinarian. Buy Here.
Purrdy Paws Soft Nail Caps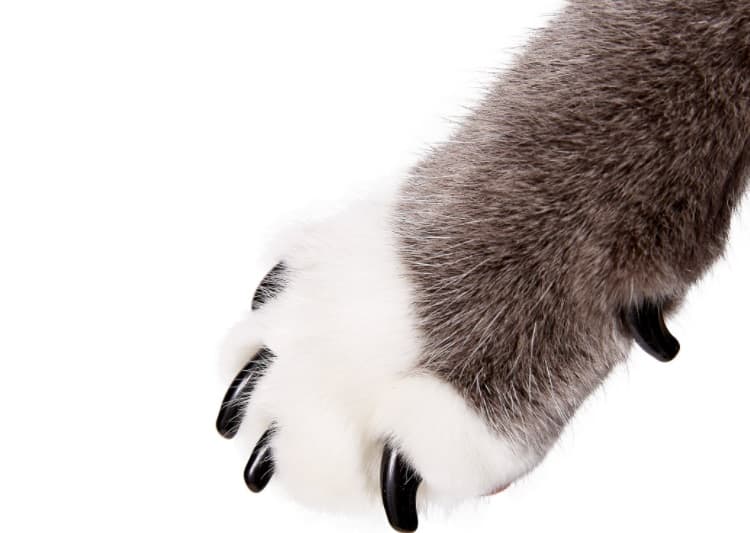 To be clear, nail caps are not an excuse for skipping trimming your cat's nails– as I mentioned earlier, having your cat's claws trimmed is not cruel, but in fact vital for their well-being. That said, these soft nail caps can be helpful in between trims– or if you have especially sensitive skin or furniture.
Created by a veterinarian, these vinyl nail caps can easily be placed on your cat's paws in a way that's both painless and effective. Buy Here.
Frequently Asked Questions
Question: When should you cut your cat's nails?
Answer: One of the most frequently asked questions about cat care is how often you should trim a cat's nails. Cat nails should be kept fairly short, to avoid painful overgrowing into the foot pads. I recommend at minimum trimming nails once every three weeks or so, though many find they have to clip nails every two weeks. The key is to keep an eye on your cat and how fast their nails grow.
Question: How can I cut my cat's nails by myself?
Answer: Besides the helpful methods to restrain your cat, knowing how to cut your cat's nails is also important.

• You should use either a guillotine type of clipper or human fingernail clippers.
• Scissor-style clippers are typically reserved for nails that have grown so long that they've started curling (for these instances, I'd actually recommend seeking professional services).
• Gently squeeze the toe between the forefinger and thumb to retract the claws.
• Cut within 2 mm of the pink park of the claw. The pink part, called 'the quick,' contains blood vessels and nerves, so be careful not to cut that.
• Make sure that your clipper is sharp enough to ensure a precise and quick cut.
Final Thoughts
Trimming your cat's nail is not always easy– but knowing how to properly restrain your cat can make that process more seamless and doable. Keeping your cat's claws properly groomed is just one important step in cat care.
Another important part of their health? Read to learn how often you should take your cat to the vet.
Continue reading:
Cat Claw Care | What You Need to Know
Why You Shouldn't Declaw Your Cat