With seemingly endless options for cat food, it turns out that cat owners like me are getting more and more choosy, with popular brands like Meow Mix vs Purina being more closely examined and some debating what kind of cat food is best for their feline friend.
One trend? A shift towards premium and organic cat food like Organix cat food. The past decade has seen changes in both how we care for and feed our pets, and some options that once were more niche have become mainstream, sold online and on shelves beside more conventional options.
That trend has held, even during a global pandemic. Pet Product News reported in May 2021 that cats and other pet owners are interested in premium foods– with many asking about ingredients, where ingredients were sourced, and what's the best option.
But that isn't the full story. The truth is that not everyone falls into this category: even the report contends that these brands remain quite expensive. Add to that that not all brands offer nutrition for certain health needs or concerns, and it's simply not practical to tell all cat owners that their only option is premium.
The good news is that there is some quality cat food that isn't considered premium– but not all cat food is created equal. In this article, I'll compare Meow Mix vs Purina cat food for all different needs, overall nutrition, and overall value and price point so you can decide what cat food is right for you and your cat.
Main Differences Meow Mix vs Purina
The main differences between Moew Mix vs Purina are:
Meow Mix is more affordable, whereas Purina has greater variety
Meow Mix has artificial dyes, whereas Purina typically does not
Meow Mix tends to have a lower protein ratio, whereas Purina tends to be higher in protein
Meow Mix offers fun on the go options, whereas Purina offers more cat food for special dietary needs
How do I Find the Best Cat Food?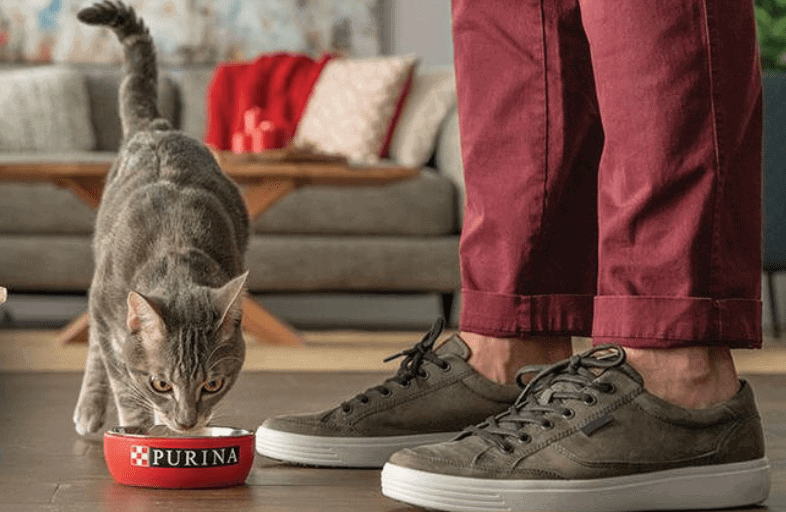 If you ever find yourself overwhelmed by your options, it's tricky to find the best cat food– but there are many factors you need to consider.
These factors include price point, ingredients, protein source, and company reputation. You'll also need to take into account if your cat has any special health needs– all of which can be addressed by making sure you know how often to take your cat to the vet.
When examining Meow Mix vs Purina, my goal is to find the best value, and for my cat and me, that means the highest quality ingredients, nutrition, and enough variety, balanced by price point.
As a cat owner myself, I also sometimes mix brand-name cat food with premium cat food– switching up the food I feed my cat keeps him interested in his food, balances things budget-wise, and still ensures he's getting the nutrition he needs.
My Process
In this direct comparison for Meow Mix vs Purina, I've decided to compare by category first. I'll guide how through high protein cat food, healthy weight formula, kitten food, grain-free options, natural cat food varieties, food toppers, hairball control food, and senior cat food.
To round out my review, I also include an analysis of overall value– which will take into consideration price point, nutritional value, and flavor variety, as well as average performance across different cat food categories.
Which is Better: Meow Mix or Purina?
From some asking if Meow Mix is really bad for cats, while others asking if Purina is a good brand of cat food, frequently asked questions showcase the confusion and concern about selecting between Meow Mix vs Purina.
The truth is that, as two of the most widely sold cat food brands in the United States, the relatively affordable prices and variety from both Meow Mix and Purina make them naturally appealing to busy cat owners.
At the same time, these queries also showcase that more cat owners are concerned about their cat's health– from looking into options like cat insurance to simply ensuring that they're being nourished by the food they eat.
So let's take a look at how Meow Mix vs Purina compare across categories.
High Protein Cat Food
High protein cat food is another popular trend– once focused more on premium brands, now brands like Meow Mix and Purina are offering cat food with higher crude protein ratios.
High protein food is sometimes suggested for kittens or adult cats who are active and seem to be getting hungry on typical cat food, but should be used with caution for senior cats, cats with special health conditions, and may be excessive for indoor cats– it's always best to check with a vet first.
Dry food that falls below 30 percent is considered too short on protein; 30-40 or 45 percent is considered average, and anything above normally is considered high protein.
But keep in mind that there is no official designation for 'high protein,' meaning some brands claim a cat food is a high protein when it's merely a high protein count compared with the other food they offer.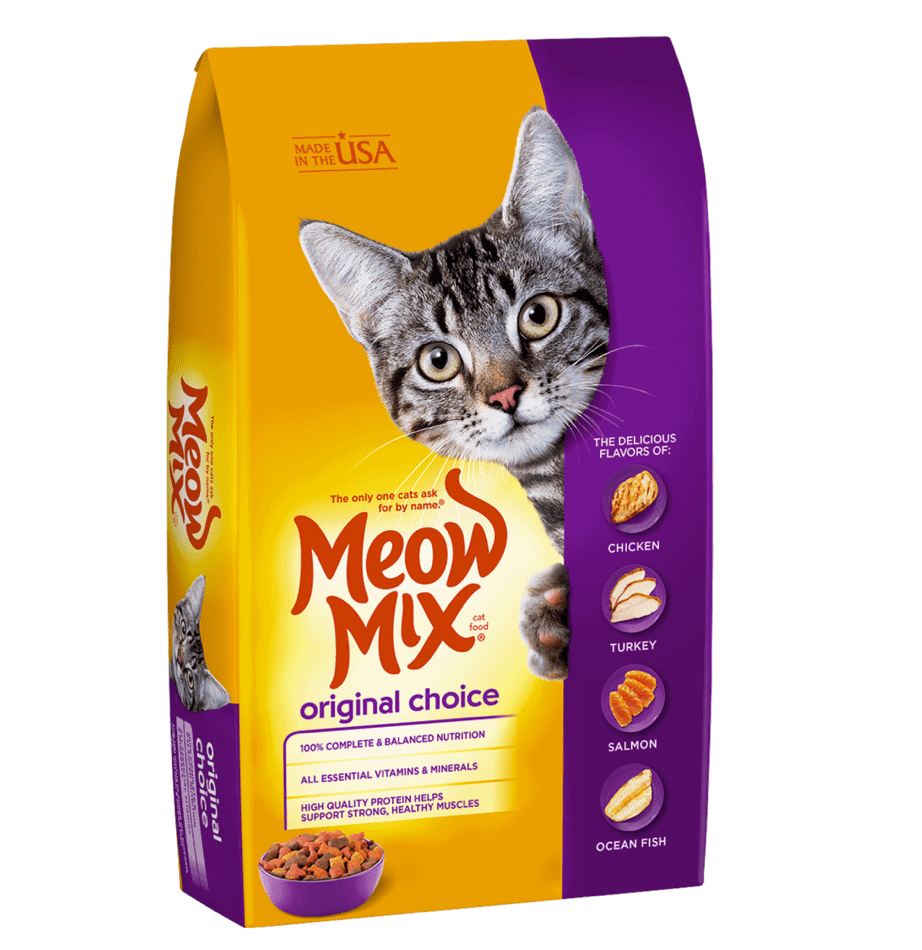 Meow Mix doesn't have a specific protein-rich cat food– search, and they'll guide you to their Original Cat Food, which they describe as balanced and with high-quality protein. At a crude protein ratio of 30 percent, it's actually on the lower, acceptable end for dry cat food– and the trend holds for wet food varieties.
While this does have some essential nutrients, such as Calcium, Vitamin E, Phosphorus, and B Vitamins, it also doesn't fair well for a high protein cat food in that protein is in the third ingredient, after corn (often used as fillers) and it's chicken by-products.
Meow Mix Original Choice Dry Cat Food | Chewy
Meow Mix Original Choice provides all the essential nutrients they need, including high-quality protein and essential fatty acids to help support strong muscles and keep their coat looking its best.
Check Price
Buy at Amazon.com
We earn a commission if you click this link and make a purchase at no additional cost to you.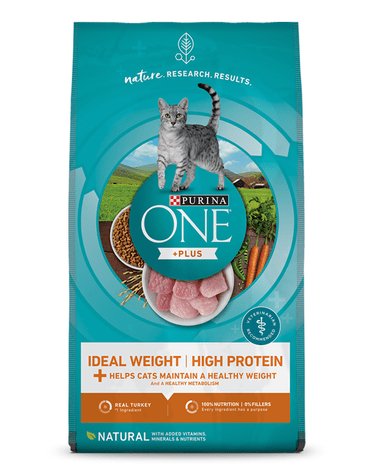 Purina actually has an entire line of high-protein cat food: the True Nature Natural cat food line, which includes both wet cat food options only.
The high-protein wet cat food contains corn products and has protein as the first ingredients–however, at 11 percent crude protein, I wouldn't consider it high protein (9 to 12 percent is about average for wet cat food).
For a better comparison, Purina does have cat food, not labeled high protein, that exceeds the 35 percent protein mark: their Beyond Grain cat food line, and, most notably, their Healthy Weight cat food, which sits at 42 percent (which I'll review in its own category).
Winner: Purina (Healthy Weight)
Purina wins in this category– not only do they have a cat food that could actually be considered a high protein, but that food focuses on meat sources for the first few ingredients. In contrast, Meow Mix starts with fillers that don't support high protein diets or really add any nutritional value.
Healthy Weight Cat Food
Healthy weight or weight control cat food may be recommended for senior cats who aren't active, but of course, commonly for cats who may be above their ideal weight.
Healthy weight formulas tend to be lower in calories, and some are higher in protein to improve satiety. Normally a vet may recommend this type of food alongside encouraging physical activity, perhaps with some great cat toys. However, some Healthy Weight labels merely mean a focus on balanced nutrition.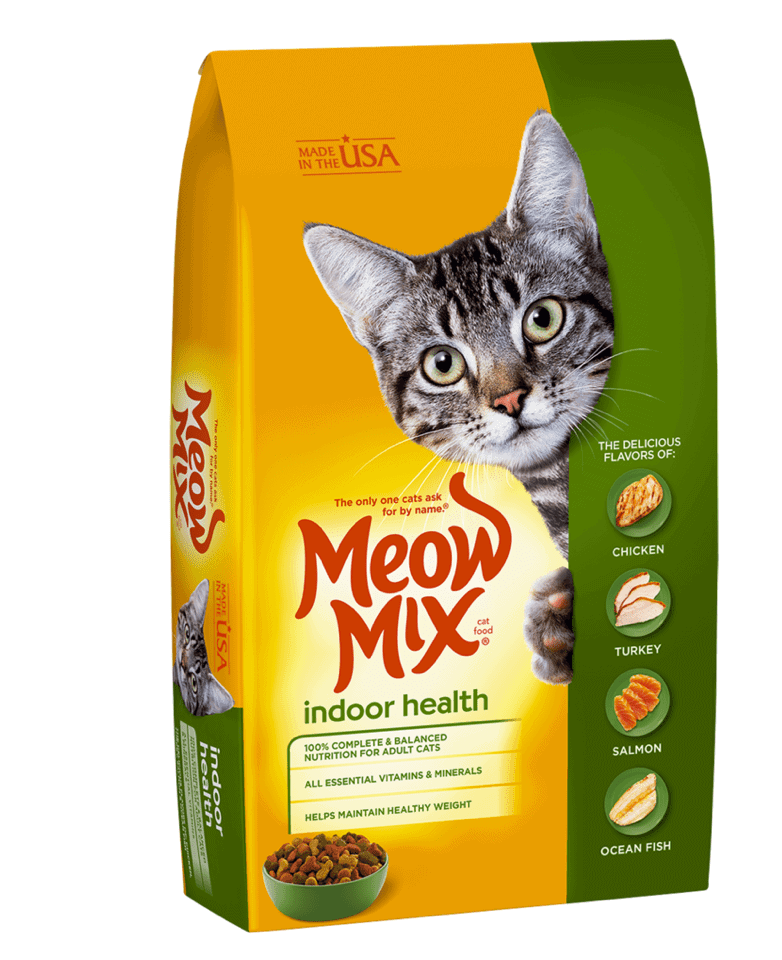 Meow Mix doesn't have a designated weight control food. Still, it does have an Indoor Health cat food, which is said to help your cat "maintain a healthy weight" by providing "wholesome ingredients" with "balanced nutrition" and the essential nutrients that your cat needs.
With a crude protein ratio of 31 percent and 11 percent fat for dry food, it's not truly high protein or low fat. It isn't high or low calorie and does provide essential vitamins and minerals, but also ingredients that do nothing for your cat's health, such as yellow, red, and blue dyes. Meat is mostly by-products.
Meow Mix Indoor Health Dry Cat Food | Chewy
Meow Mix Indoor Health not only deals with weight management, but it tastes so good your cats will devour every delicious morsel. This wholesome recipe is full of high-quality protein and features the tantalizing flavors of chicken, turkey, salmon and ocean fish. 
Check Price
Buy at Amazon.com
We earn a commission if you click this link and make a purchase at no additional cost to you.
Purina Healthy Weight

Purina's higher protein formula that I mentioned in the previous section is actually designated for weight control. Healthy Weight is a line of both wet and dry cat food for adult cats. The dry cat food is not only higher in protein but also contains 20 percent less fat than Purina's other varieties while still providing essential Omega 3's.
Free of dyes, protein is the first ingredient. The wet cat food is not high protein, but it is fairly low fat and does have salmon as its second ingredient.
Winner: Purina
Purina takes the crown for weight control cat food. While not diet food per se, an emphasis on higher protein, lower fat while still providing healthy fats is a better way to go.
Kitten Food
There's a reason there is a designation for kitten vs. cat food. Kittens are still growing and especially active– which is why the best kitten food is higher in calories and protein than the best cat food.
In terms of micronutrients, kitten food especially needs to include taurine, which is critical for the development of a healthy heart, eyes, and teeth. You'll also want to look for Vitamins A and D. While these micronutrients are also important for adult cats, they are especially needed for kittens.
Meow Mix Kitten Li'L Nibbles Dry Cat Food | Chewy
It's packed with tons of wholesome ingredients and the irresistible flavors of chicken, turkey, salmon and ocean fish. This tasty food is complete and balanced for kittens with all the vitamins and nutrients they need for optimal health.
Check Price
Buy at Amazon.com
We earn a commission if you click this link and make a purchase at no additional cost to you.
Meow Mix's main form of kitten food is its Kitten Li'l Nibbles. Equipped with DHA for brain development, the claim is that this formula provides both "high-quality protein" and "essential fatty acids" to keep your kitten healthy.
At a crude protein ratio of 36 percent and fat at 15 percent, it's not high protein but suitable for an indoor kitten. I also am pleased to see taurine and Vitamin D. At the same time; it does include artificial dyes and several corn products. Chicken is the first ingredient, which is a plus, but most of the meat is by-products.
Purina Kitten Chow Dry Kitten Food | Chewy
Loaded with protein, this kitten food recipe helps support her developing lean muscles as she explores her world. Plus, every serving delivers DHA to support her brain and vision development. 
Check Price
Buy at Amazon.com
We earn a commission if you click this link and make a purchase at no additional cost to you.
Interestingly enough, Fancy Feast is owned by Purina– and most of the wet kitten food from Purina is actually Fancy Feast. These options tend to be pretty modest in protein (11 percent) and fat (5 percent)– so while they do include taurine and some full protein sources, they don't particularly seem formulated for kittens.
For dry kitten food, you have three options: Beyond Kitten, for natural cat food; Kitten Chow for muscle development; and Purina One Healthy Kitten Formula.
Beyond Kitten is made with steroid-free chicken as the first ingredient, 38 percent protein, and healthy fats. Kitten Chow relies more on chicken by-products but has 40 percent protein and essential nutrients.
Purina One, meanwhile, is in a way a combination of the other two, with a high protein count, balanced nutrition, and essential nutrients. All contain taurine and vitamins your kitten needs.
Winner: Purina
Purina is the better option for kitten food– but of all the kitten food they offer, I recommend Purina One Healthy Kitten Food. For overall nutrition, I think you get the most bang for your buck. While I love natural options, the Beyond falls short of standards for the best organic kitten food but costs you more than Purina One– while not as impressive of a protein and fat ratio.
Grain-Free
Grain-free cat food is a relatively more recent trend, and there's a level of debate about it. On the plus side, grain-free cat food, in theory, focuses more on whole protein sources and cuts back on ingredients that are often used as fillers– such as corn and wheat.
But if the cat does have high-quality protein as the first ingredient, then most cats do just fine with some grains. Ultimately, it's up to you– but it's important not to buy cat food simply because it's labeled as grain-free.
Meow Mix
There used to be a grain-free line, but Meow Mix no longer carries it.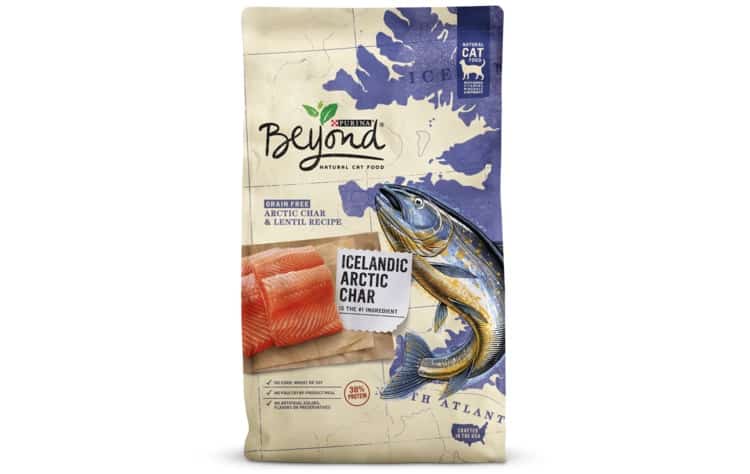 Purina does have grain-free cat food. Since wet cat food tends to be grain-free regardless, the noteworthy options here are the Beyond Grain Free line, Beyond Simply Grain-Free, and Purina One True Instinct Grain-free cat food.
Beyond Simply has options for wild-caught fish; Beyond Grain Free has a high protein ratio, and True Instinct is a fairly typical, balanced formula with conventional meat sources. All are, of course, grain-free and also contain important nutrients.
Winner: Purina
Obviously, Purina has to win here. Of the options, I like the Beyond Simply Grain Free the most, though Beyond Grain Free is a possibility if you want a higher protein, conventional cat food. (Read our review for alternative grain-free options: Wellness Complete for kittens or Wellness CORE for cats).
Hairball Control Cat Food
Hairballs come from the grooming habits of cats: hair can become stuck in the stomach and be spat back up. While a hairball every once in a while is not typically a cause for concern, too many hairballs can be uncomfortable or even cause serious issues.
Visit a vet first if you notice an uptick in hairballs. Cat treatments for hairballs may include grooming on your own part, but also a hairball control cat food.
Hairball control cat food is higher in fiber and also contains enzymes that are meant to reduce hairball formation.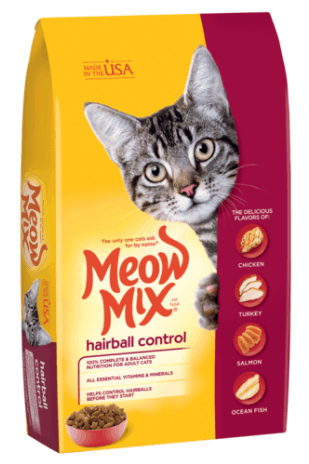 Meow Mix has a Hairball Control cat food formula, with a moderately higher fiber ratio but no specific digestive enzymes to help prevent hairball formulation.
Meow Mix Hairball Control Dry Cat Food | Chewy
Meow Mix Hairball Control Dry Cat Food is specially formulated to control hairballs before they start. That means your cat won't have to go through the stress of coughing them up, and you won't have to deal with the mess they leave behind.
Check Price
Buy at Amazon.com
We earn a commission if you click this link and make a purchase at no additional cost to you.
Purina has options for both wet and dry cat food that helps prevent hairballs, which include Pro Plan Hairball wet chicken, turkey, and fish food, as well as Purina One Indoor Advantage for dry cat food.
All of these have quality ingredients and are said to be digestible, and I do like the protein– but they aren't noticeable in fiber or enzymes for hairball control.
Winner: Draw
While these aren't poor choices for cat food, so to speak, there are better alternatives– read for the best cat food for hairballs.
Other Cat Foods & Special Diets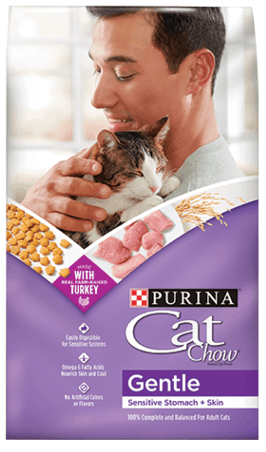 Other cat foods include senior cat food– offered only by Purina, with its line of wet and dry senior cat food, as well as food for sensitive stomachs (offered by Purina, in their Cat Chow Sensitive Skin and Stomach formula), as well as Purina One Urinary Tract Health.
Meow Mix does not have comparable alternatives. For special diets, such as cats with health conditions, read on to my final decision.
FAQs
Question: Is Meow Mix made by Purina?
Answer: Meow Mix is made under a large parent company – but that company is actually the J.M. Smucker Company– the manufacturer of the popular American jam and jelly brand. If this surprises you, you aren't alone: here's how to know who really makes your cat food.
Question: Is Meow Mix still available?
Answer: Meow Mix is still widely available both online and in stores. Still, they discontinued a few cat food lines, including grain-free cat food, as well as Meow Mix Market Select, which was first introduced in hopes of becoming a competitor against Fancy Feast.
Question: Is Purina cat food made in China?
Answer: Purina cat food, like many conventional cat food brands, sources ingredients from many countries. It is made and produced in both Canada and the United States, and most ingredients come from either North America or New Zealand. However, Purina does also add some vitamins and minerals from China.
Final Decision: Purina for Overall Value
There is no category where Meow Mix is stronger than Purina. While it is a bit more affordable, the cost of Meow Mix vs Purina (aside from natural or grain-free) is simply not substantial enough. In terms of overall nutrition, almost all Meow Mix dry cat foods contain artificial dyes and needless fillers. As a whole, Meow Mix cat food tends to be lower in protein as well.
And while Purina does have some byproducts, they use more whole meat sources, more often have meat as the first or second ingredient, and overall provide higher quality nutritional value.
Finally, Purina offers more variety to address unique needs. That said, if your cat does have a health condition, something like prescription cat food may be prescribed. Other cats may need something specific, like low ash cat food. Always make regular vet visits to see if this option makes sense for your cat.