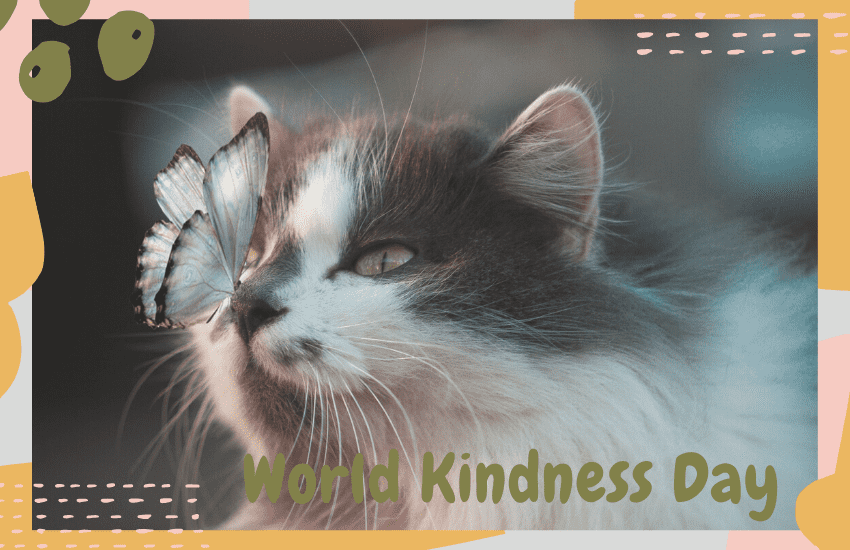 The 13th of November has been observed as World Kindness Day for the last twenty years. The idea of an international group of non-governmental organizations, World Kindness Day intends to encourage kindness between individuals and countries.
To celebrate this idea, we've put together a list of some of the best ways you can be kind to your cat. From how to stroke in an acceptable fashion, through food and drink and ending up with spending quality time with your fur baby as you play.
Cats repay kindness with their love and affection, keeping our laps warm on cold winter days and purring their gratitude. Other than spending time with your cat, the best way you can show kindness is with a warm spot for them to sleep. Whether it's a cushion on a warm windowsill or a self-heating cat bed, your fur baby will be eternally grateful.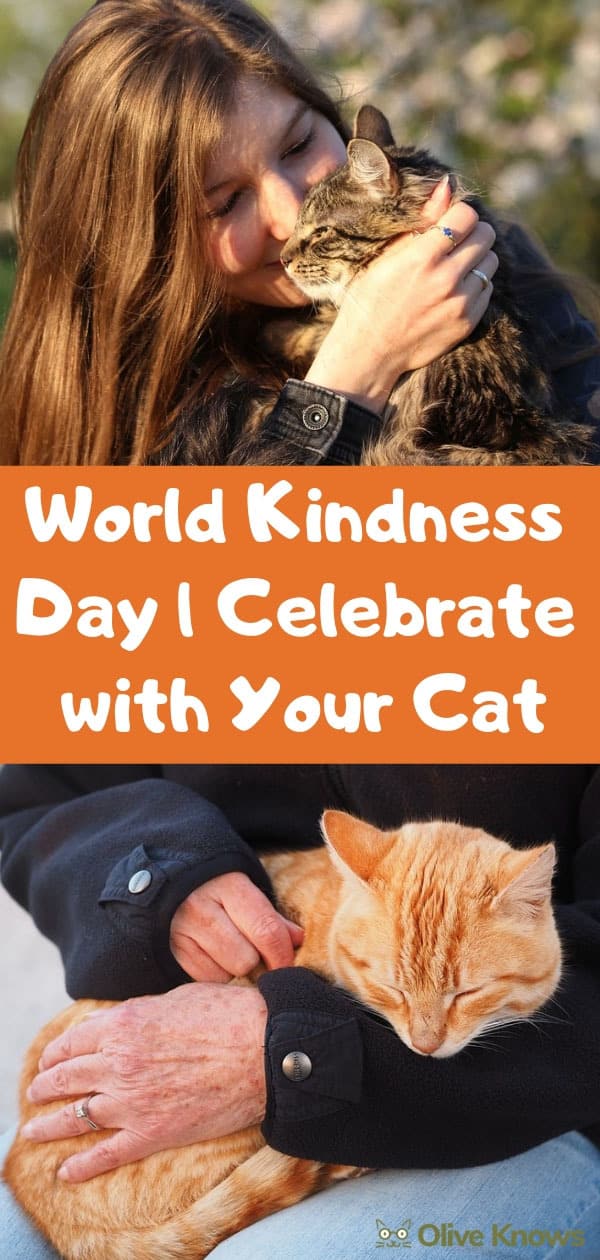 Stroking Your Cat
Cats have a way of letting us know when they want to be stroked. The gentle nudge of the hand is the subtle version, but if it escalates your cat could be nuzzling your face and purring loudly. There's a certain way to stroke your cat to really make them happy.
Thanks to research from the University of Lincoln, we know that cats prefer to be stroked in certain places. Cats like to be petted in the same way that another cat would groom them. For many cats, the traditional head to tail stroke is actually over-stimulating. If your cat has ever gone from stroking to biting in the blink of an eye, that's why.
Each cat will have its own tolerance, but if you want to play it safe and completely chill out – to be kind to your cat – these are the areas to focus on. For cats, grooming is a time to share scent. That's why they favor being stroked on the cheeks, under the chin, and around the mouth.
If your cat is happy to be stroked in these areas, you can test out their tolerance for other areas. But keep an eye out for signs of stress, such as licking their lips, flicking their tail, or striking out with their paw. That's how you stroke your cat with kindness.
Grooming
Cats spend a lot of the day grooming themselves. Because they're so flexible, they do a pretty good job of keeping themselves clean. If you have more than one fur baby, then they may groom each other. Certain breeds of cat and cats that suffer from fur balls will get definite health benefits from grooming.
Grooming is a bit like giving your cat a massage. It helps improve the blood flow to their coat and relaxes their muscles. It also gives you a chance to take a close look at your cat, and give them a quick checkup while they're enjoying the treat.
A quick note on mats – if your cat has mats, that's a sign that they need grooming more often. Mats are uncomfortable for cats and need to be looked at by a professional groomer or vet. If you try and tackle them, you're likely to end up on the wrong side of your cat's temper.

Short-haired Cats
If your cat is a breed with shorter hair, then you'll need the items you get in most grooming kits: a fine-tooth comb, a wide-toothed comb, and a grooming mitt. Start with the finest comb and brush the coat through. Tap the comb onto a damp piece of paper. If you see black dots that start to radiate a reddish-brown, those are flea eggs. It's time to apply a flea treatment.
If you don't then you can move on to the wider comb, or use the mitt to help remove any loose hairs. As you do this, you're spreading the oils along the length of your cat's hair and their coat should look sleek and glossy as a result.
Long-haired Cats
If you try and use a fine tooth comb first on a long-haired cat, you're likely to get bitten. Long coats are much more likely to get tangled, and if you've ever had your hair brushed after you've been in the wind, you'll know how uncomfortable that can be.
You can still flea check your cat, though. Hold them gently but firmly under the front paws with their back legs on the edge of a piece of damp paper. Give the fur near their tail a ruffle, and watch for those radiating dots.
When it comes to grooming, start with a wide-toothed comb to help with tangles; there are special designs which get right into the depths of the coat. Follow up with a rubber mitt.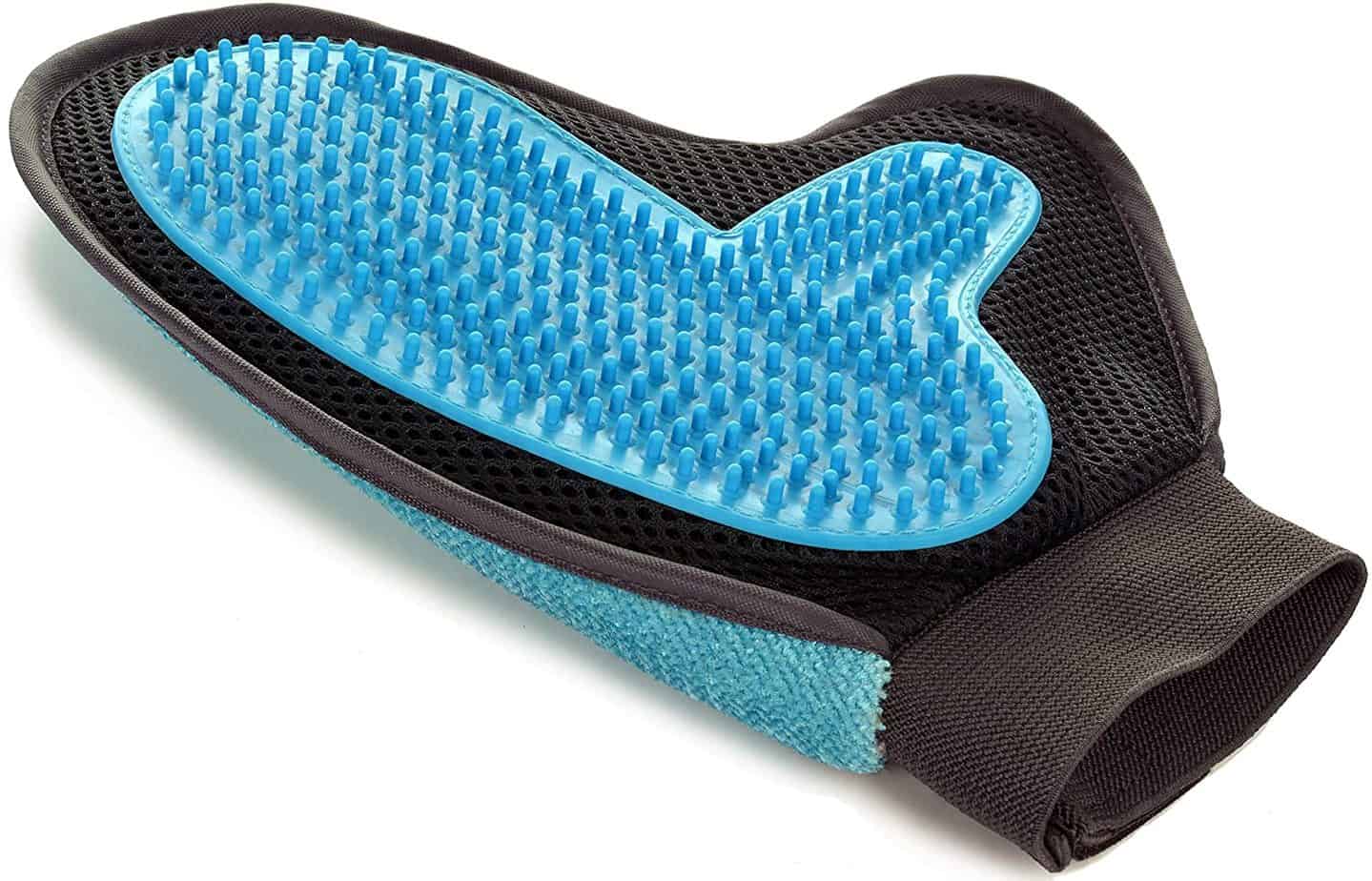 This rubber mitt gently and thoroughly works its way into your cat's fur and attracts any loose hairs. Easy to clean off, these are the most popular way to remove hair from a cat.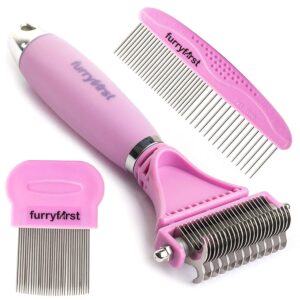 This comb kit has three different tools; a flea and lice detection comb, a comb with both medium and wide teeth and lastly a specialist groomer for long hair.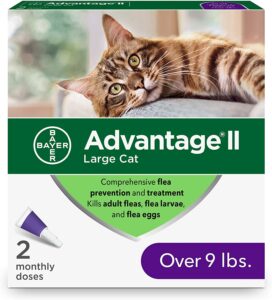 Treating cats monthly with a preventative treatment like this one is the best way to ensure that you won't have to deal with an infestation.
Grooming your cat is an important part of keeping your pet healthy and happy. You'll have to work within your kitty's tolerance, but helping them stay clean is definitely the kind thing to do.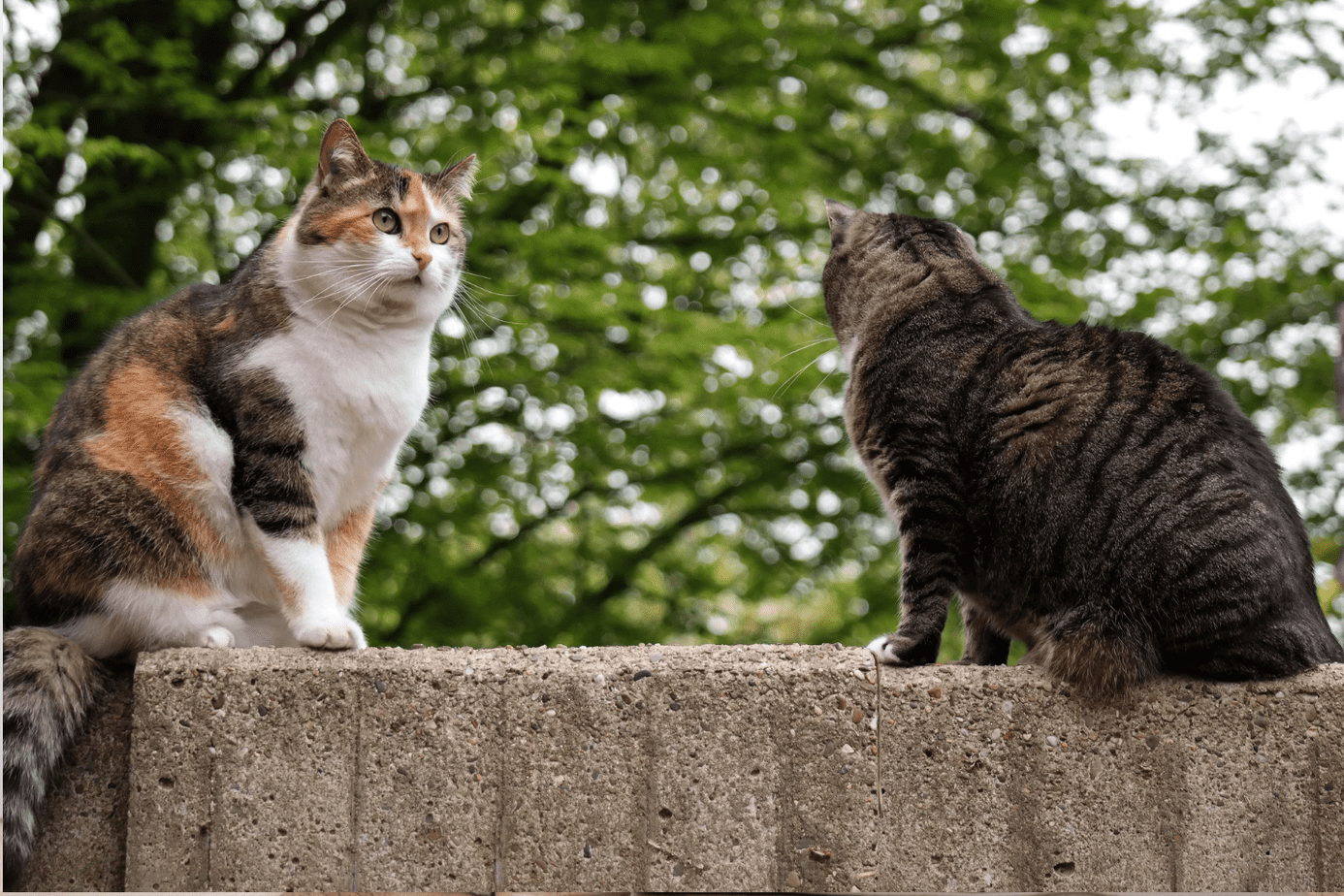 Cat Furniture
If you don't have any cat furniture in your home, then one kindness you can do your cat is to find some space for it. Cats like to climb, they like to get up high and survey their territory. If they can't, they may feel insecure and anxious. Although there are treatments for anxiety, prevention is better than cure. Try to include a way for your cat to get up high, and see if that makes a difference.
Whether you choose to install 'cat shelves' to let them get up to the top of furniture, or put in a scratching post with a platform that gives onto a window, your cat will thank you for taking care of this particular need.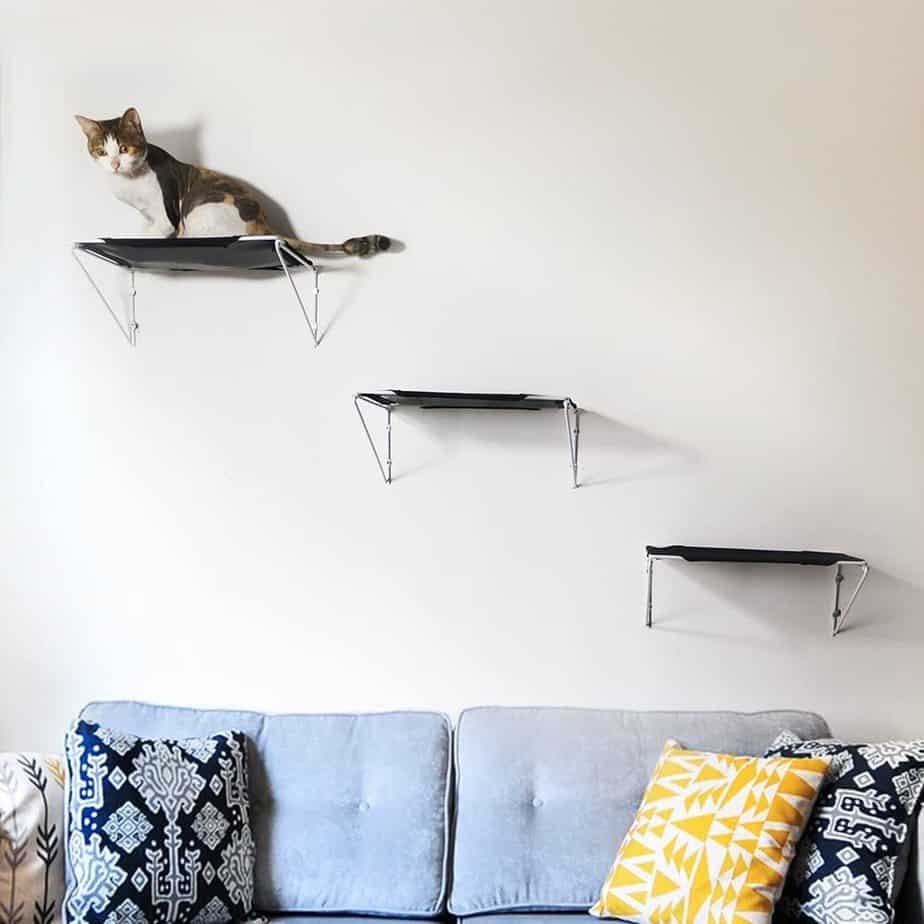 This set of three cat shelves can easily be fitted to your wall. The platforms are all fabric, so your cat can sleep up there in comfort.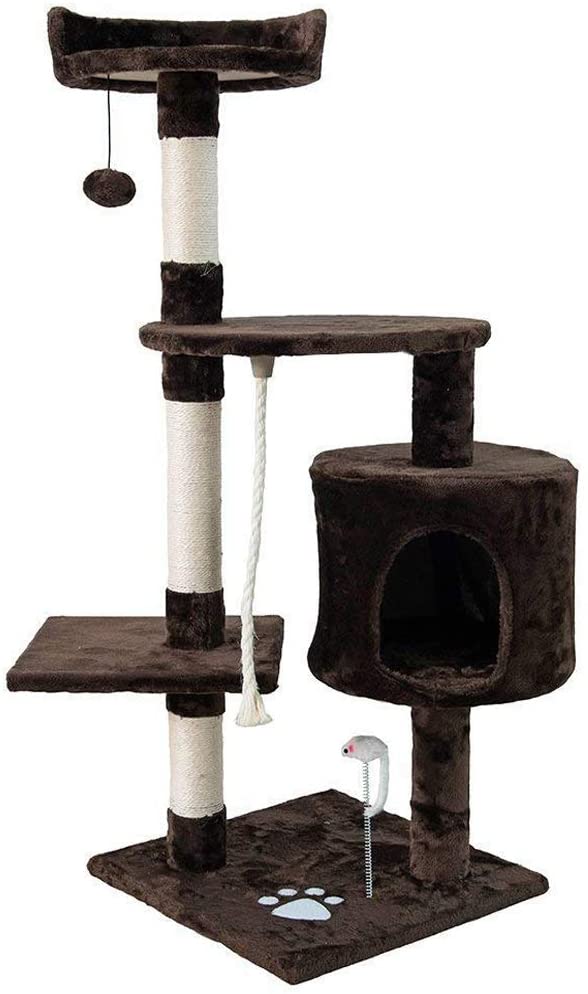 Climb, scratch, sleep and play. This one piece of furniture takes care of so many of your cat's needs with a relatively small footprint.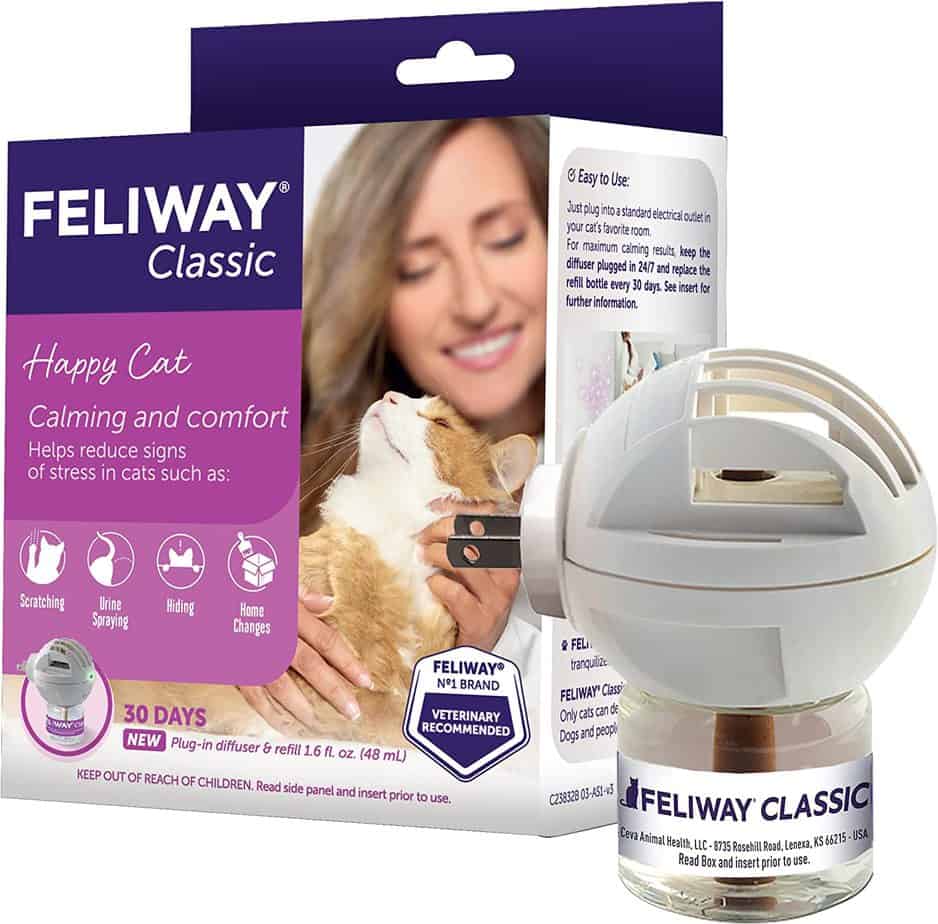 Clinically proven to reduce signs of stress in cats, the Feliway diffuser uses scent to help your cat to stay calm and happy.
Feeding Your Cat
The phrase, 'You are what you eat,' is just as true for cats as it is for people. Cats are obligate carnivores: they have to eat meat to get all the nutrients that they need. What they don't need are carbohydrates, and yet many cat foods are packed full of them. If you look at our food section, you'll see we've checked out a lot of cat foods. Here are some of our top picks.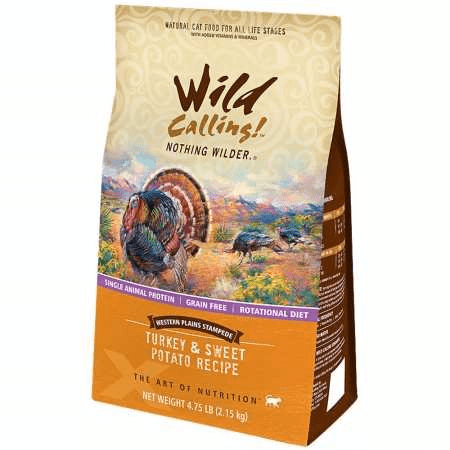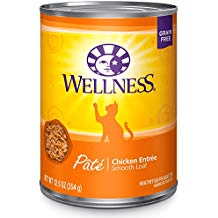 Treats
When you think of being kind to your cat, you might think about giving them some treats. Cats like something tasty as much as we do. But, if we eat too many treats we risk gaining weight and the associated health risks like diabetes and joint problems. So do your cats.
If you truly want to be kind to your cat, limit treats and make sure that they are high-quality products. Make them part of a play or grooming session, but restrict their use so they really are a treat and not an everyday occurrence.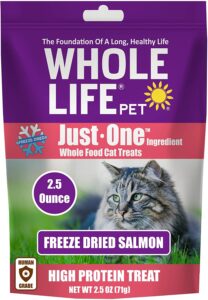 Just chunks of freeze dried salmon, nothing more and nothing less. A high protein treats with omega 3 oils to boot.
Sleeping
Your cat sleeps anywhere from 12 to 16 hours a day. Finding a safe, warm and comfortable spot to sleep is a big part of your cat's agenda. When they have a spot like that? They're happy.
While your cat might be happy enough to use any old pillow or just curl up on a sunny windowsill, we can do them the kindness of giving them a proper bed to sleep in.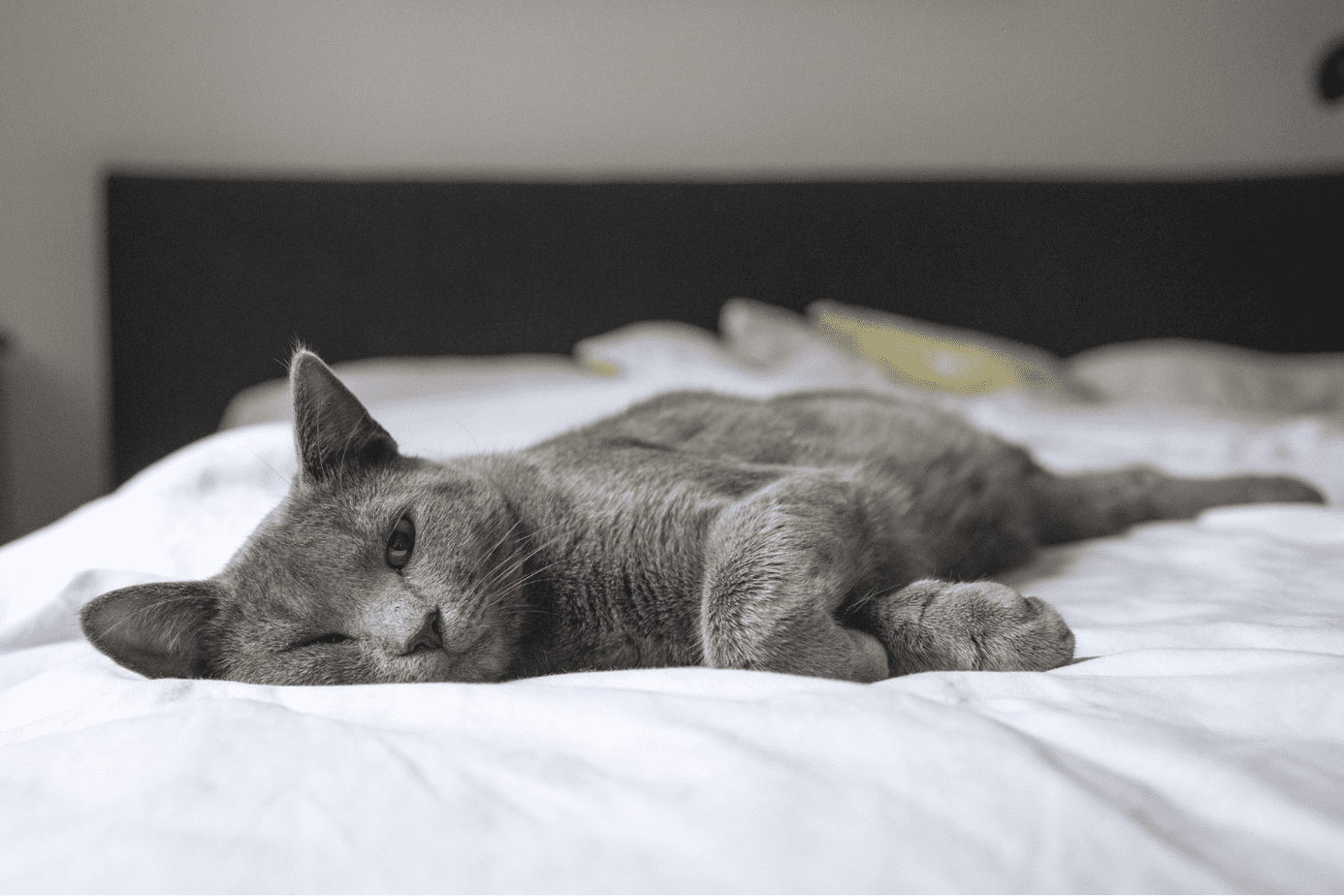 You might have already had a bad experience when buying a cat bed. If you chose something you thought you cat would love and chose the perfect spot for it, only to have your cat turn up its nose and sleep somewhere else. Cats are fickle, but if you watch their behavior you should soon learn enough to know their sleep preferences.
If a particular windowsill is a favorite spot, why not put down a cushion or fleece blanket to make it more comfortable for them. Do they always sleep on a favorite sweater or cushion? Consider that texture and try to find something like it that you can buy.
For those of you in cold places, or with pets who have bad joints, then a heated cat bed can be very soothing for your fur baby. These come in either self-heating or electric models – you can read more about cat beds in this article.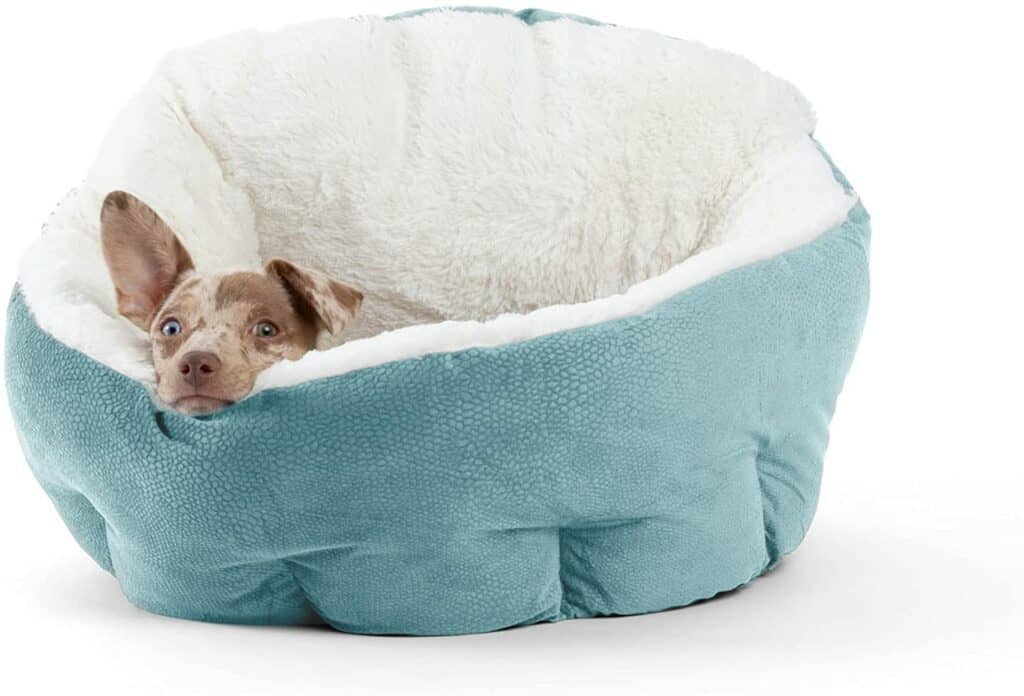 We consider this the number one kindness you can do for your cat. With high sides and fleecy fabric, this bed stops their body warmth from leaking away keeping them toasty warm. Great for cats with sore joints, too.
Playing with Your Cat
Perhaps the kindest thing you can do for your cat is to dedicate some time every day to play with them. As natural hunters, cats have a desire to seek out prey and to spend time pouncing and catching. If your cat is an indoor cat, they don't get a chance to burn any of this energy off and that can leave them feeling grumpy.
Here are just a few types of cat toy you can buy to help you spend quality time with your fur baby.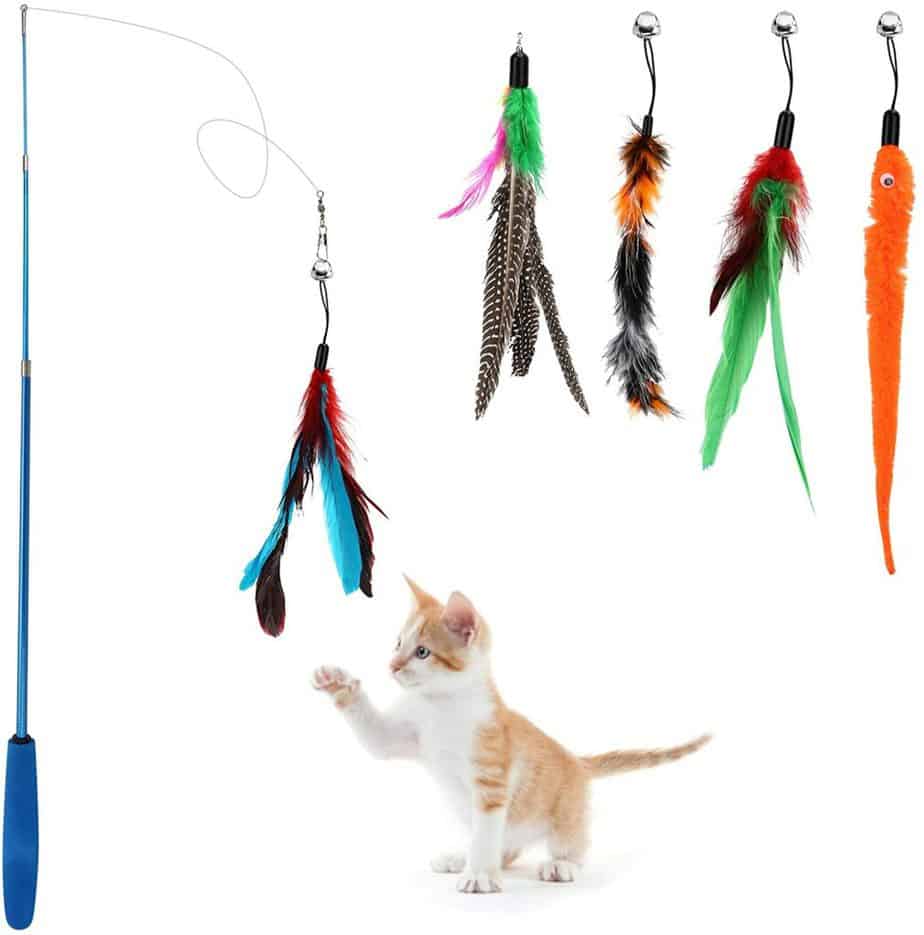 This a really versatile cat toy. You can use it as a fishing rod to simulate bird flight or drag it along the ground like a rodent or lizard. It all depends what your cat hunts in its dreams!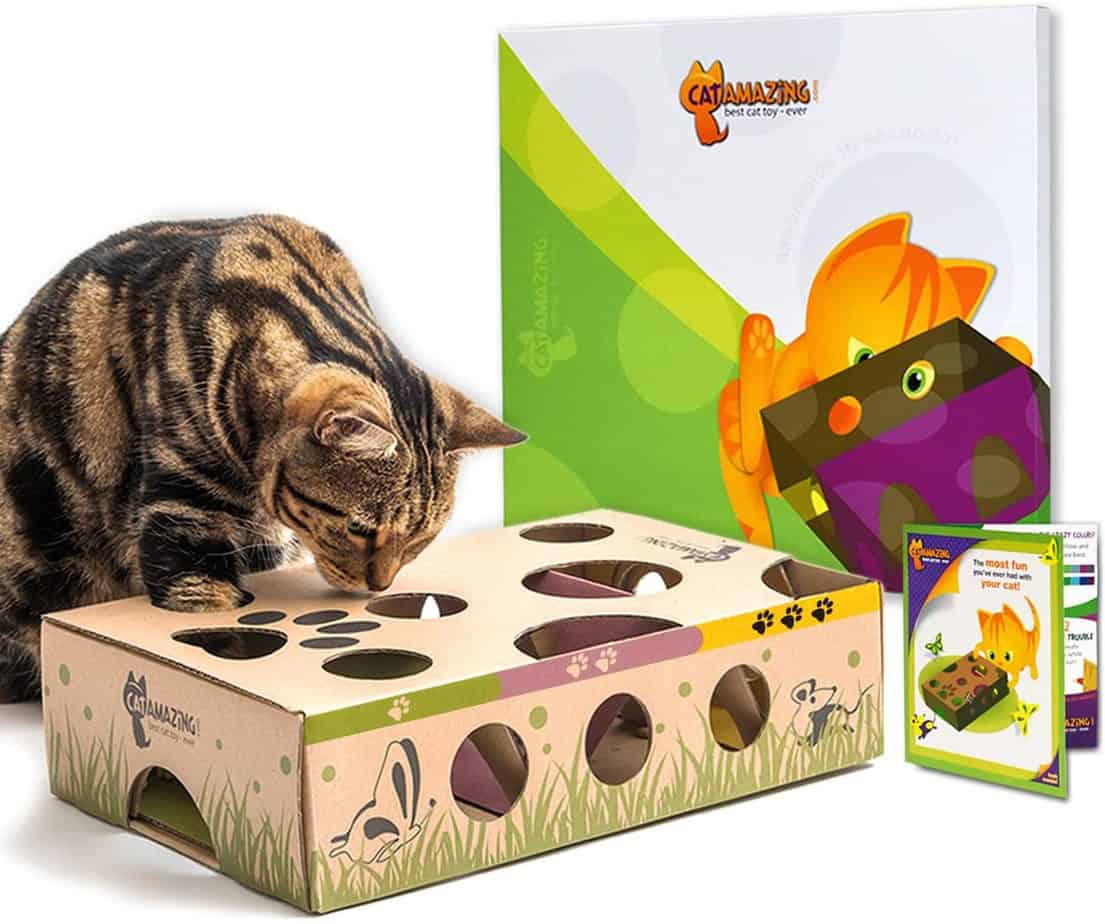 Make your cat work for its food (or treats) by loading up this maze and letting them use their hunting skills to find a tasty morsel.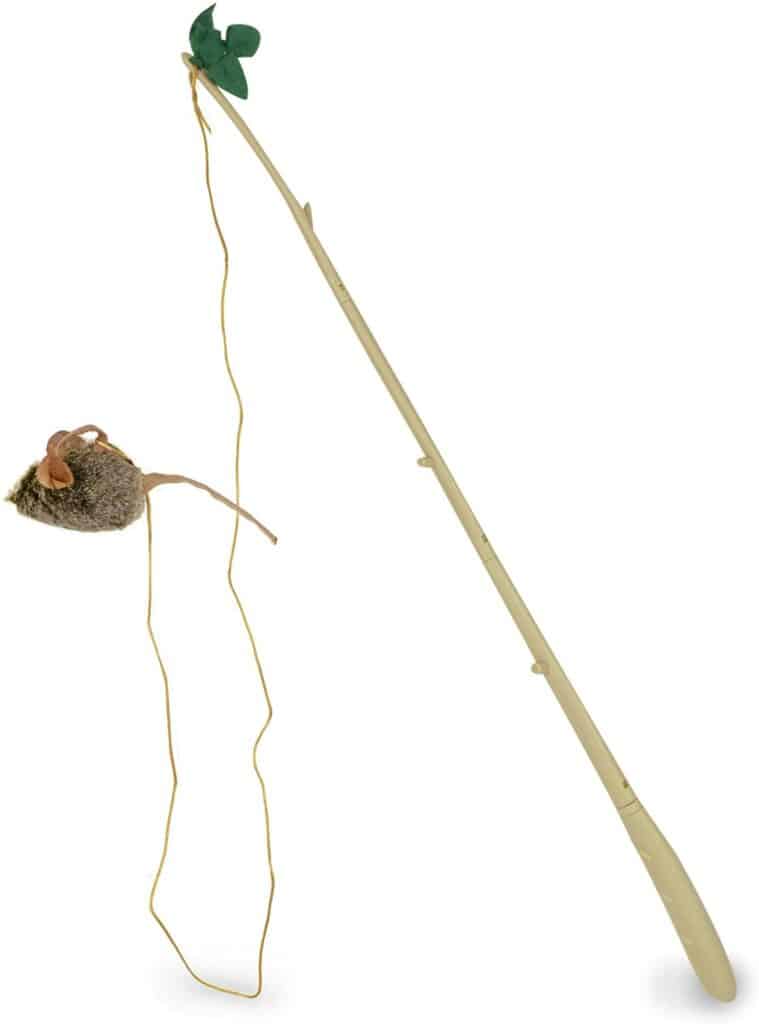 Like the feather wand, this one lets you play with your cat without endangering your fingers. Have the mouse move around and watch your cat's bottom wiggle with excitement.
Kindness Pays
Did you know that every time you do something kind for another being, your brain lights up like a firework? You get huge boosts of feelgood chemicals that leave you with a contented glow. And of course, if you do something kind for your cat, you'll get rewarded with extra purrs and snuggles too. It's a win-win.
Whether you show your love of your cat through choosing great food, making a little extra time to play or treating them to a warm new bed, they're sure to appreciate it. If you want to make the world a kinder place to animals in general, then consider making a donation to an animal charity or to your local shelter so they can continue to take care of the unwanted pets of the world.
Continue reading:
What to Look for In a Rescue Shelter
What to Know About Adopting a Rescue Cat