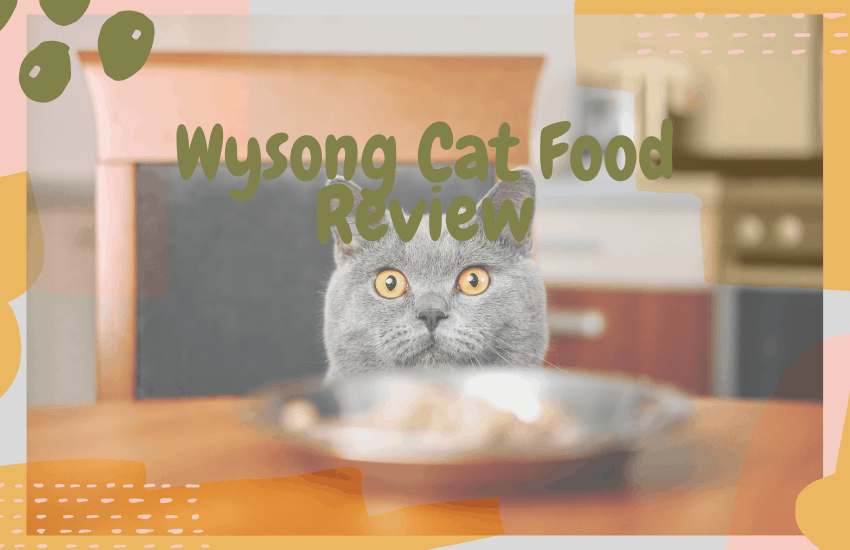 New cat owners may have heard of big-name cat food brands, like Iams vs Purina, but now trends show that all-natural cat food brands like Wysong are getting more than just a passing review.
The market for natural cat food is expected to grow within the next 5 years. According to a research study about the natural cat food market, more and more cat owners are demanding natural options for pet food, even amongst the forces of a global pandemic and dampened economies.
Both wet and dry cat food is following this trend, and, as a cat owner myself, I was interested in seeing whether or not natural; cat food brands like Wysong lived up to their name.
In this review of Wysong Cat Food, I'll give you my honest tips about selecting natural cat food; the pros and cons of natural cat food and the best and worst that Wysong Cat Food has to offer.
That way, you can decide whether Wysong is the right choice for your feline friend.
What is Natural Cat Food?
Natural cat food is a general descriptive term and is not held to especially high standards, but it typically does need to be free of synthetic chemicals, dyes, and preservatives. It also does not have artificial flavors, which you may find in conventional cat food.
In addition, in order for cat food to be classified as natural, some vitamins and minerals are permitted, but most nutrients are supposed to come either from plant or animal sources. Natural cat food can fall into a variety of categories, and some natural cat food has more distinction than others.
Grain-Free
One popular type of natural cat food is grain-free. Granted, cat food that is grain-free does not have to be natural, though it most often is. By the same end, natural cat food, of course, is only grain-free and is labeled as such. Grain-free cat food, is, as the name implies, free of grains. These include soy, corn, wheat, and any other related grains or products made with grains.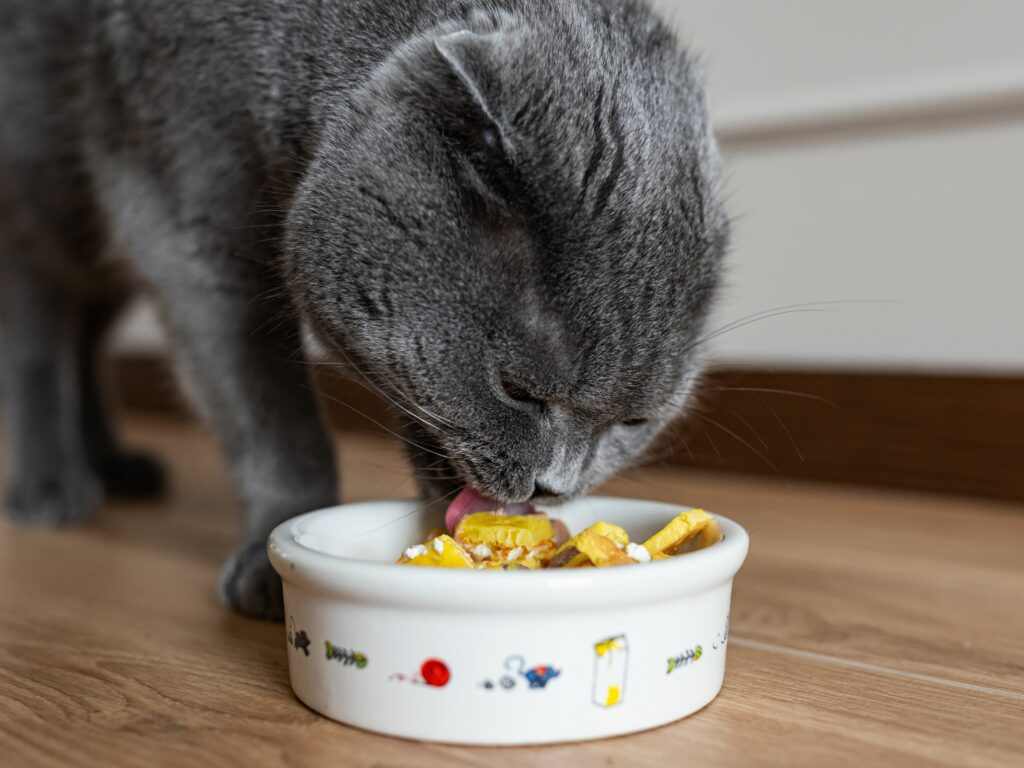 Pros
Grain-free cat food is quite popular, and there are some potential benefits, especially for some cats who may have true grain allergies. In addition, many grain-free cat foods focus on quality ingredients and are a great source of protein.
Cons
However, grain-free cat food is not right for all cats or may be best in moderation with other types of cat food. For cats who don't have grain sensitivities, intolerances, or allergies.
The vast majority of cats actually don't have problems with grains, but more commonly with protein sources (hence the rising popularity, for instance, of fish free cat food). In addition, though it's true that cats are carnivores, grains actually supply nutrients, fibers, and fats if they are of high quality. Grain-free cat food may also be more expensive.
Organic
Organic is under the natural cat food category, organic cat food is held to higher criteria. Just be careful: I have come across cat food advertising as organic, but they classify this by having some organic ingredients. In fact, there are different tiers of organic for natural cat food, including:
Made with Organic Ingredients: 70 percent organic ingredients
Organic: 95 percent organic ingredients
100% Organic: all ingredients are certified organic
Pros
Organic cat food is free of additives, hormones, and genetically modified foods. That means your cat won't be ingesting anything but whole foods and vitamins. Overall, organic cat food ensures quality and a focus on humanely raised animals and fish.
Cons
Organic cat food is expensive, and it may not always be necessary. As is the case with organic vs conventional food for humans, there is mixed evidence as to how it impacts us. In other words, organic cat food certainly will not hurt your cat, but the expense and less selection may be prohibitive for some.
Limited Ingredient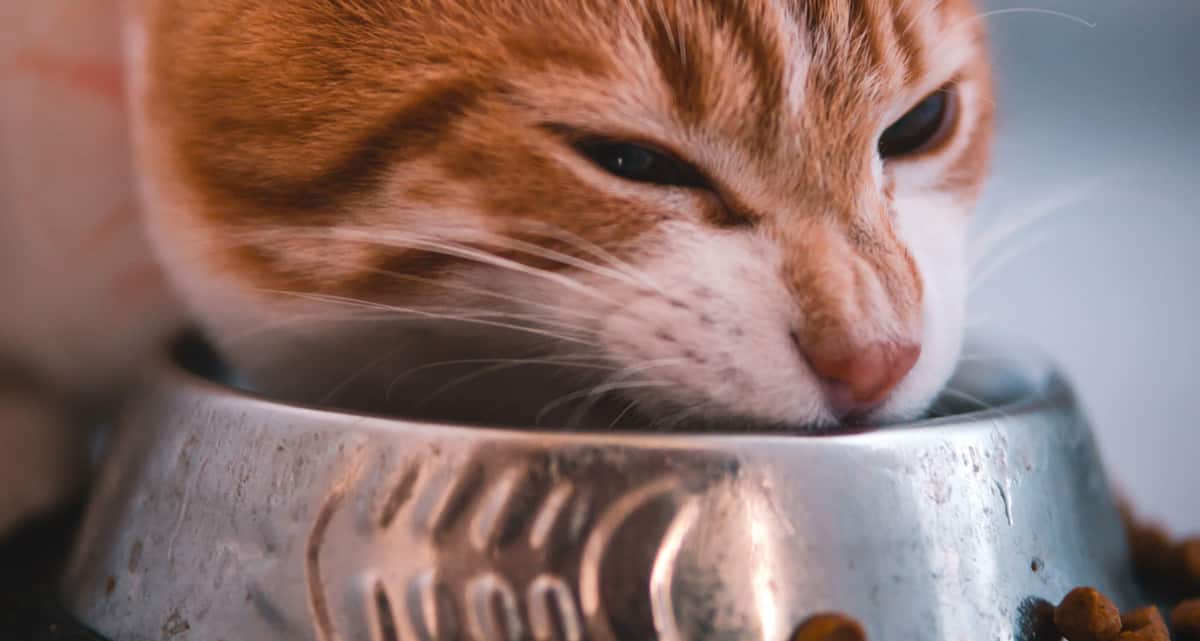 Limited ingredient cat food is also on the rise as we get more cat food options. It's any cat food that has a small ingredients list, devoid of some of the most common allergens, such as grains, soy, and eggs. They also are free, like other natural cat foods, of preservatives, dyes, and flavors.
Compared with organic cat food, limited ingredients have more flexible criteria, so I always make sure to check the label, especially if it's for a cat with special diet needs.
Pros
Limited ingredient cat food is helpful for cats with serious, or multiple, allergies and sensitivities. Since it's a limited list of ingredients, it does tend to focus on only the nutrients your cat needs, which I admire.
Cons
Limited ingredient cat food is expensive at times, and there are fewer options. For some cats, it simply isn't necessary and is more limiting than even some grain-free cat foods. If you do opt for a limited ingredient list, just make sure it has all the ingredients and nutrients your cat needs.
Wysong: Is it a Good Pick?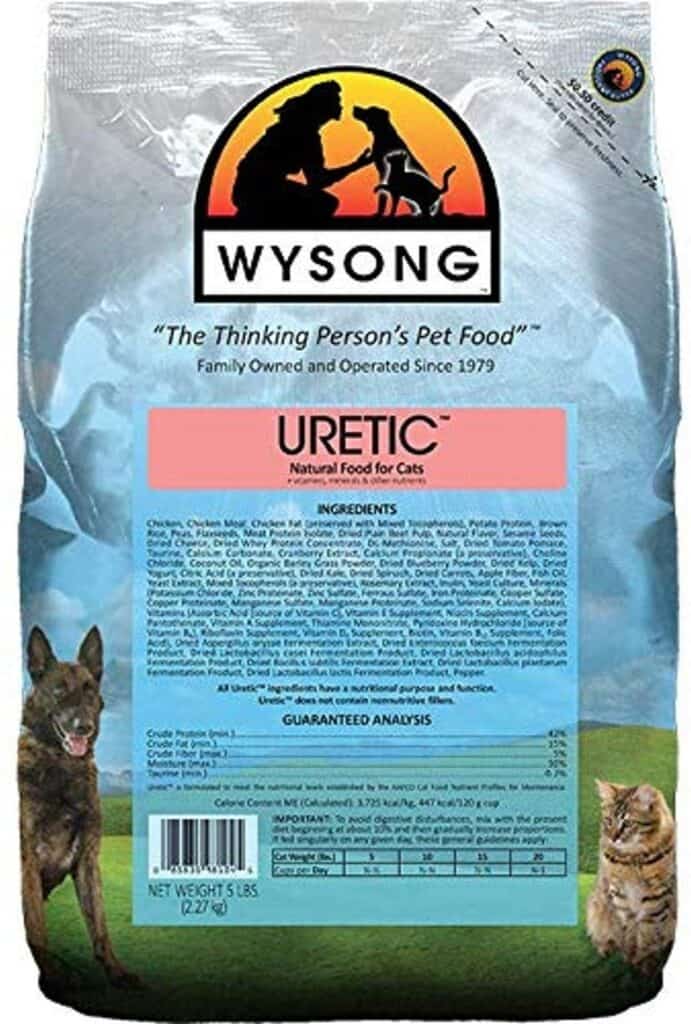 Now let's look at Wysong Cat Food to see whether or not it's a good choice for natural cat food. For a natural cat food brand, I look at the quality of ingredients; variety; pricing; and overall customer reviews.
My biggest concern when I'm looking for natural cat food for my own cat is that he gets the protein, fiber, and vitamins he needs. And since I am paying more, I do want to see that reflected in the quality of ingredients.
Here's my take on Wysong Cat Food.
What is Wysong?
Wysong is a natural pet food online retailer; think of it as a more niche and natural focused pet supply store version of something like Chewy.com or Amazon. Based in Michigan, it also has several physical stores across the country. You can order online or shop in person.
They carry food and supplies not only for cats but also for dogs and ferrets. They do have affiliate programs with both eBay and ShareASale.
What Cat Food and Supplies Does Wysong Sell?
Wysong sells dry, canned, and raw cat food, in addition to supplements and sprays, and lotions for cat treatment of various skin conditions.
Overall, it's a decent selection for a small supplier. For food, there are both conventional and organic options–you could easily shop for all your cat's needs at their store alone.
Dry Cat Food
I was especially impressed with the vast selection of dry cat food. They offer options in two lines: the Optimize Line and Original Diets.
Optimize
Wysong Optimize is made out of chunks of meat, alongside enzymes and probiotics for a high protein approach to cat food. It also includes organic mushroom and mussel blends for added amino acids, meant to support joint health.
While under the dry food category, it's actually meant to be used as an enhancement or topper for wet and dry food, not as a mainstay of their diet. One ounce is supposed to be added to boost protein and micronutrients in their food.
It's available in salmon, chicken, and beef heart, and liver. Something I did find odd is that it is meant to be consumed not only by cats but dogs and ferrets as well. The first ingredient is the primary protein, followed by mussels, mushrooms, and a variety of cheese. It also includes unexpected ingredients, like apple, fermented products, and aloe vera.
It is high in protein, with 44 percent crude protein, but some of the ingredients seem extraneous. While natural, there's not enough evidence for me to say that most cats would need this.
Original Diets
Original Diets is Wysong's plus and contains a variety of formulas based on dietary needs and preferences. Vitality and Optimal Vitality offer typical nutrients your cat needs, including omega 3's and high-quality protein, as well as enzymes and prebiotics for digestive health.
Allergen is hypoallergenic, meaning it is free of allergens and other ingredients that cause issues for sensitive cats. Nurture is a kitten formula, while Fundamentals is a high protein formula. I also found it interesting that they even have a Vegan option, which is made out of soybeans and pea protein.
Ingredients list are all-natural ingredients, but they do differ from product to product. Crude protein hovers around 40 percent for several, with the exception of the Vegan option, which is well under 30 percent.
My Take
Overall, I can't complain about the variety of options for Wysong dry cat food. I think most cat owners will find that the Optimize brand is not needed for their cat's health unless they have a special health condition that means they aren't getting adequate protein. It also contains ingredients that are quite unusual and not seen as essentials for feline health.
For the Original Line, chicken and turkey, as well as meal makes up the bulk of fairly high to moderate protein formulas. I did notice, however, the addition of pea protein and whey protein for more protein, which to me indicates that they skimp a little on meat and add in other forms of protein. I did find most supplied the vital nutrients, but Taurine was absent often. ]
Overall, Wysong dry cat food offers some healthy ingredients, but also adds ingredients that are not needed.
Best Dry Cat Food
Wet Cat Food
For wet cat food, Wysong offers far fewer options. In fact, you can select from just two options, which may be a downside to anyone looking for a steady supplier of wet canned food. The wet canned food is also intended for cats needing special diets.
Epigen Canned Food
Epigen canned food, once again, is marketed for not only cats but also dogs and ferrets. They are meat-based, 95 percent meat, and supposed to " mimic the archetypal, natural eating patterns" of carnivorous animals.
As such, they are not only grain but also starch free. They come in beef, chicken, turkey, duck, rabbit, and salmon flavors. The ingredients list is about as simple as it can get, with just the main protein, plus natural flavors. It does include mixed tocopherols, which are typically derived from soybeans and a form of Vitamin E.
Protein is at around 10 percent, which is not bad, but a tad lower than I expected for a purely meat-based wet canned food.
Uretic Canned Food
Uretic wet canned food is designed for cats with urinary tract health issues or diseases. Low carbohydrate and higher in protein, the ingredients list starts with organic chicken and also includes starches such as brown rice, blueberries, and cranberry extract. I do like the addition of critical vitamins, as well as Taurine. The protein ratio is at a moderate 10 percent.
There is nothing inherently wrong with this wet canned food, but I also don't see the need for some ingredients, such as barley grass and kelp.
My Take
Overall, the wet canned food comes in a nice variety of flavors, and supplements a cat's diet with the regular formula would not be harmful. I do appreciate the organic protein sources and quality of ingredients, but don't see anything especially stand out from other natural cat food brands. Still, I prefer Wysong wet cat food to their dry cat food options.
Best Wet Cat Food
Raw Cat Food
In addition to dry and wet cat food, Wysong also sells raw cat food. Described as non-thermal, you can store them on your shelf without any refrigeration required. They offer regular food, treats, and a breakable burger.
Archetype
Wysong Archetype can be used by both cats and dogs and comes in rabbit, chicken, quail, and pollock varieties. Each includes the primary meat, as well as organs and ground bone.
But I was interested to see a fairly long ingredient list, which included blueberries, barley grass, a wide variety of other fruits and vegetables; necessary vitamins and minerals, and a number of fermented foods. It has a crude protein ratio of 44 percent, and a 36 percent crude fat ratio. Chia seeds are a source of Omega 3's; they do also add whey for additional protein.
Treats
The dream treats for both cats and dogs include probiotics for digestive health, as well as enzymes and additional vitamins and minerals. For treats, I was surprised to see they have more or less the same formula, and the same fat and protein ratio.
My Take
While I don't recommend a raw diet for all cats, there is nothing inherently wrong with Wyong's options, though, like most raw cat food, they can be expensive.
Best Raw Cat Food
Supplements and Treatment
Wysong offers supplements for dental health, probiotics, enzymes, and other micronutrients such as the AddLife Supplement. They also offer natural lotions and creams for skin issues. I always recommend checking with your veterinarian to see if these supplements are right for your cat.
While some may be supportive, adding supplements when your cat doesn't need them could actually have negative consequences.
Customer Service
Finally, I wanted to take a look at Wysong's customer service and how well it handles its products and delivery.
Wysong Pet Food earns just a 2.8 out of 5 star average on Consumer Affairs, based upon just shy of twenty reviews.
Interestingly these reviews are very divided between 5 and 1-star ratings, with many pleased with the overall; quality, as well as the ability to feed their cats and dogs the same foods. Complaints concerned shipping problems, but also some pets disking the food; reacting poorly with digestion, or not gaining needed weight.
Granted, there are many factors why these complaints could have occurred, but when compared with some competitor natural cat food brands, Wysong doesn't come out on top.
Best Dry Cat Food
Best Wet Cat Food
Best Raw Cat Food
Best Supplement
FAQs
Question: Where can I buy Wysong cat food?
Answer: You can buy Wysong cat food either from their online store or from one of their physical pet store locations. The natural cat food is also available at some more common cat food retailers, like Petsmart.
Question: Where is Wysong cat food manufactured?
Answer: Wysong cat, dog, and ferret food is manufactured at its headquarters in Michigan. It's a smaller, family-owned business that owns its own manufacturing locations and also carries cat treatments and supplements.
Question: Is Wysong grain-free?
Answer: Not all Wysong cat food is grain-free, though there several wet and dry cat food options that are. They also have some cat food for special diets, including for urinary health.
Final Decision: Find an Alternative
There is a lot I admire about Wysong cat food, but, at its expensive price point, I just couldn't justify buying it. I do love that Wysong cat food focuses on organic meat, and does stick well within the natural cat food category, by shying away from preservatives, dyes, additives, and anything else that your cat doesn't need.
That said, poor reviews, extra ingredients that seem unnecessary, and adding both whey and pea protein, perhaps to make up for less meat in some of the dry food, just didn't excite me.
Still interested? Shop Wysong Cat Food Here.
Looking for an alternative? Learn how to find the best cat food.
Continue reading: